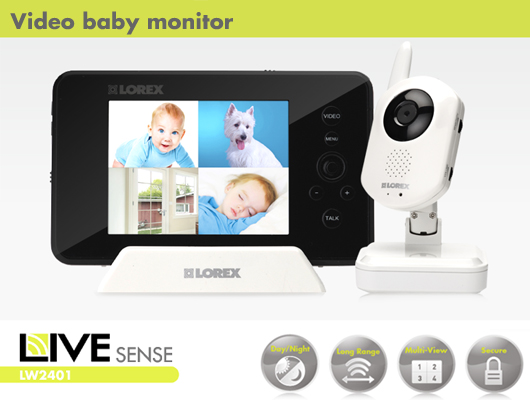 Baby monitors have come a long way from the crackly, static-filled intercoms that filled store shelves just a few years ago. Today, they not only allow parents to hear if their lil one wakes up in the middle of the night, but they also offer video and temperature monitoring and can even be shared with family and friends. The Lorex Live Wireless Video Home Monitor ($170) offers all of this and more in a reliable, easy-to-use package. Setup couldn't be easier with the Lorex system. Simply power up both the camera and the display screen and begin viewing instantly.
The camera gives clear audio and video, and in darkness, it will automatically shift into night mode, creating illuminated imaging through infrared light sensors. Via the display screen, moms can hold the "Talk" button to speak directly to their tots. They can also turn on a comforting lullaby to soothe lil ones back to sleep.
Keep reading to find out why we are liking the Lorex Baby Monitor.