Bye-bye brown bags! Reusable lunch sacks are better for the environment and keep midday meals intact and cool. From bags that have space for mama to leave her tot a note to bento-inspired options, we've rounded up some of the best lunch totes on the market.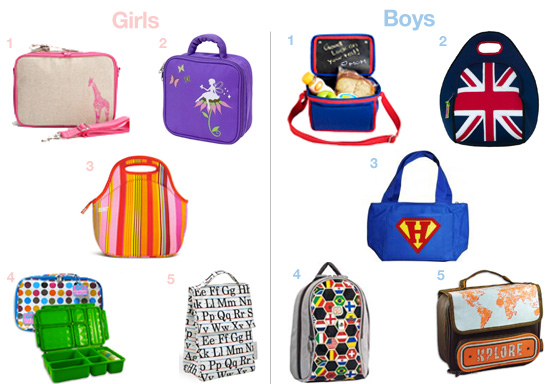 Girls: 1. So Young Mother Pink Giraffe ($30), 2. Four Peas Fair Lunch Bag ($18), 3. Built Gourmet Getaway Lunch Tote ($23), 4. Go Green Bento Lunch Box System ($30), 5. SugarBooger Vintage Alphabet Lunch Sack ($15).
Boys: 1. Doodlebugz Crayola Chalkboard Lunch Tote ($24), 2. Dabba Walla British Invasion Union Jack - Kids Lunch Bag ($30), 3. Em Tanner Designs Insulted SuperBoy Lunch Tote ($34), 4. Fleurville Lunch Pak ($32), 5. Safari Explorers Lunch Box ($14).