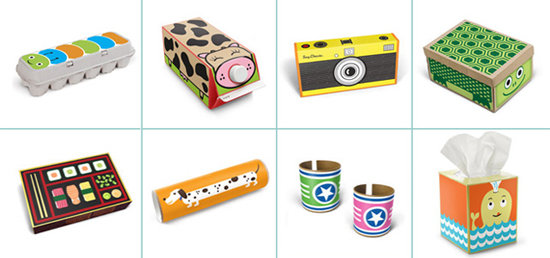 Kids tend to make toys out of the most amazing and unconventional items. One man's trash, is another kid's toy, so don't be so quick to throw out your empty boxes and containers these days.
Box Play For Kids
created a line of 100 percent recycled stickers ($4-$12) to fit over milk cartons, toilet paper rolls, and egg cartons, so lil ones can bring new life to what otherwise would be thrown away. Make bracelets or army binoculars out of toilet paper rolls. An old box can turn into a sushi bento box or a turntable. Like Rolobox — the
wheels that convert empty cardboard boxes into vehicles
— through an afternoon of play, these stickers subtly teach tots that recycling can mean more than placing garbage in a blue bin in the garage.