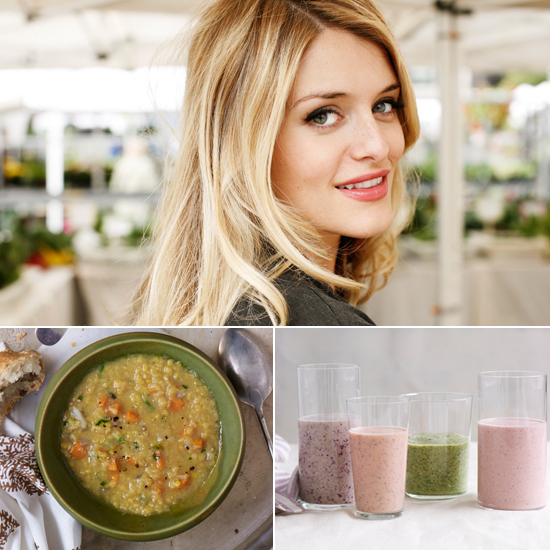 Daphne Oz, daughter of Oprah's favorite doctor and cohost of The Chew, is about to add a new title to her resume: mom! The 27-year-old bestselling author of Relish: An Adventure in Food, Style, and Everyday Fun and The Dorm Room Diet is expecting her first child this Spring, and she sat down with us to share some of her best pregnancy tips, junk food cravings, and her favorite healthy and delicious recipes while expecting!
POPSUGAR Moms: Congratulations on your pregnancy! How have you been feeling?
Daphne Oz: The beginning was tough. I didn't know I was pregnant until I was six or seven weeks, and I thought I had mono! I was so exhausted, and I only wanted to eat carbs. But from month three on the day, I've been able to eat good, normal stuff and get some exercise in.
PS: Has your diet changed since you've been pregnant?
DO: I've realized I have little control over my taste buds! I probably ate two cheeseburgers in the year before I was pregnant, but my baby loves them! And I'm definitely susceptible to implanted cravings. If I walk by a restaurant and see a plate of french fries, then I need those french fries!
PS: How have you dealt with the cravings?
DO: I make myself eat three breakfasts since the baby and I are so hungry in the mornings. At about 5:30, I make a smoothie with half a frozen banana, cherries, blueberries, a spoonful of almond butter, almond milk or yogurt, ground flax seed, water, kale, and lime juice, and I have that on my walk to work. I know that I've had a huge shot of vital nutrients and nutrition early in the morning. Then when I get to the studio, I might have Ezekiel bread or Wasa toast with cream cheese or almond butter or cheddar cheese and apples. I like to have something to chew in addition to the smoothie. The complex carbs in the bread or toast are good for gaining energy, and I'm so looking for energy since I'm not drinking coffee anymore. And the almond butter have fats that are good at keeping me full. Plus, fatty acids in flax seeds or chia seeds are really good at helping with pregnancy brain, which I've definitely suffered from.
Keep reading for more pregnancy tips and recipes from Daphne Oz.