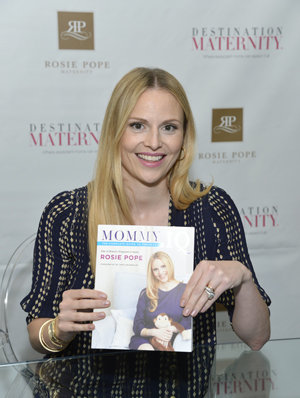 Rosie Pope is quickly positioning herself as the maternity guru for an entire generation of moms-to-be. With a successful Bravo show — Rosie is waiting to hear if the show will be back for a third season — an eponymous maternity clothing store packed with beautifully designed pieces, and a preparation for pregnancy class held in the store, Rosie's popping up in many pregnant women's worlds. Her latest effort is
Mommy IQ: The Complete Guide to Pregnancy
, a fun but informative resource book about pregnancy packed with personal anecdotes, doctors' notes, and input about what men are thinking in each part of the story.
Following the book's launch at Destination Maternity, I spoke with Rosie about hot-button pregnancy issues, the myth of doing it all, and some advice for couples dealing with infertility.
LilSugar: Why did you decide to write the book now?
Rosie Pope: I've had access to such amazing experts over the years and I've learned so much myself that I wanted to put it all in one place so people could buy just one book that had all of the science and all of the candid mom advice. I have these amazing clients and people, but I think the information should be available for everybody. The book is really my first opportunity to reach all of the people I always wanted to reach that we don't necessarily reach with our clothes.
LS: What's the first question you get from the new moms who come to the shop?
RP: How do you juggle everything? [My answer] varies from day to day! [I try to] remember this is what I asked for. I wanted a successful business and I wanted a big family. I'm really living what I dreamed.
Also know that you can't do it all in one day. There's no way I can dedicate myself to my work, and my kids, and my husband in one day. I know if I look over a long period of time — like a week — that I've spent quality time with my kids, and with him and my work, and I can fit it all in. A lot less pressure if you don't try to do it all in one day.
LS: You've experienced both infertility treatments and a natural pregnancy. What's the best piece of advice you can give parents having trouble conceiving?
RP: Have faith that you will get your family here somehow. Even if it's not the way that you had imagined.
LS: Let's go through some hot-button pregnancy issues. Give me your take on the following.
LS: Drinking while pregnant?
RP: No, No.
LS: Deli meat?
RP: No.
LS: Sex?
RP: Yes, if the doctor says it's OK.
LS: Who's in the delivery room?
RP: As few people as possible!
Keep reading for Rosie's list of must-have Fall maternity items and our four lil questions.