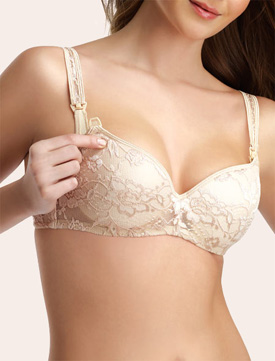 Shopping for a nursing bra should be as thrilling as a trip to Victoria's Secret! The "uniboob" contraptions of the past have been replaced by comfortable, cute and easy-to-use undergarments that are as fashionable as they are functional making the task of choosing a bra easier than ever. We recently sat down with some experienced sales help at Destination Maternity to discuss what expectant mamas should look for in a nursing bra. While the experts recommend getting fitted in person, there are a few simple steps that can be taken at home if you choose to place your orders online. Before packing your hospital bag, check out these tips.
Don't wait until the last minute. Get fitted for a nursing bra approximately two weeks before your due date. This alleviates the need to send a clueless relative to the store to guess what size and style bra you need.
Support is key. Look for bras with enough support to keep your girls from bouncing around too much.
Avoid the bulge. Breasts should not bulge out of the top or sides of the bra, even at their largest, most engorged state.
Make room for the pad. The bra should have enough room to hold your breast and a nursing pad comfortably.
To see the rest of the tips, and a step-by-step video guide to getting the proper measurements, read more