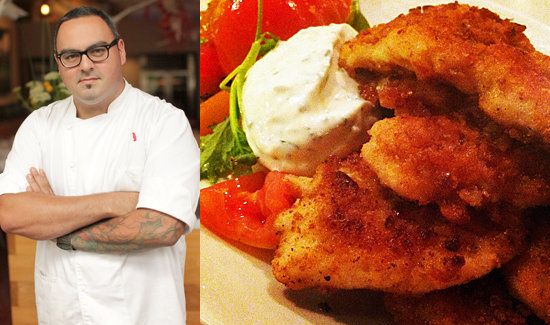 Our tasty and easy Dinnertime Crunch series continues with celebrity chefs and restauranteurs sharing their favorite 30-minute weeknight dinners that help Mom spend more time with her kids each night. Today's recipes come from chef Levon Wallace, executive chef of Louisville, KY's acclaimed Proof on Main and a dad of two.
When Louisville-based chef Levon Wallace heads home to his two kids, he knows that his gourmet offerings from Proof on Main take far too long to prepare for a weeknight dinner. His solution is a turkey cutlet that uses one of the tots' favorite snacks and takes less then a half-hour to prepare. It's so tasty, that his restaurant staff even ask for it!
He told us, "This spin on chicken fingers is a favorite at my house, and we do it at least once a week because it's so easy and the kids love it! I often have to make extra to make up for the snaking the goes on behind the scenes if I'm making dinner. The turkey is so simple to prep that I'll often do a whole turkey breast [and] freeze the uncooked portions in preportioned bags for a quick go-to meal option. When stuffed between a pretzel roll with sliced tomatoes and arugula, this makes for an awesome, grown-up treat!"