Lots of moms like to think out loud, and MiaFT is one of them. This is an excerpt from one of the latest posts on her Baby Love blog.
This week I had a diaper bag disaster! I must not have correctly set up Audrey's sippy cup, and it spilled milk all over my bag. It wasn't just a little milk that I could wipe out of the water proof lining, I had a puddle in the bottom of my bag. I realized it was there when milk started to drip through the seams onto my feet. I knew my bag was ruined. It was only a matter of time before it began to smell like spoiled milk. I wasn't completely thrilled with my bag anyway, so I decided it was time to get a new one. So I was on the hunt for a new bag!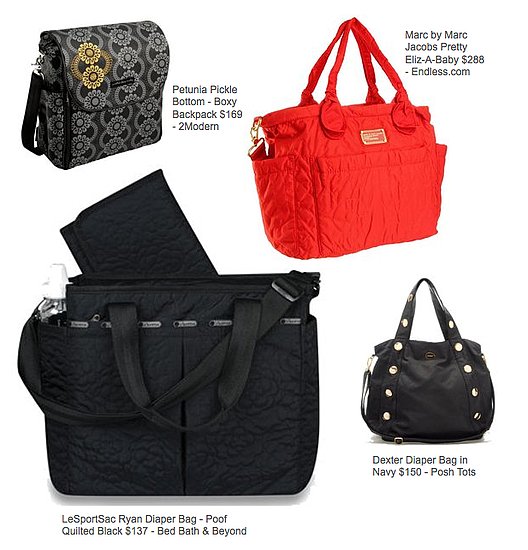 I had a few requirements that I was looking for. First, I wanted a lightweight bag. My last bag was heavy when empty, so it was terrible to carry when full, which it often was since it was kind of small. It could really only fit the essentials. So I was also looking for a bigger bag for times when I would need extra snacks or things like bathing suits and towels. Also, I like diaper bags because they have so many pockets! I love to keep things organized so I can find them easily. And of course, I want it to be cute!
First bag on my list to check out was the Petunia Pickle Bottom. So many people I know have this bag, I was sure I would love it. It has that inventive outside pocket that folds out to an instant changing station. But I ruled it out as soon as I picked it up, because it was so heavy with nothing in it! Next, I wanted to check out the Marc by Marc Jacobs bag. It is very large, and slightly heavy, but not too bad. It is obviously cute and I love the red color! The price is a little on the higher end, so I wanted to keep looking for a cheaper alternative, but kept this bag in mind.