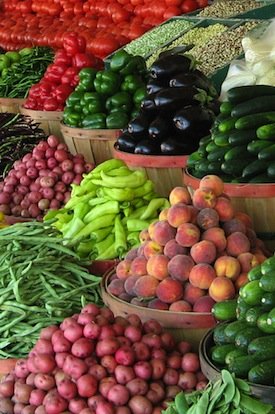 If your child has been diagnosed with a food allergy, you know both cooking at home and dining out can quickly become a challenge. Since healthy eating begins at home, and eating at home begins at the grocery store, we turned to Amie Valpone of
The Healthy Apple
for some advice on how to stock your pantry for success, whether you're dealing with food allergies or just want to take a cleaner approach to your family's diet. See how Amie, a nutritionist who specializes in clean eating, fills up her own grocery cart, and how you can transform your own to accommodate your family's dietary needs.
"Cleaning" Up Your Grocery List
Essential Condiments
Extra-virgin olive oil
Flaxseed oil
Grape seed oil
Champagne vinegar
Apple cider vinegar
Balsamic vinegar
Organic Dijon mustard
Organic coarse, seeded mustard
San-J wheat-free tamari soy sauce
Amy's Organic salsa
Sun-dried tomatoes
Hummus (try Tribe, Wild Garden, Sabra, or Cedar's)
Hot sauce (try Cholula or Sriracha)
Miso (white, barley, and red)
Organic lemon juice
Continue reading for what to buy in the gluten-free, dairy-free, and freezer departments.