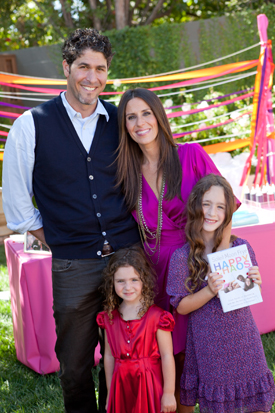 When Soleil Moon
Frye
learned she was pregnant with her first child, she thought she'd be the picture-perfect hippie mom she'd always envisioned. Then Poet, now 6, was diagnosed with a severe case of reflux, and the former
Punky Brewster
actress learned that parenting is a bit more fly by night than most parenting books would have you believe.
When I spoke with actress, social media maven, and mommy ambassador for Target earlier this year, she gave us a sneak peek of her modern mommy manual, Happy Chaos ($14). While the can't-put-down book is filled with anecdotes about her life on set, her many Hollywood crushes (that children of the '80s will love), and the lessons she learned in six years of motherhood, I spoke with her again about her chaotic life as a mom of two — Poet, 6, and Jagger, 3 — and learning the ropes of parenthood. Like sitting down and dishing with your best friend, Soleil wasn't afraid to talk about the dirty details of life.
On why she wrote the book: "The majority of the parenting books that I read before I became a parent were so much about 'this kind of parent, this is how to do this, this is how to do that.' There was nothing that told me about what was going to happen in the hospital, or that I was going to get that ice pack afterward. Nobody told me about the mesh panties. Nobody told me you could have an accident on the table. So I was like how do we not share this with the sisterhood?"
On her husband, Jason Goldberg's, parenting style: "We are total opposites. He's much more conservative; I'm a free-spirit hippie. But then my daughter, Poet, had really bad reflux, so I'd be up all night, walking her every night. So all of the free-spirit things went out the window, and it made me much more fearful than I thought I would be."
On baby weight: "I'm totally that mom who's like, 'Oh, I just had a baby — and she's 3 years old!" I use baby for an excuse for everything. My girlfriend's like, "Honey, your baby was born two-and-a-half years ago. I think you need to come up with a new excuse!'"
Keep reading for Soleil Moon Frey's thoughts on adding a second child to the family and her biggest parenting challenge.