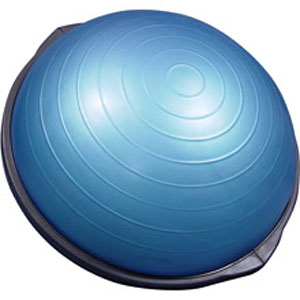 Motherhood is a balancing act so a BOSU balance trainer ($130) is an appropriate device for moms to use when they are fighting the postpartum pounds! Our friends over at Equinox set me up with Amy Fiske, an NSCA-certified personal trainer, who is helping me get back in shape. Here are some of the BOSU exercises she recommends.
BOSU Hip Raise
(Targets the glutes and hamstrings)
Lie face up with your knees bent and feet flat on the BOSU. Raise your hips up toward the ceiling by squeezing your glutes and pressing down through your heels. Try to imagine a straight line going from the top of your knees to your shoulders. Hold for a few seconds and then return to your starting position.
BOSU Plank
(This targets the core)
Lay flat on your stomach, position your elbows under the shoulders on top of the BOSU, then curl your toes under and push your body up by resting your weight on your elbows and tightening your torso. This can be done by pulling your navel in toward your spine so your hips don't sag. Your body should be in a straight line from head to heels. The neck should be kept in-line with the rest of the spine. Keep breathing naturally throughout the exercise. Hold for about 30 seconds. Make the exercise less challenging by holding this position on your knees or by placing your forearms on an elevated surface. Make it more of a challenge by adding in a leg lift.