European parents are known for being more relaxed than Americans when it comes to their children and alcohol. Kids are often allowed a taste of wine on special occasions, and moms and dads are open about educating their offspring on the fermented details of the beverage. Italian preteens are taught about wine in their classrooms through wine journalists and tour guide Filippo Bartolotta's children's book Tirabusciò (which means "corkscrew").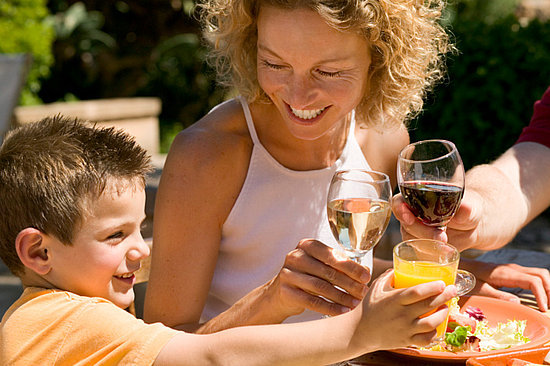 The book that teaches the process of winemaking through poems, illustrations, and stories, is only available in Italian, but Filippo wants to introduce it in the United States. He feels that the binge drinking culture here and in his home country can be stopped by educating children from toddlerhood about the history and danger of alcohol.
Most of you agree that giving tots a sip of alcohol every now and again is no big deal, but would you read your brood a book about wine during story time? Read on to see how Filippo wants to educate children about Merlots and Pinots.
LilSugar: Why did you decide to write this book?
Filippo Bartolotta: Wine is one of the most ancient food products that have been invented. But wine is alcohol. So alcohol can be poisonous, and we need to teach our kids about the subject. In Italy, in my mother and father's generation there would always be a bottle of wine on the table. So there would be bread oil and wine always in a Tuscan house. My first kid started to talk about wine, the word, when he was one-and-a-half. And he was seeing bottles of wine everywhere. So I was trying to explain to him what it is: the result of fermented grape juice; the most natural thing in the world. And so … I decided to do a book for ages 9 to 99, so you teach about wine without being patronizing because you are writing for kids.
LS: Who is taught this book in school?
FB: It's for 10 to 15 year olds. The book doesn't invite children to drink wine at all. In fact the first three pages are about alcohol consumption law and health issues. My thing about giving kids alcohol and the fact that it says how poisonous alcohol is for kids. . . . In an Italian family, when you sit down for dinner — and I do this with my kids — you put a drop of wine in their water and they grow up with the idea that if my dad is using just a drop of wine, you gotta watch out for it. And that way they always share, and are always part of the family. When you familiarize them with something, it's not a prohibited thing anymore, it's not taboo.
LS: So when your kids were little you'd put a drop of wine in their water?
FB: It's not something scientific. It's when there's a birthday party and they see everyone going "Cheers!"  and they want to cheers too. My youngest daughter is one-and-a-half. She wants to do this as well. In Italy, if you toast without alcohol it's bad luck. That's why we do a little drop so she can be part of it.