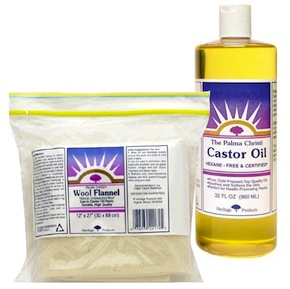 Ever since my naturopath introduced me to the wonderful world of castor oil packs, I've been hooked. Castor oil's healing properties go way back to ancient Egypt, where it was regularly taken orally as a laxative (which is now known to be toxic). Today, Chinese medicine, ayurvedic medicine, and naturopathy recommend castor oil packs because of their ability to
promote healing and to reduce inflammation
. They also improve elimination and circulation, especially of the lymphatic system. Other ailments castor oil packs are said to aid with include
hepatitis C, hyperthyroidism, pelvic pain, tendinitis
, kidney stones, fibroids, ovarian cysts, swollen joints, irritable bowel syndrome, and digestive disorders.
Castor oil packs are made with several layers of flannel and cold-pressed castor oil (both of which can be purchased online or from a local health food store). When placed on the affected area, the pack acts as a poultice to draw out infection and dissolve scars, cysts, and tumors.
Keep reading to learn how you can make your own pack.