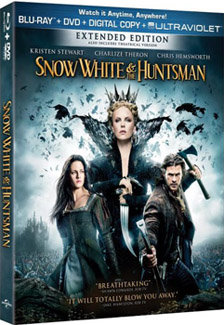 Kristen Stewart puts a new spin on the titular character, turning Snow White from a fragile princess into a fearless leader in the re-imagining of this classic tale. Charlize Theron stars as the evil Queen Ravenna, Snow's jealous stepmother who employs a huntsman (Chris Hemsworth) to track Snow down. Her goal? To eat the girl's beating heart and achieve everlasting youth. The action sequences are top-notch, and Theron shines (literally, thanks to makeup), but a little more romance would have been nice. Extras include "A New Legend Is Born" featurette and director commentary.
48%
What to Expect When You're Expecting
After decades on the best-seller list, advice book What to Expect When You're Expecting gets a movie adaptation, but this romantic comedy treads far from its source material. The film's ensemble cast includes Cameron Diaz, Jennifer Lopez, Anna Kendrick, Elizabeth Banks, and Brooklyn Decker all as expectant mothers in different situations. The movie doesn't have a lot of surprises, but it's pretty heartwarming. Bonus features include two featurettes, deleted scenes, and a digital copy of the film.
23%
One more DVD to rent when you read more