The iPad may be top on Mama's holiday wish list this year, but there's a good chance it's on her tot's too! Kids can't keep their hands off the tablets, leading two of the largest educational games manufacturers to create tot-friendly versions this year.
I told you about the LeapFrog LeapPad Explorer ($100) when it first hit the market this Fall, and now I just finished playing around with the VTech InnoTab ($79) and can't help but compare the two units. Similarly priced, they are both designed for kids 4 to 9 years old, both run on four AA batteries (or, better yet, burn through them), and both are designed to educate as lil ones interact with their favorite characters. Though neither device runs as fast as an iPad (and neither offers a WiFi option), gadget-oriented kids can't put them down. See how the two hot holiday gift items compare!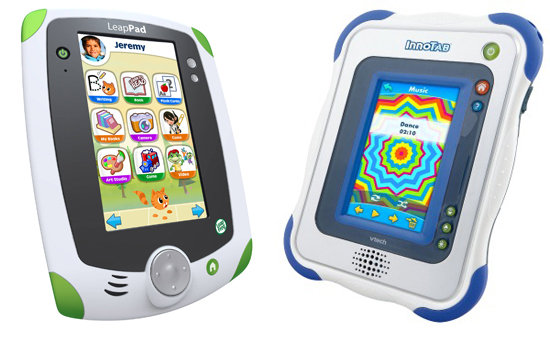 Screen size
Both learning tablets have five-inch color touch-screen LCD display screens, though the InnoTab's appears to be more responsive to the finger touch than the LeapPad, which worked better with the included stylus.
Gadget size
LeapPad: The gadget's screen is surrounded by one inch of casing to protect it from drops and spills.
InnoTab: The product's screen comes packaged in a case that provides a two-to-four-inch border around the gadget, giving tots more room to hold it than its competitor. It is almost the same size as the iPad.
Activities and Games
LeapPad: The tablet comes with four free apps — Art Studio, Story Studio, Pet Pad, and one of your choice — to entertain tots. Additional cartridge games are $25 with downloadable apps ranging from $5-$25.
InnoTab: The tablet's PDA-like capabilities — a calendar that allows tots to plan their days and add in stickers, a clock to help learn to tell time, a stopwatch for timing kids, a world globe, etc. — are both fun and educational. They also give kids a sense of independence, turning to their devices for information much like mom and dad. The system also comes with an Art Studio. Additional cartridge games are $25 with downloadable apps costing between $5 and $8.
Keep reading to see how the products compare in other categories.