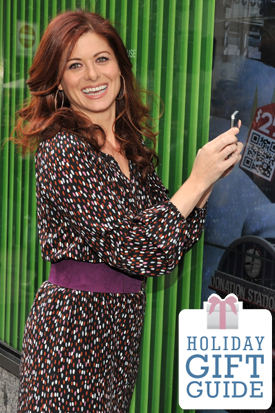 Window shopping has never been so charitable! If you happen to be doing some holiday shopping in New York City or San Francisco, take a look at the store windows you pass — some may be filled with a high-tech way for mama to do some charitable giving without ever opening her wallet. Ebay just unveiled
Give-a-Toy Store
interactive storefronts that allow shoppers to use their smartphones to scan QR-coded price tags to make an immediate donation to Toys For Tots.
Debra Messing, mom of 7-year-old Roman, and the upcoming star of Smash was on hand to kick off the new endeavor and spoke with me about her favorite holiday traditions.
LilSugar: With the holiday season upon us, how did you come to work with eBay on this project?
Debra Messing: The holiday season is a time when people are more inclined to give, and I just thought that eBay's initiative was so brilliant. They have this window with virtual gift tags with toys, and there are different donation amounts — there's $5, $10, $20 — you just scan your [smartphone] over the window, you're on the sidewalk, and instantly you're donating to Toys For Tots and 100 percent of the money goes to Toys For Tots. Being able to make things really quick and easy and meaningful is important.
LS: What family holiday traditions are you most looking forward to this year?
DM: We just moved back to New York, but have always had family here. We love to go skating at Wolman rink, and go see plays — musicals specifically. Waiting for the snow to come. Looking forward to putting on the snowsuit and stomping through Central Park.
LS: So much of the holiday focus is on kids. What's on your wish list this year?
DM: For me, there is no better present than a massage. Flowers are beautiful, but they die. Champagne is fun, but it's gone — very quickly. As a mom we're on 24/7, and if we're working moms, which most of us are, we're exhausted, and sleep deprived, and we don't take care of ourselves. We feel guilty if we take too much time for ourselves. It feels like an extravagance, but it really is a necessity for moms to take an hour to shut down, rejuvenate, and have someone to rub out the kinks from carrying the baby on your hip too much or whatever you're doing. My son's now at a place where he likes to jump on my body to wake me up at 6 in the morning, so I've literally got bruises all over my body.
Keep reading to see how Debra Messing our famous Four Lil Questions about motherhood!