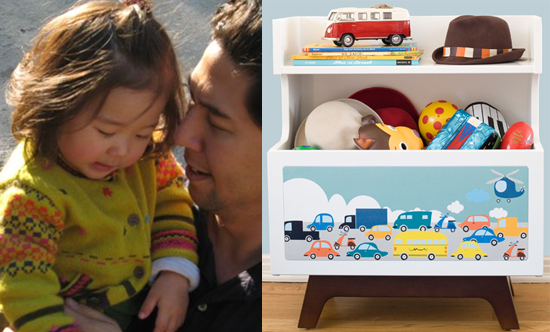 Nurseries aren't just unicorns and rainbows for Robert Kwak, they're more cherry blossoms and boom boxes. The woodworker and soon-to-be father of two came up with the concept for
Muu
(pronounced Moo), his modern sustainable furniture company, as an expectant parent. The name is a zen term for the stage right before enlightenment and is appropriate since Kwak's designs have changed the way moms and dads think about tot decor. Muu offers families customization without commitment. Kwak isn't interested in mass production, instead he "makes things people are going to love and hold onto for a long time." We recently had a chance to chat.
LilSugar: There have been numerous crib recalls. Can you speak to if/why buying well-made furniture is important?
Robert Kwak: When we were starting the concept (of Muu) we talked to manufacturers all over the world, but ultimately we wanted to (have our goods) be (made) here in the United States for a number of reasons. One is quality, the people who make our furniture — it's a family-run business. We know them on a personal basis. And I think that going back to the concept of Muu, it's important for us to know the people who make our products both for the quality and safety issues. They use our products, we use our products, and we're not just trying to make (them) cheaper, faster, and quicker so it costs more to do more. A lot of children's products are inherently disposable and by buying something that is built to last, you can pass it on from one child to the next or it can grow with your child. It's an important aspect of sustainability and people talk about material sourcing, which is very important. We definitely strive to continue to make our products more "green," but I also think a larger part of the sustainability story is making it in a way that's not just going to be used for a couple years and just sort of thrown away, thrown in the dumpster and seen in a landfill.
To see if Muu plans on bringing its fine design to the mass retailers, read more