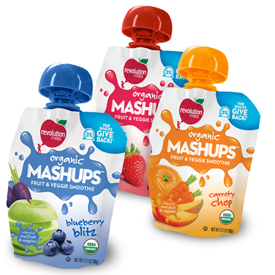 By now,
pouches of squeezable organic food
have become the norm. What started out as a lighter, more earth-friendly way to transport baby's purees has expanded to a convenience enjoyed by older kids too. For some reason though, once tots graduated beyond stage 2 purees, the sole proprietor of the pouches has been fruit. Taking a page from their baby food siblings at
Plum Organics
, Revolution Foods is mixing things up and adding vegetables to their popular Mashups line of squeeze pouches.
Mashups Fruit & Veggie Smoothies
($5 for four) are certified organic real fruit and veggie blends made without any added sugar. I put the blends to the test with my notoriously veggie-shy son.
Who is this product designed for? According to Revolution Foods, Mashups were created for kids 5 and up who don't want to eat the same squeeze packets as their baby siblings. As with all squeezers, they are designed for families on-the-go – creating a neat way to eat a snack when mama doesn't have time to cut up some fruit and vegetables.
Is it practical? Any mama that's rushed to pack her tot's lunch box and needed to throw some snacks in a bag knows how hard it can be to find wholesome, organic treats that aren't packed with hidden sugar. These packs give mom peace of mind knowing that she's giving her lil ones a healthy snack with the ease of simply reaching into the pantry.
Keep reading to see if my tots liked the packets, and if I'd buy them.