We're excited to bring you a new post from mother and actress Tori Spelling! Every other week, we bring you the best parenting and lifestyle advice from ediTORIal by Tori Spelling, Tori's daily blog about everything from food and fashion to parenting and relationships. This week, Tori shares a recipe for making hot chocolate play dough.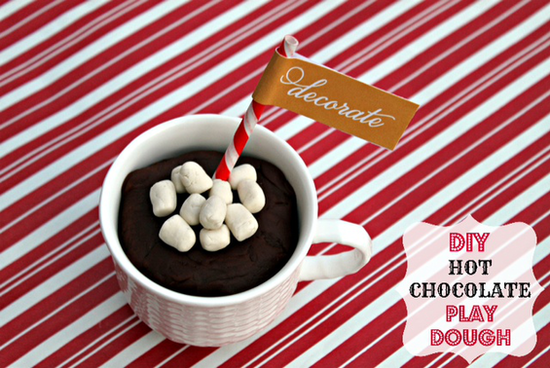 I'm featuring my friend and fellow craftista Jenny Dixon's holiday tuTORIals! She's shown you how to spray-paint your thrift-store finds, create DIY yarn letters, make a supercute DIY mailbox for your little ones, and also how to make a personalized and beyond adorable baby gift for the new mamas in your life. She's also been working hard on her new website Craft That Party, and it looks fabulous! Now, she'll show you how to make Hot Chocolate Play Dough. Take it away, Jenny!
Related: Dean's Peppermint Brownies
Do your kids love the marshmallows more than the hot chocolate? If the answer is yes, then here is a sugar-free alternative . . . Play with your hot chocolate instead of drinking it! Hot chocolate play dough is easy to make and smells superdelicious. I have included a five-minute recipe, but if you are too busy to make your own, then just add 1/8 cup of unsweetened cocoa to a container of brown play dough. Either way you make it, hot chocolate play dough is a great indoor activity, classroom gift, or holiday party favor!