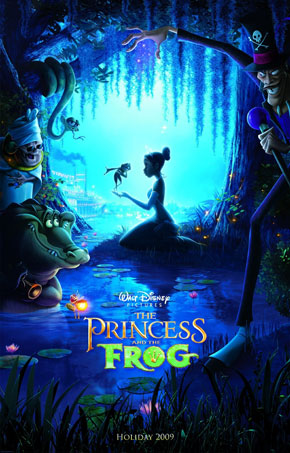 Princess lovers unite! There's a new girl on campus and her name rhymes with tiara... she's princess Tiana! Disney's latest release,
The Princess and the Frog
, takes it back to the old school ways with hand-drawn animation. The film includes all aspects of a classic fairy tale and the musical background to accompany it. A groundbreaking movie, it is the first Disney production to present an African-American princess. Voiced by Anika Noni Rose from
Dreamgirls
, princess Tiana has visions of opening a restaurant in her home town of New Orleans. As one might suspect from the title, a frog enters the picture. Set in the bayous of Louisiana, the purple, green and gold background blends perfectly with the Mardi Gras feeling and the jazz flavored tunes. A soulful alligator named Louie and a firefly named Ray bring laughter to the screen while adding to the southern mix. An instant classic, parents should set aside a date over the holidays to take their wee ones to see
The Princess and the Frog
. It opens today, Dec. 11!
To give us a wee perspective, we sat down with one of our favorite lil movie reviewers, Miya, to get her take on the film, read more