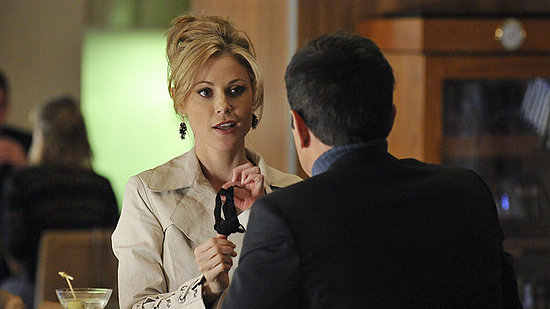 They call it funky love. Last night's "My Funky Valentine" episode of
Modern Family
sure beat a box of chocolates and a vase of roses. It was full of familial situations that would make any mom laugh to the point of tears. Here are the highlights:
Cam dresses Lily up as cupid and Mitchell dismisses her costume as a cut-up boa. Cam replies, "We re-purposed it. It was a Bob Mackie meets Martha Stewart project."
Dylan hands Claire a rose and says, "All women should look as tasty as you when they are old."
Phil and Claire realize that Dylan's gift to Haley isn't a painting, but a scanned photo of him shirtless lying with her turned into one.
Claire suggests that she and Phil spice up their date with some role playing and he tries out a few characters — Reginald Applebee, an English gentleman in town for a polo match, an honorable businessman from Hong Kong and a tiger trainer.
Phil arrives at the hotel bar with a nametag that says "Clive Bixby."
To see the rest of our picks, read more