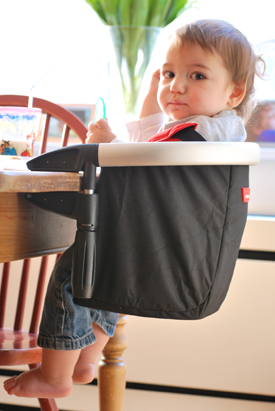 Phil & Ted's MeToo high chair is a favorite in the LilSugar office. It's won our Editor's Choice award because we love its collapsible, space saving features. I was both excited and skeptical when the Phil & Ted's team told us they were introducing a new attachable high chair. What could they improve upon?
It turns out, a lot. The Phil & Ted's Lobster ($80) is a step up from the MeToo. With a wider and deeper seat, thicker aluminum supports, extra-padding throughout, and a removable plastic tray, lil ones no longer have to eat off dirty restaurant tables when the seat is used out of the house. But did it measure up to the original? The company sent me one to test with my 15-month-old, and here's what I thought.
Who is this product designed for? According to Phil & Ted's, the seat holds tots up to 37 lbs, approximately 3-years-old. Weighing about 4 lbs, it is designed as a travel high chair that can be stored in a stroller's under carriage basket.
Keep reading to see if my son sat still and if I'd buy it.