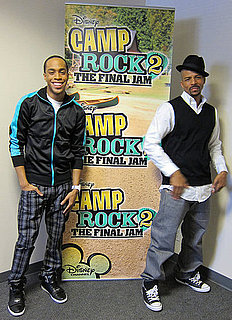 Your daughter dresses like
Selena Gomez
and your son quotes Zach and Cody, but come September, all the kids will be trying to sing and dance like Mdot. Known for making some of America's biggest stars, Disney is now shining its spotlight on Matthew "Mdot" Finley. Cast alongside Demi Lovato and The
Jonas Brothers
in the tween and teen musical masterpiece
Camp Rock 2: The Final Jam
, the 23-year-old got his big break. We recently caught up with him in San Francisco.
LilSugar: Amazing talent has come out of Disney — is this your big break?
Mdot Finley: Yes. I see it [Camp Rock] as a great platform and jump-start to a place that a lot of people would want with all of this exposure. Disney is a great machine, what they put behind you, and it's a dream come true to come from the bottom up. I [get to start] with the younger crowd and hopefully have them stay with me forever. It's an honor and a great opportunity.
LS: When did you get the call?
MF: I got the call while I was valeting a car. I was actually going to just let the car roll off, but I finished the day off strong.
LS: What is it like to go to the set with The Jonas Brothers?
MF: This is my first major project. I just got to just kick it with the brothers and Demi. I went to the studio with the brothers and hung out and it's unreal. They are movers and shakers of the industry right now, but they are so down-to-earth and laid-back. It was crazy at times because the fans would be waiting for hours and lined up just to get a glimpse. I learned a lot.
To see what advice Mdot has for young fans who want to pursue big dreams, read more