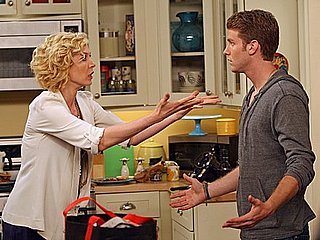 A mom's life may play out like a sitcom, but no woman ever expects to actually watch hers on the small screen. This is exactly what happened to Mary Pols, author of
Accidentally on Purpose
the brilliant memoir of a 39 year old who had a one-night stand and ended up pregnant. I recently had a chance to chat with Mary about
how her book became a CBS show
starring Jenna Elfman. The second part of the season finale airs tonight. If you missed the first portion of the interview,
check it out
!
LilSugar: This one is for the wishful readers who rooted for the relationship, are you and Matt together now?
Mary Pols: We're not together. No traditional happy ending, just like the book. But being co-parents who are completely united in raising a child is a happier ending than a lot of people get, you know? I can live with that. Both of us could have had easier paths, but this little boy we share is just gloriously fun and sweet and charming and because of him, I wouldn't choose another life for anything. There isn't a day that goes by that I don't think, this is hard, and then, "I am so lucky." Which is really the sum of parenting, isn't it? If you feel blessed, it's all the same, whether you're married, single, straight, gay, adoptive, transgender but miraculously reproducing or what have you. Damn, this is hard. Damn, I'm lucky.
LilSugar: Dolan is now six, does he know his life story has gone to Hollywood? Or does he live like a normal kindergartner?
Mary Pols: Dolan knows I wrote a book about him but is blissfully ignorant of the whole Hollywood angle. Unless I was the inspiration for "Glee" or the "Berenstain Bears" I don't think he'd care much if he did know. Someday when he's older, I'll tell him. But for now we're just glad his rapidly advancing spelling skills don't yet extend to S-I-T-C-O-M.
LilSugar: Where will you watch the season finale?
Mary Pols: I'll probably have to watch the season finale on my laptop via CBS.com, late next Wednesday night, because I am so often at a movie screening on the nights when the show airs. But I saw a lot of it being taped, so I already know a few secrets. Like the baby's name, which is not Dolan but is a name I am very fond of and does appear in my book!
To see Mary's thoughts on motherhood, read more