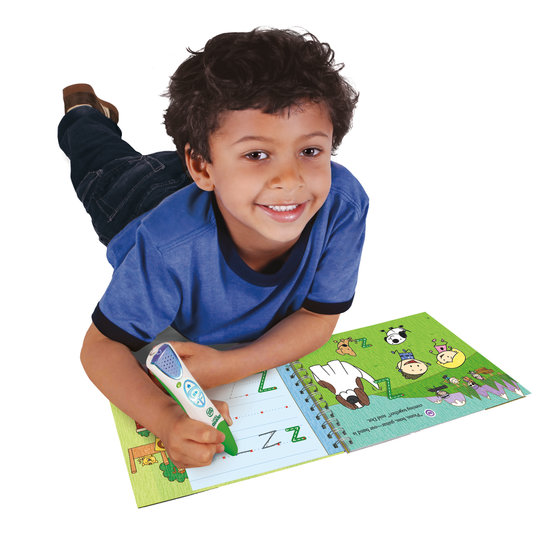 Reading, writing, 'rithmatic? LeapFrog's about to have you covered. It's been four years since LeapFrog introduced the Tag Reading System to preschoolers everywhere. The system, which brought written words to life as the stylus contacted pages in the specially developed books, inspired tots to learn how to read on their own. But with time, the company found that parents are just as interested in teaching their kids to write as they are to read.
That brings us to today, where LeapFrog is taking things a step further with the soon-to-be released LeapReader ($50), a new device designed to teach kids how to read and write all in one place. As a next-generation Tag — LeapFrog will begin phasing out the Tag system this Summer — the LeapReader continues to teach tots to sound out words and read sentences through its library of 150 or so books, and it also teaches preschoolers how to write their numbers and letters through structured stroke lessons.
We got a quick sneak peek of the LeapReader last night (it won't hit store shelves until July) and were quickly impressed with its functionality. Slimmer and easier to hold than the original Tag, the new system's reading experience feels exactly the same as the old version — place the stylus on the page, and it will sound out words, read whole words, or read entire sentences. Where the system excels in in the new writing experience. In addition to providing instructions for drawing the sequence of strokes that create a letter, the system includes mess-free LeapFrog Learning Paper that allows tots to see what their letters look like on a real sheet of paper (the stylus writes — only on that paper — like a pencil). Finally, the new stylus includes a listening experience where kids can enjoy downloaded ebooks, music, and games.
In all, the new LeapReader appears to be an all-in-one solution for families looking to encourage reading and writing at home. It will take some hands-on play with the device to see how it improves upon the Tag, but so far, we're impressed — are you?