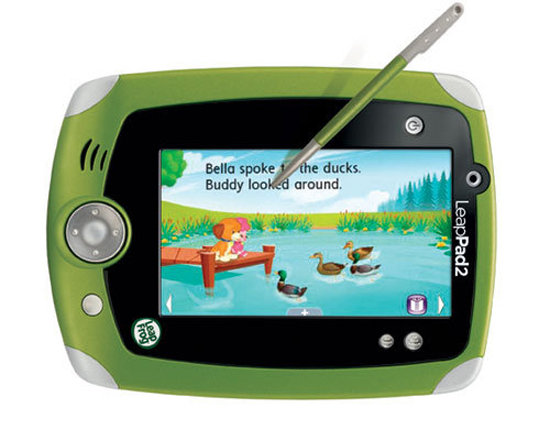 It's been a year since
LeapFrog
debuted
the LeapPad
and gave tots the first tablet of their own. And while the devices weren't exactly easy to come by (it was easily
the hottest toy of 2011
), those who did get their hands on them were easily impressed with the pad's touchscreen, built-in camera, tilt-sensor, and enhanced ereader.
That's not to say the LeapPad didn't have its detractors. Well, it appears that the company listened to some of the users' complaints, and less than 12 months after the original version hit the stores, the company is preparing to introduce the LeapPad2 Learning Tablet ($100 for pink or green and $130 for a Disney Princess Bundle) next week. While I've been more than happy with our first-generation LeapPads at home, I was eager to see where the company made improvements on the devices. LeapFrog sent us a tablet to try out; see what we thought below.
Who is this product designed for? After seeing preschoolers snag their older siblings' LeapPads last year, LeapFrog has expanded the age range to include 3- to 9-year-olds (rather than starting at 4 years old), meaning games and apps will also be available for the younger set.
What sets it apart? The original LeapPad made its mark with its tablet-like features that gave tots the feeling they were playing with a sophisticated system. With an accelerometer that transforms the tablet into a gaming console for motion-based games; a library of more than 325 games, apps, music, and videos; and the incorporation of Ultra eBooks, the LeapPad had virtually everything a kid could want. The next-generation version only improves upon those features.
While the screen size (five inches) and resolution (480 by 272 pixels) remain the same, the LeapPad2 now has a second camera installed in the tablet — a 2MP front-facing video and still camera that makes taking a self-portrait easier than ever.
The more powerful camera results in larger photo files, so the folks at LeapFrog increased the product's memory to 4GB of storage (up from 2GB) so more photos, videos, and apps can remain on the device.
A faster processor (550 MHz vs. 393 MHz) means apps and games load much faster than before.
A new music player (already preinstalled on the device) plays educational songs.
One of my biggest complaints about the original LeapPad was how quickly it burned through batteries. The new version not only extends battery life another hour (up to nine hours), but a rechargeable battery pack can also be purchased separately, so the device can be plugged in and charged when not in use. My wallet and the environment thank LeapFrog for that.
The new creativity app, Cartoon Director (included on the device), allows tots to place their mugshot onto cartoon characters and then turn them into movies.
All apps and games purchased for the original LeapPad are compatible with the new version too.
Keep reading to see what could be better an how long the tablet entertains a youngster.