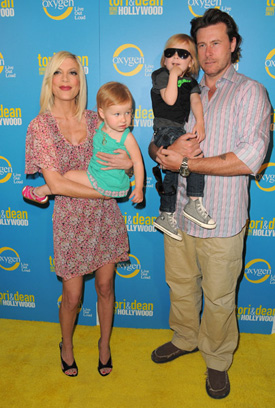 Tori Spelling
has a theory of why moms are the overprotective parent. In tonight's fifth season premiere of
Tori and Dean: Home Sweet Hollywood
, she tells Dean that the children "came out of your penis for 30 seconds and lived in me for nine months."
At an exclusive screening in New York City this afternoon, we got the inside scoop from the author/designer/reality star and her husband about life after their children, Liam, 3, and Stella, 1. Here are the highlights:
On marriage after kids.
Dean: You really have to have a willingness to communicate, listen, make compromises and sacrifices and just work together. It's a really difficult thing with careers and kids and the relationship sometimes gets put on the back burner. And you both have to have that willingness to say, "This is going to take some work."
Tori: Before kids, you say — and we said the same thing — our relationship will never change. And then you have little beings you have to provide for and you have to make them a priority for a certain amount of time. And it's true, when kids come, they take over and you forget you have to work on communication and it takes work, and it would be nice to get back together.
To see what else the couple had to say about family life, read more