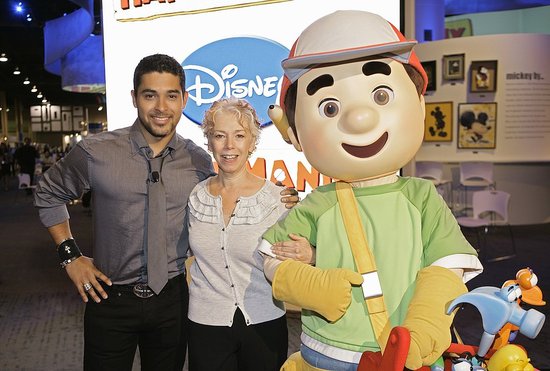 When your child sits down to watch Playhouse Disney, you aren't the only mother in the room. Behind the screen, the script, and the concept, there's Nancy Kanter, Senior Vice President of Playhouse Disney Worldwide and mom of three. Though her children are grown, the television exec still has babies she nurtures from concept to creation — shows like
Handy Manny
,
Little Einsteins
and
Imagination Movers
. It's an exhaustive process that involves educational, curriculum and cultural consultants, focus groups of moms and children, research, feedback and reworking. Each social message and its delivery is carefully crafted since youngsters are likely to replicate what they watch in the real world. The Mouse doesn't just put things on air. We recently had the chance to chat with Nancy via phone.
LilSugar: Your job is in television, but you are also a mother. What's an acceptable amount of TV?
Nancy Kanter: It's always about the balance in your life and your activities with your kids. I don't think anybody would advocate that you put your kid in front of the television for endless hours on any given day. It's a family decision. There's no magic number. We target preschoolers children two to six on Playhouse Disney. Often our programming is the first TV experience that kids have. We are thrilled with parents that pay attention to what their kids are watching, and it's our responsibility to give them really well conceived, entertaining shows. And, in the preschool world to give them something that is of value developmentally.
LilSugar: What is the time from concept to airing a show?
Nancy Kanter: It can certainly vary depending on how well the initial stage of developments go, but it's usually between a year and a year and a half in development before we say this is in good enough shape to go ahead and make a pilot and present it. From the pilot stage to finally hitting the air, that's usually a year and a half to two years.
To see what Nancy said sets Disney programming apart and if there will ever be a collaboration with Sesame Street, read more