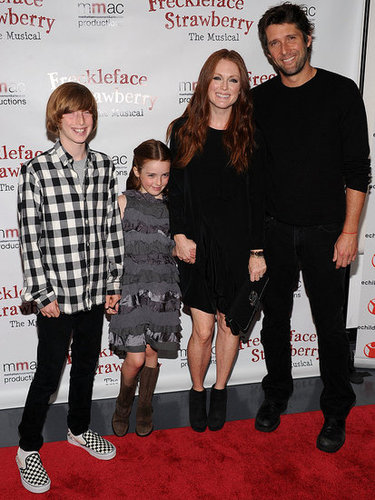 Movies reflect popular culture, says Julianne Moore. The Oscar-nominated actress's most recent film,
The Kids Are All Right
, mirrors the contemporary American family. Married to director Bart Freundlich and raising son Caleb, 12, and daughter Liv, 8, Moore is very much the modern mom. She chatted with me this morning about balancing career and children while promoting Barilla's
Share the Table Project
, a celebrity effort to raise money for Meals on Wheels.
LilSugar: You are spending more time with your children these days and less time on movie sets. Do you think it's possible for a working mom to have it all?
Julianne Moore: It's interesting because people always talk about having it all and what that means and I think I'm just glad to have the opportunity to try. I love my family. I cherish my time with them and I love my work. And, it's nice that I have both, that I can have both. I'm doing the best that I can. We all do. I don't want to give up any of it.
LS: A show based on your children's book Freckleface Strawberry recently opened off Broadway. You went from a kid who was picked on to become a model. Every child goes through a similar experience with bullying. There's so much in the media right now about cyber bullying. Do you think anything has changed or are we just focusing on it more?
JM: I think we are focusing on it more and that's a good thing. There's this site (they wrote an article about it in The New York Times) — it's supposedly a place where you can ask questions and post the "truth" anonymously. A bunch of moms at school were saying isn't that horrible — among junior high school girls, it's really detrimental. I said it is really horrible, but don't you remember we had slam books, which is sort of the same thing. We had those horrible books where people would write things about people and then send them around until they got caught and expelled. With the Internet, now it's happening on a much larger scale. The Internet has accelerated it. It's certainly something we always have to pay attention to — it's about supervision. It's about community and people being aware of things and saying stuff. The more you talk about it, the more children will realize that if they are having trouble they need to bring it to someone's attention. It's very disturbing particularly in light of what happened with these gay children who felt they were being bullied and they both committed suicide. That is unbelievably horrible.
Keep reading to see why Julianne loves her kids more on the outside than the inside.