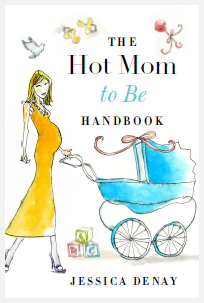 A mom-to-be can cut a bathroom line and she should. That's how Jessica Denay (mother of one) says hot women can "work the perks of pregnancy." The author wrote
The Hot Mom's Handbook
when
babies were becoming Hollywood's comeback kid
, and now she's upping the ante for pregnant women with
The Hot Mom to Be Handbook
. We recently had a chance to chat via phone about Jessica's latest tome, so strap on your stilettos and see what she had to say!
LilSugar: So moms aren't only the ones that have to be hot, but pregnant women too?
Jessica Denay: I wrote the first book like four years ago and so much has changed since then. I wanted to update that and pregnancy has never been hotter. It's just an exciting time so why not start feeling confident about yourself then? You start mothering the second you find out you're pregnant.
LilSugar: Celebrities are hot and have a lot of help. Is it possible for an average mom who juggles it all to attain this?
Jessica Denay: Absolutely! The celebrities have a lot of help, but they also have a lot more on their plates. They have paparazzi following them so they have to look good because there's more pressure on them. For the average woman, maybe you have your mother-in-law looking at you and saying "you still need to lose this or that," but celebrities have the whole world and tabloids picking them apart. They have different events to attend or are working 14-hour days on a hit show and that is a lot more responsibility. It is easier if you have help — trainers and chefs and nannies and night nurses and all that — but it is possible for every mom out there to still look and feel great. It's kind of deciding that you want to keep it together. Everyone has this thinking of, "Oh, I have to do so much." It's just really to enjoy your pregnancy and your baby and put time and energy into your relationship. It will all shake out OK.
To find out how to increase your own hot factor and score some mommy time, read more