Most parents make a baby book for their kid, but if you're author Brad Meltzer's son, yours is bound to be a bestseller. Well known for having all six of his fiction novels hit the New York Times best-selling list, Meltzer's latest tome, Heroes For My Son ($12) is both his entry into nonfiction and a gift to his firstborn. From concept to creation, the father (of now three children) was involved in nearly every step of the process from the look and layout of the pages to selecting photographs of the 52 heroes — from Dr. Seuss to Albert Einstein and Paul Newman to Pele — in the book. The dedication reads, "For Theo and Jonas, my sons, my heroes." And, that's the point of the book, that anybody can be a hero. It just takes an act of greatness. I recently had the chance to chat with Meltzer about his labor of love, here's what he had to say.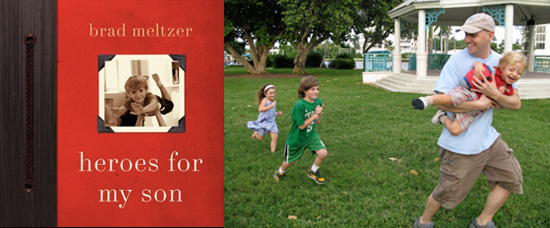 LilSugar: You write that you thought up the idea for the book while waiting at a stoplight on the day your son was born, where were you going?
Brad Meltzer: I was coming home from the hospital. It my first true moment alone as a father. And it was in that moment that I couldn't help but think, "What kind of man did I want my son to be?" That moment is a beautiful one because it's filled with so much hope and idealism and all the things we quickly forget about as life takes over. But it was in that moment that I said, I'm going to write a book that lasts my son's entire life. And in that moment, Heroes For My Son was born.
LS: If you realized that you "have little to say in the matter" when it comes to what type of people your children will become, then what purpose will this book serve?
BM: I think we have little say when it comes to telling our children what they'll be. But we have a great deal of say in showing them the potential that exists within them. And that's what I wanted to capture, by showing him the greatest single moments in the lives of Jim Henson, Rosa Parks, Mr. Rogers, Abraham Lincoln, and the Wright Brothers, who used to bring extra materials to every test flight, since they knew they'd fail. That preparation is exactly why they took off. This book isn't about fame or money or even success. It's about what we're all capable of on our very best days.
To see who Meltzer's personal hero is and how his son reacted when he was read the book, read more