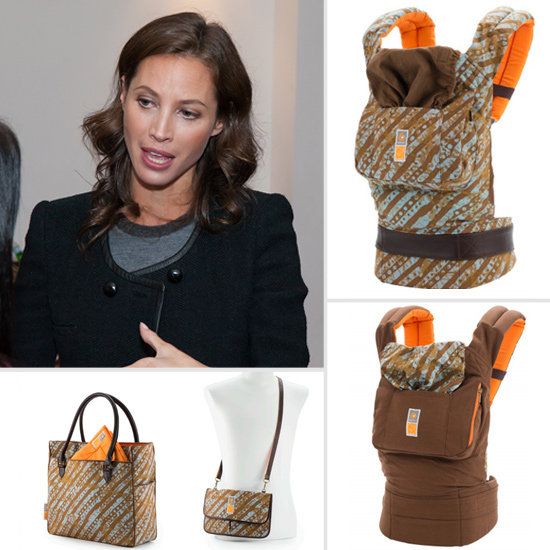 In the two years since Christy Turlington
debuted her moving documentary about maternal death, No Woman No Cry
, the global maternal death rate has almost been cut in half. While Turlington does not claim sole credit for reducing that rate, her
Every Mother Counts
advocacy group has raised significant awareness of the issue as more people are paying attention to its mission than ever before.
One group that is listening are the designers behind Ergobaby, the popular baby carrier. To kick off its Guest Designer Series, Ergo is collaborating with Every Mother Counts to introduce four new products in November. The print carrier ($165), a solid carrier ($145), the "not-just-a-diaperbag" ($150), and a hip and shoulder bag ($75) will feature a new "Umbra" pattern designed by a small-business woman in Togo who uses a batik method to create her unique design. A portion of the sale of each item in the collection — which will be available on Ergobaby's website — will go back to Turlington's organization to help raise awareness of maternal mortality and improve the lives of girls worldwide. I chatted with the model mama about the new collaboration, sharing her experiences with her kids — Grace, 9, and Finn, 6 — and disconnecting from our wired world.
LilSugar: How did the relationship come about?
Christy Turlington: Well, Amy [Swift] used to work with me a long time ago when I started my brands Nuala and Sundari. She was doing some consultancy work with Ergo and . . . they were trying to figure out to do a guest designer series and trying to link themselves with an organization. So she made an introduction. For us, we were just thrilled to have somebody come to us, because we just are tiny. Especially something like this that really is about educating and supporting moms and husbands too. It's such a unique thing we have in our culture. All the African men that I know, they look at men and fathers carrying babies and they're like, "Oh my god. I don't know it will ever be in our lifetime. Why would you ever?"
LS: Why partner with a baby carrier company?
CT: A lot of people don't know that sort of face-to-face, skin-to-skin thing. In low resource settings, educating moms, it's such an interesting thing. It's so natural to carry a baby in many developing countries, but sometimes — like with a preemie or a very weak, new baby — they don't know that something as simple as putting skin-to-skin is like an incubator and if you don't have electricity, that is called kangaroo care, [and it] can keep a baby alive.
LS: What impact is Every Mother Counts having on the maternal death rate?
CT: When I first learned about the statistics, there were 530,000 women dying per year, globally, and two years later the number was 353,000, and then the next year [it dropped more]. Part of that is just better accounting like we're paying more attention to girls and women all over the world right now, which is fantastic and that's a big part of what will help get this problem taken care of, because it's a matter of prioritizing women and girls. Now that we're starting to count — I still think the number is higher than that, honestly, it's almost an impossible thing to count — it shows that there is a steady decline. There's something to it and we have to keep the fire on it, really. [There] really should be very few cases that this happens.
Keep reading for Turlington's experience bringing her kids to Africa and why she wants them to just disconnect from technology.