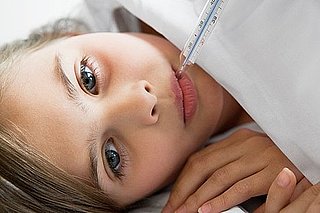 Deciding whether to send your ailing child to class or keep them home can be a tough call for parents. While some schools have strict guidelines, others don't so we asked NYC-based pediatrician
Dr. Anatoly Belilovsky
who has been practicing for more than 20 years to help us compile a cheatsheet. Here is what he had to say:
Sore throat: A sore throat during a flu or strep epidemic is reason to stay home and a sore throat accompanied by fever is always reason to exclude. If it turns out that your child does have strep, he or she will be contagious until after 24 hours of antibiotics. Untreated strep throat may remain contagious for several weeks and sometimes indefinitely, so when in doubt, get a strep test.
Wheezing: If the wheezing is due to acute bronchitis or bronchiolitis, then your child is contagious and should stay away from school. Don't wait for the wheezing to end before she resumes classes, though, because the wheezing can last longer than contagion. Asthma attacks are a common cause of wheezing, and they're not contagious, but they need to be treated. Trouble breathing, turning blue, retractions, fast breaths or pain with breathing are all signs that your child needs to see a doctor as soon as possible.
Fatigue or aches and pains: These symptoms can be linked to any number of causes, so parents will have to make the call regarding how sick their son or daughter really is. Once again, my recommendation is that like a runny nose or sore throat, these symptoms could be the early signs of a flu, so if there's an epidemic in your area, you should keep your child home for observation.
Keep reading for five more common ailments and the things parents should take into consideration.