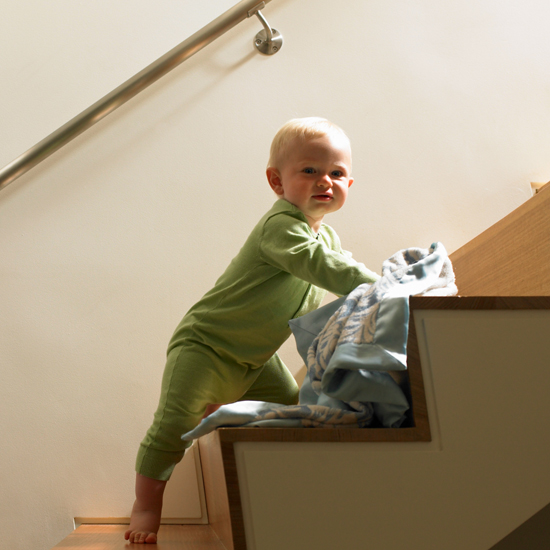 Curious toddlers who want to touch and explore everything can inadvertently create havoc in a home. Some parents are content with the chaos. But it only takes an off-balance baby falling down the stairs once before the safety mind-set sets in.
Jennifer L. wonders how far she should go to baby/childproof her home. "Locks on cabinets? Lock on toilet seat? Outlet covers? Something to keep little fingers from being smashed in drawers or sliding doors? Knob covers for the stove? Gates? Lock on refrigerator? Bubble-wrapped coffee table?"  
Similarly, Heather N. wants to make her home as safe as possible for her child, without going overboard.
 
To aid parents, we've rounded up four tips on babyproofing, as recommended by experienced Circle of Moms members.
1. Assess Your Needs
The first step in babyproofing your home is to assess your child's personality and your needs. For instance, if your home has a pool or wood stove, you will want to make sure there's a gate around them. It also helps to observe your child and see if you can determine what unsafe things will be an attraction, Circle of Moms member say. For example, some moms are forced to put up a protection system around the TV when they find their children are infatuated with pushing its buttons. Other moms say they don't use commonly purchased outlet protectors because their children aren't attracted to outlets.  
When trying to figure out what and how to babyproof, Sandra D. recommends asking yourself specific questions. To determine the appropriate solution for another mom who was concerned that her son was playing with the air ducts, Sandra asked: "What is she doing with them? If she is lifting them out of the floor you can double side tape them down. If she is putting things in them for metal one there is a cover to block air flow it is like a magnet she might have a hard time putting something down them then but you will have no heat or cool air flow through those vents. . . . If she is just dropping items down, I also have placed a thin bounce sheet inside the vent cover to catch the items or you can purchase a sheet for this at the hardware also."   Click here to read more practical babyproofing advice from real moms!