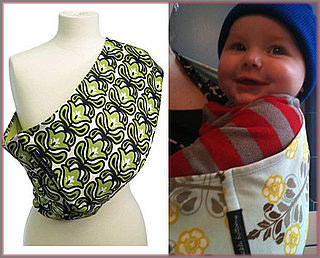 Now that I have three young kids and only two arms, a baby carrier is a necessity. Whether a mom prefers a sling or a carrier, it's bound to make life at the park, running errands, and helping her children easier. I'm going to search out the best options and report back. Petunia Picklebottom recently sent me their
Sojourn Sling
($70) to put to the test.
Who is this product designed for?
This sling is made to hold newborns to 25 pound tots.
Is it practical?
Yes, if the sling is purchased at the time of the baby's birth, a mama can get a lot of good wear out of it holding the baby in three different age appropriate positions. If $70 breaks your budget, old fabrics tend to go on sale when new designs are released and you can pick one up
for half price
.
What sets it apart?
The carrier is simply a piece of sturdy fabric that creates a pocket to secure the child in. Once you get the hang of putting your kiddo in, it takes just moments to slip into the sling and be on your way.
To see what could be improved and if I'd buy it,
read more