We're excited to bring you a new post from mother and actress Tori Spelling and her ediTORIal by Tori Spelling blog. This week, Tori debunks five new mommy myths.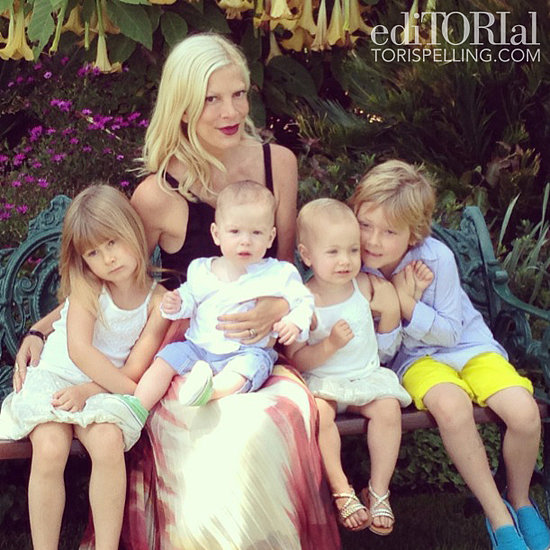 As a momista-of-four, there were still things that surprised me about each pregnancy and each new babe. There's just so much to learn as a new mom. Even if you were one of those moms who read What to Expect When You're Expecting cover to cover three times, chances are that you still fed into a few misconceptions and old wives' tales. So today I'm debunking a few of the biggest myths that new mamas encounter. Check them out and let me know which ones you used to believe . . .
Related: Tori's mother of the year award
Myth No. 1: You can predict the sex of the baby (without your doctor).
Each time that I was preggers, I had people tell me that if I was carrying low the baby was going to be a boy and that if I was carrying high it was a girl. Well, according to WhatToExpect.com, the height of your bump has nothing to do with the baby's gender. Dying to find out the baby's sex? It's called an ultrasound! Otherwise, just sit tight and enjoy the guessing game. There are so few surprises in life.
Myth No. 2: You can determine the sex of the baby with sexual positions.
Lots of new mamas believe that not only can they predict their baby's sex, but that they can take certain steps during conception to determine it. Well, I hate to break it to you, ladies, but according to Parents.com, the missionary position is not going to guarantee a girl and doggy style is not going to make your little one a boy. But I can promise you one thing — boy or girl, this little one is still going to be the light of your life.
Keep reading for three more myths and why they're nothing more than myths.