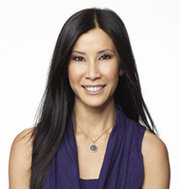 Editor's note: The following is a guest post written by journalist Lisa Ling, program ambassador for the Ikea Life Improvement Project — a program designed to inspire people to make a positive impact on their homes and the lives within. Below, Ling shares tips for turning your home into an oasis. 
When my husband and I built our house, we wanted to make it our oasis — a warm, inviting place for us to make roots and raise our family. And because I travel so much, it was important to create a space that I'm excited to come home to. We were really involved in the building and decorating process and created a space that is truly our oasis. Based on this experience, these tips, below, will help inspire you:
Focus on You:

Your home has to be a relaxing space for you, so make your space personal and a reflection of you. Since my husband and I are environmentalists, we had our home LEED Platinum certified — the highest environmental rating a home can be awarded — because that is what is important to us. If you love to read, display your favorite books on large bookshelves in your living room. If you're a passionate cook, hang your pots and pans and display your best chef's knives in the kitchen. The most important part of making your home an oasis is personalizing it to your own tastes.
Pictured: Ling's living room
Read on for more tips from Ling on turning your home into a peaceful abode.