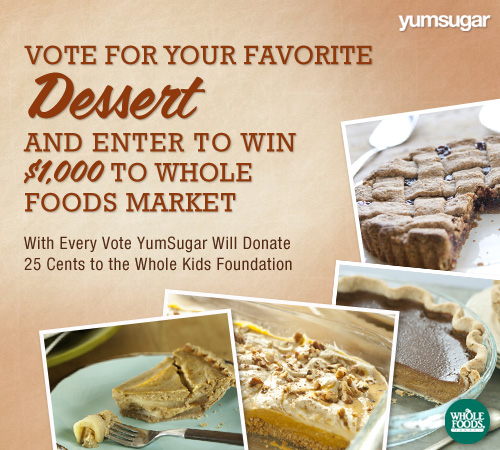 Nov 18 2011 - 9:55am
This Thanksgiving, we're not only giving thanks, but we're also giving back with a special Whole Foods Market Thanksgiving giveaway. To enter to win a $1,000 gift card to Whole Foods Market, check out our six favorite desserts from Whole Foods Market's recipe collection by clicking through the slideshow. Then, vote for your favorite; for every vote cast, YumSugar will donate 25 cents to the Whole Kids Foundation (up to $5,000). After you've cast your vote, check out the last slide for details on how to enter to win.
Help us donate more by voting for your favorite side dish and main dish. Don't forget to check out Whole Foods Market's Thanksgiving Shop for everything you need for your holiday meal. Now, click through to pick your favorite dessert, and we'll donate to the Whole Kids Foundation!