Summer Pool Toys
Dive Into Summer Fun With Toss Across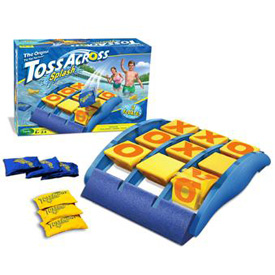 Everybody in the pool! With the long weekend,
community water holes
, as well as
backyard swimming pools
are open for business and kids are grabbing their goggles and getting ready to dive in. As part of your Summer pool prep, stock up on some new pool-friendly toys and games that will entertain tots long after their marathon cannonball contest.
Toss Across Splash ($40) brings tic-tac-toe into the water with a floating game board filled with Xs and Os. Players toss beanbags at the board to turn over the targets and reveal the Xs and Os. The first one to get three across, wins. The game, designed for kids 8 years old and above, involves strategy, skill, and physical activity as the players dive after the beanbags. Tic-tac-toe has never been so wet, or so much fun! For more pool-worthy picks, check out the items below.