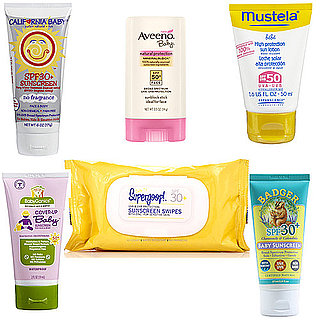 May 28 2011 - 5:37am
Slather on the lotion! If you thought the breast vs. bottle debate was polarizing, wait until you talk to fellow playground moms about sunscreen. Though lotions and sticks protect lil ones' skin from cancer-causing UVA and UVB rays, doctors advise new mamas to use physical barriers — SPF clothing, umbrellas, and shades — rather than lotions on babies younger than 6 months old.
Once tots reach the six-month mark, keep them protected from the sun without harming them in other ways. The Environmental Working Group recently released its recommendations for the best sunscreens for tots — seeking out products that do not contain potential hormone disruptors. The group recommends staying away from spray-on lotions and powders, as well as those containing oxybenzone or vitamin A. Tops on their list are sunscreens using zinc or titanium for the best UVA protection without the use of such harmful chemicals. Click through to see six of their top picks (which can all be found without much effort at your local drugstore).