Return to the Hundred Acre Wood
Texts and Tunes: Winnie the Pooh Returns After 80 Years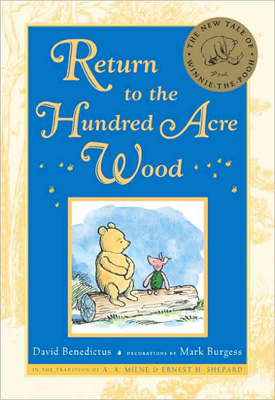 Talk about a hiatus! Eighty years after Christopher Robin bid his friends in the Hundred Acre Wood adieu, Pooh, Tigger and Piglet are back in the first book approved by the Trustees of the Pooh Properties.
Return to the Hundred Acre Wood
picks up where A.A. Milne's
The House at Pooh Corner
left off, with a slightly older Christopher cavorting around the forest with his toys. The book, which includes artwork reminiscent of the original series, also features the introduction of a new character, Lottie the otter, who according to the book's publishers is "smart and elegant," "always dressed in pearls," and "has her own ideas about how things should be done and believes that everyone should follow the correct etiquette." While traditionalists may argue the need for injecting the series with only its second ever female character, mamas who read the stories to their lil girls will appreciate her presence in the tale.
If you've got a Pooh fan on your hands, check out some of our favorite Winnie the Pooh-inspired gear before picking up the new book.