Work it! One of the biggest dilemmas expectant mamas face is how they'll dress their growing bumps for nine (almost 10) months. There's certainly no shortage of cute maternity clothes these days, but it's how the clothes are styled that make a pregnant mama feel like a hot mama-to-be. We've rounded up 110 of our favorite celebrity maternity looks for a little pregnancy style inspiration. Check them out!
Kate Middleton
The duchess paired peachy tones with neutral-colored accessories for a visit to the Naomi House in London back in April.
Ivanka Trump
Ivanka showed off her bump in an elegant white sheath dress and dazzling diamonds while pregnant with her first child.
Halle Berry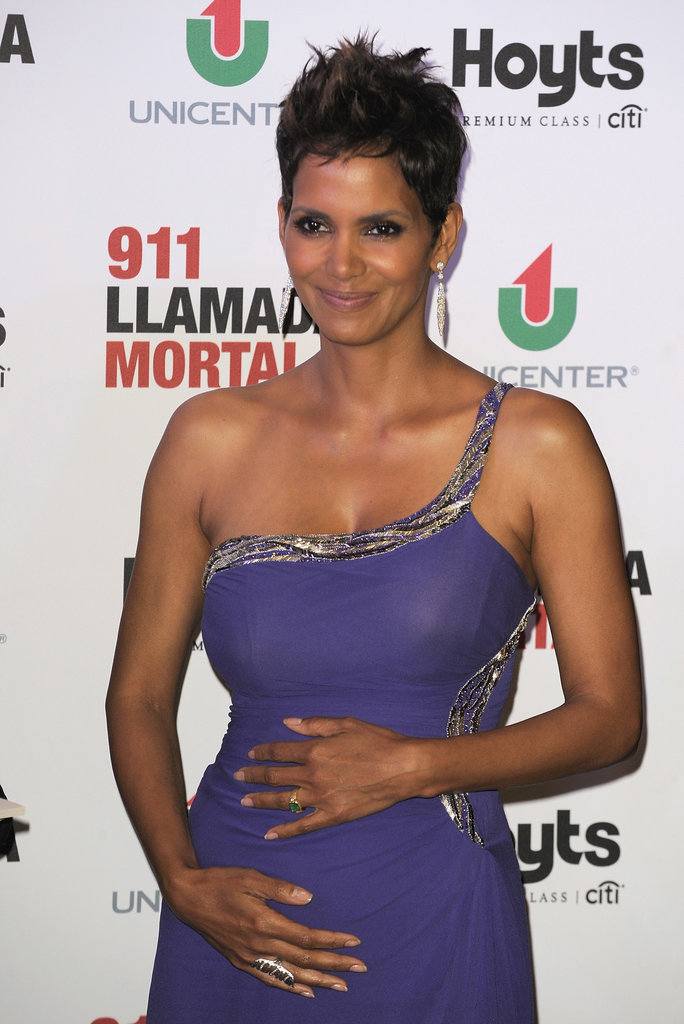 Expecting her second child, Halle Berry [1] showed off her growing bump in a form fitting purple dress at The Call premiere in Buenos Aires, Argentina in April 2013.
Lily Aldridge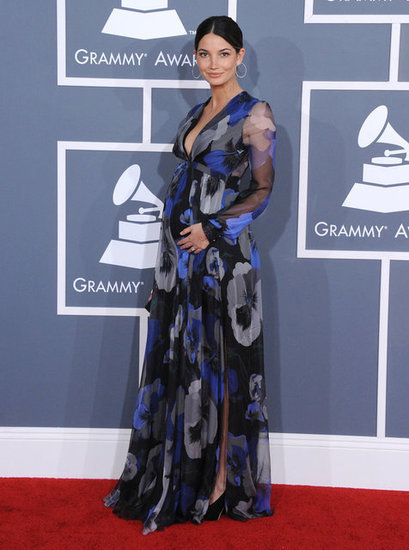 The gorgeous Victoria's Secret model showed off a subtle bump in a printed chiffon gown at the 54th Annual Grammy Awards.
Vanessa Lachey
Vanessa Lachey looked chic in black and white while expecting her son, Camden.
Naomi Watts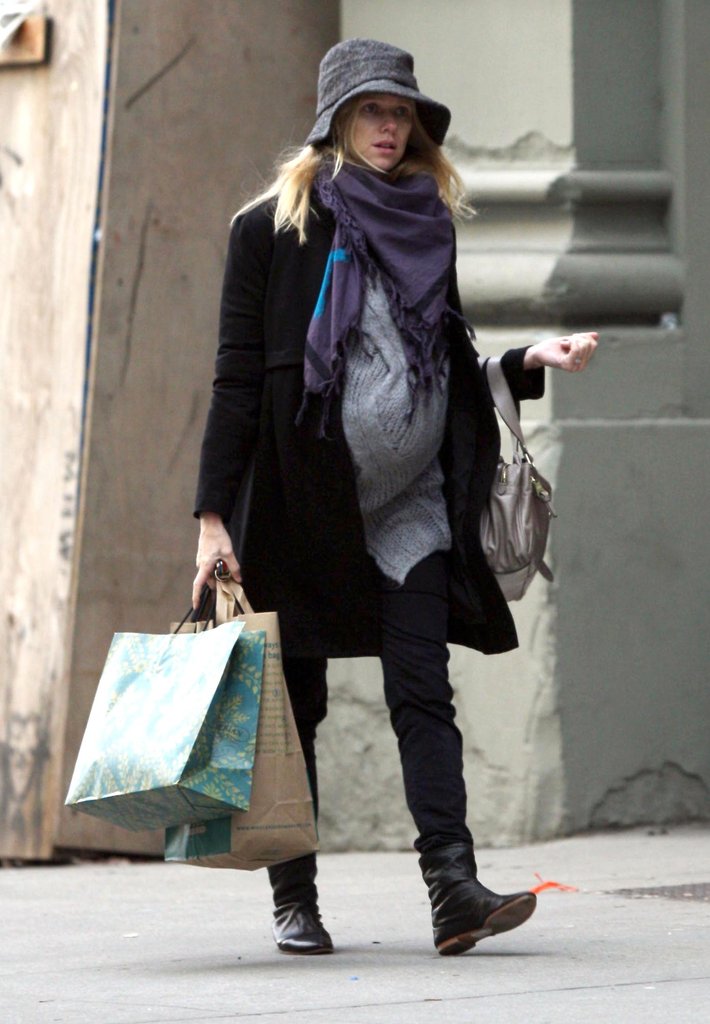 For a trip to the market, Naomi Watts [2] looked downtown chic in a warm sweater, boots, and a beautiful scarf.
Rosie Pope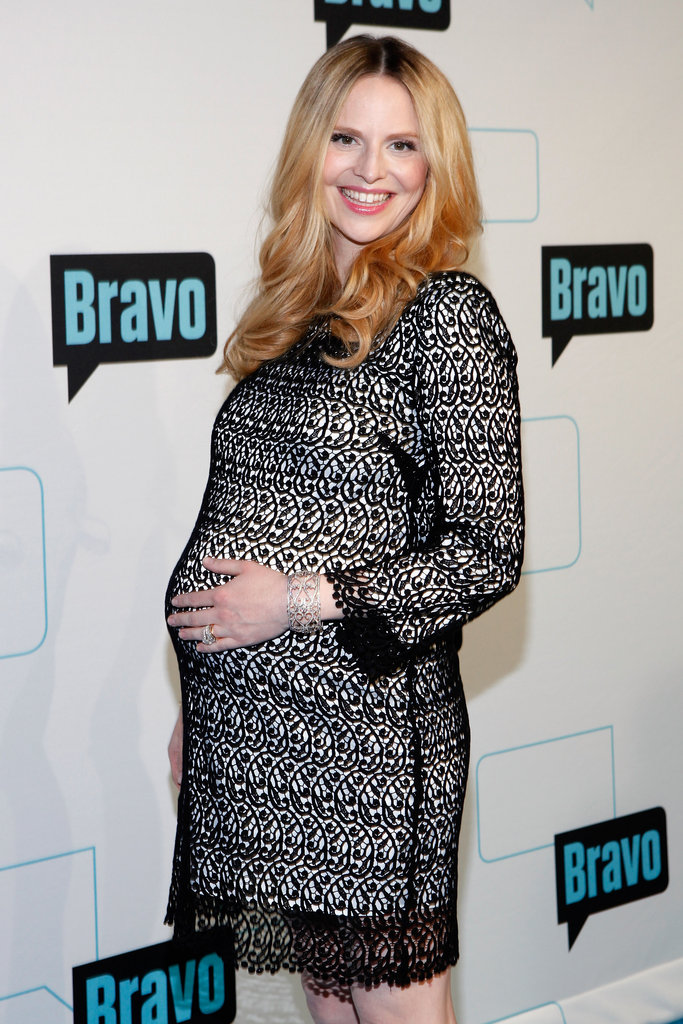 Rosie Pope [3], the star of Bravo's Pregnant in Heels, wore a lace number of her own design while expecting her third child!
Jessica Simpson
Jessica Simpson [4] stepped out with daughter Maxwell Johnson while expecting her son this Spring. The blonde mama-daughter duo were wearing matching leopard. Jessica topped her skirt off with a camisole and jean jacket.
Kourtney Kardashian
While pregnant with son, Mason, Kourtney Kardashian kept up her on-trend style with over-the-knee boots and a plaid tunic.
Kate Hudson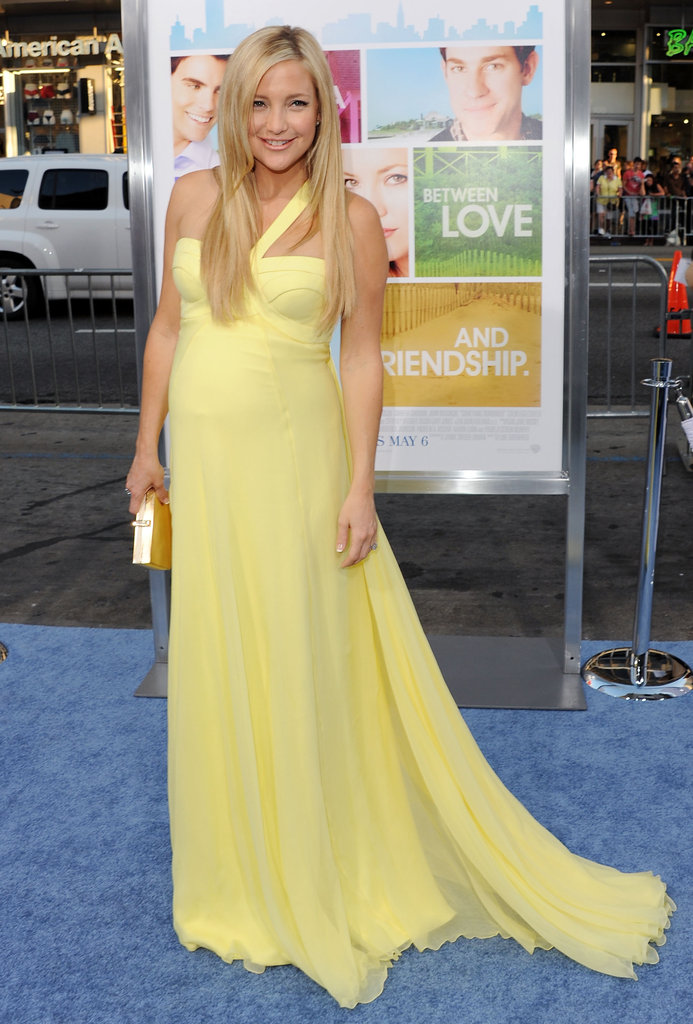 Channeling her How to Lose a Guy in 10 Days look, Kate Hudson [5] draped her baby belly in a bright yellow Versace [6] gown for the premier of Something Borrowed while pregnant with son Bingham.
Fergie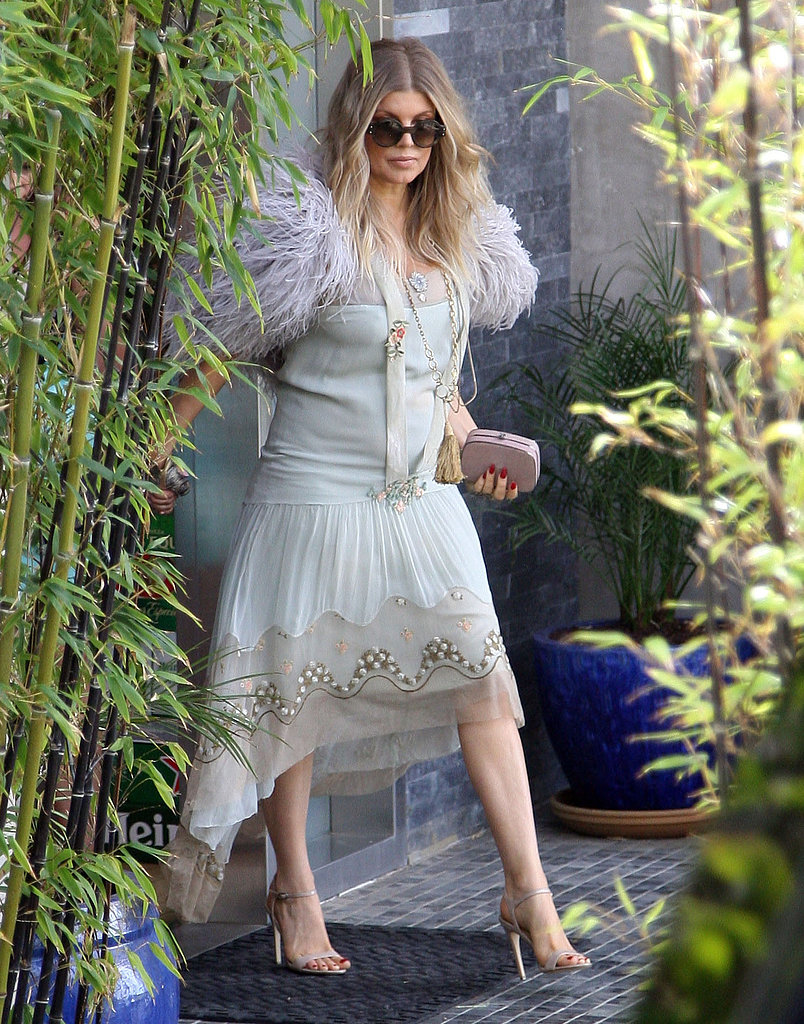 At a bridal shower honoring her younger sister, Dana, Fergie [7] dressed for the French garden-party theme in an embroidered tulle dress and feathered shrug.
Tiffani Thiessen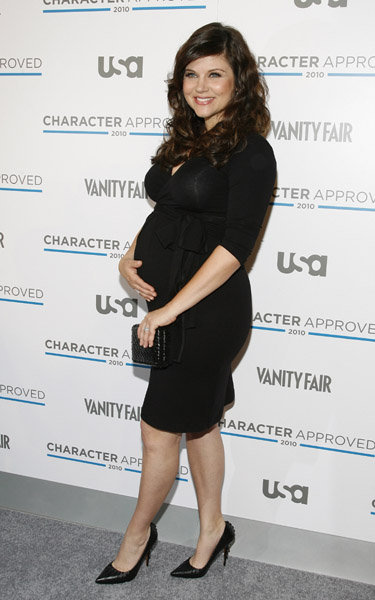 While expecting baby Harper, Tiffani Thiessen chose a black, curve-hugging dress to show off her bump.
Leggy Lady
On Aug. 15, 2012, Camila attended a Nylon magazine and Macy's party in Santa Monica wearing a black dress.
Natalie Portman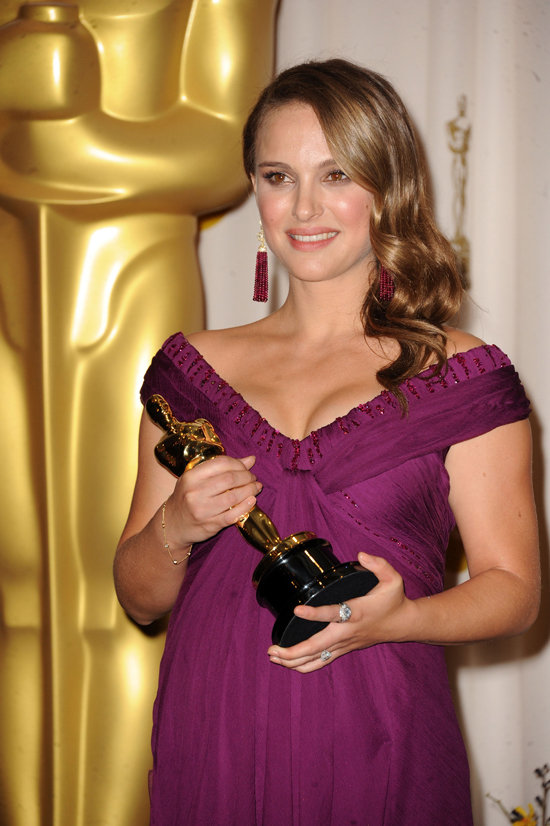 At the 2011 Oscars, the six-months-pregnant Portman wore a stunning purple gown by Rodarte [8], the design duo that created her dramatic costumes for Black Swan.
Kate Middleton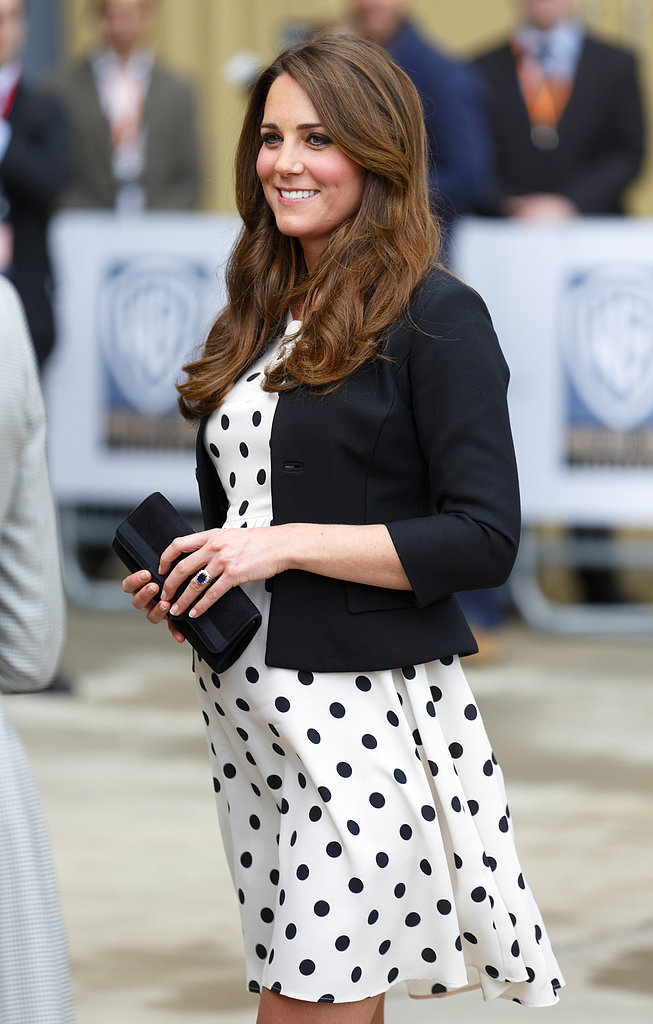 At the inauguration of the new Warner Bros. Studios in London in April 2013, Kate mixed high with low when she paired a polka-dot Topshop [9] dress with a black Ralph Lauren [10] jacket, proving you can be stylish on any budget.
Anna Paquin
Anna Paquin [11] attended Comic-Con wearing a printed dress, which she belted above her bump, while pregnant with her twins.
Gwen Stefani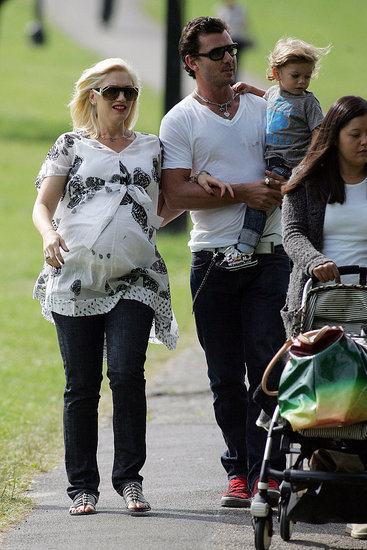 Nearing the end of her second pregnancy with baby Zuma, Gwen Stefani [12] chose a comfortable, flowing look, pairing a print blouse with a pair of jeans for a walk with her family.
Jennifer Garner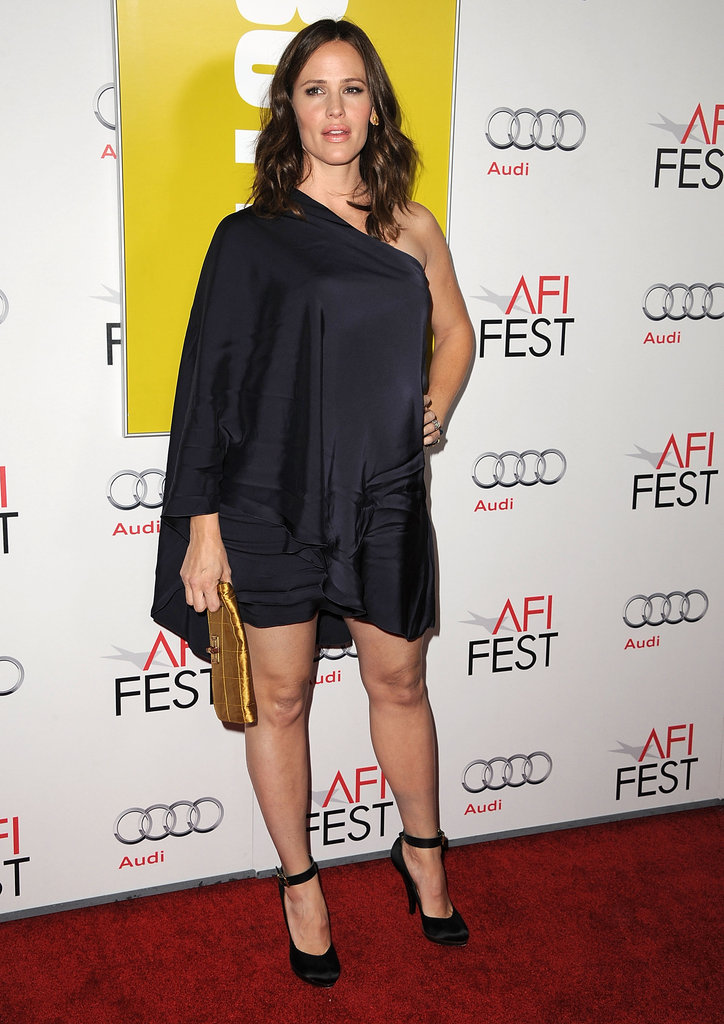 For the screening of her upcoming film Butter, Jennifer Garner [13] chose a short, one-shouldered dress and sky-high heels. She later said that Rachel Zoe [14] wouldn't let her wear maternity clothes this early in her third pregnancy.
Jessica Alba
A baby bump (carrying Alba's first daughter, Honor) didn't stop Jessica Alba [15] from being one of the best dressed at the 2008 Oscars.
Tina Fey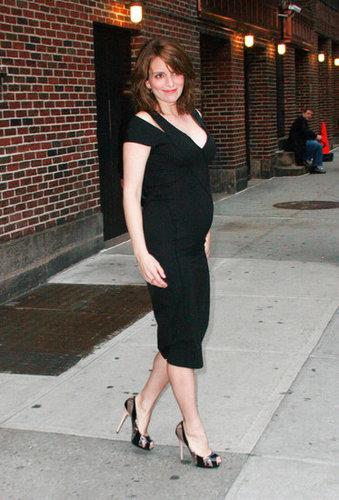 Fey appeared on Late Show With David Letterman while pregnant with her second daughter, Penelope. The comedienne showed off her baby curves in a classic, formfitting black dress and heels.
Kristen Bell
Kristen styled up a purple tunic and black Isabella Oliver [16] jacket with an awesome statement necklace at the premiere of her film The Lifeguard at Sundance on Jan. 19, 2013. Want a similar look? We have the how-to here [17].
Jennifer Garner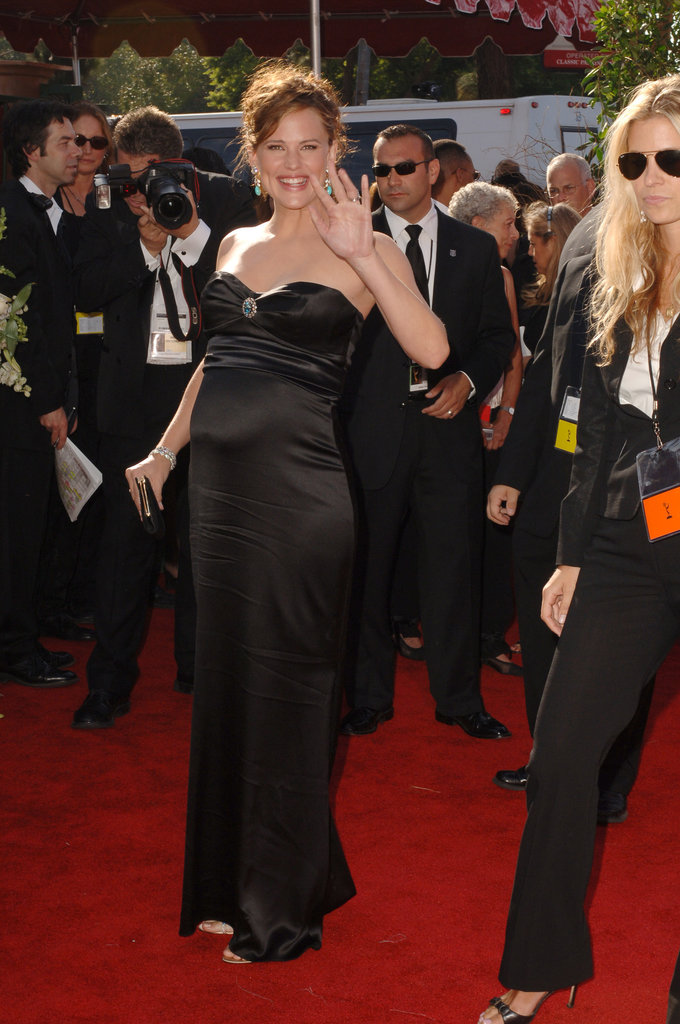 Jennifer Garner [18] chose a strapless, figure-hugging Badgley Mischka [19] gown to attend the 2005 Emmy Awards while pregnant with Violet.
Kristin Cavallari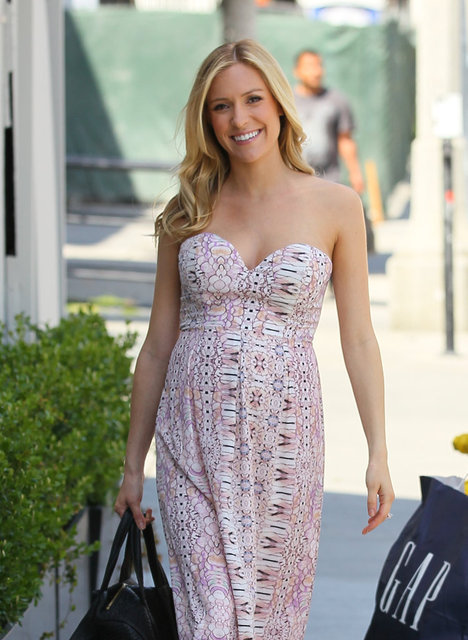 Kristin brunched at LA hot spot Bagatelle in a comfy jersey maxi dress with a flattering sweetheart neckline.
Naomi Watts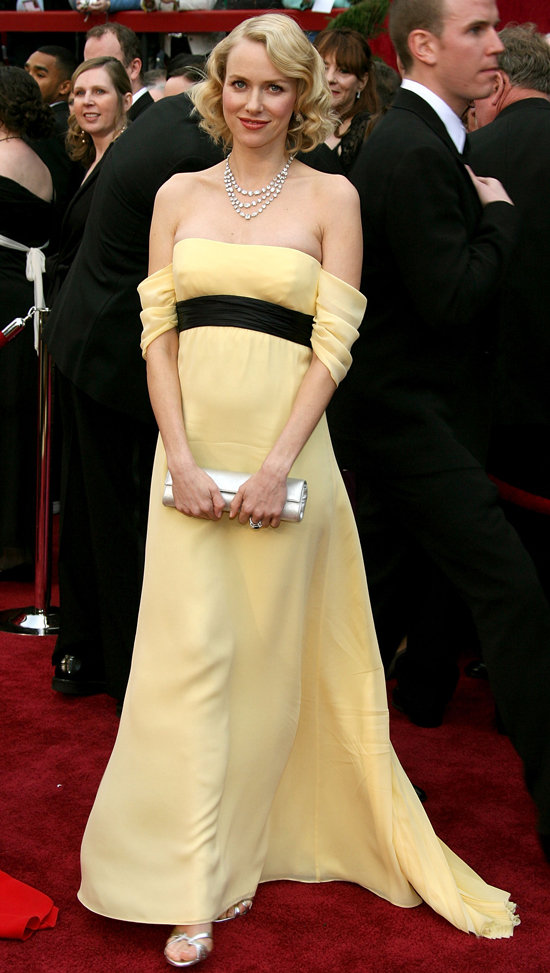 In 2007, Naomi Watts [20] hadn't yet announced she was expecting her first child with beau Liev Schreiber [21] when she hit the red carpet wearing a lemon-yellow gown from Escada [22]. But her slight bump set off the rumor mill. The couple's first son, Sasha, was born on July 25 of that year.
Bethenny Frankel
Bethenny wasn't shy about showing off her bikini body in St. Barts, shortly before giving birth to her daughter, Bryn.
Jessica Alba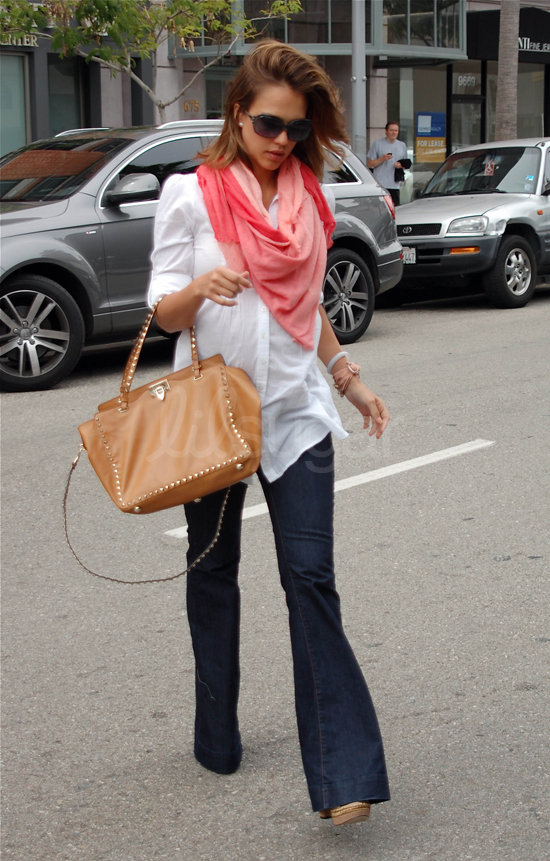 Exiting a mani-pedi, Jessica was seen wearing dark flared jeans and a puff-sleeved button-down, with a bright pink scarf to perk up the style.
Natalie Portman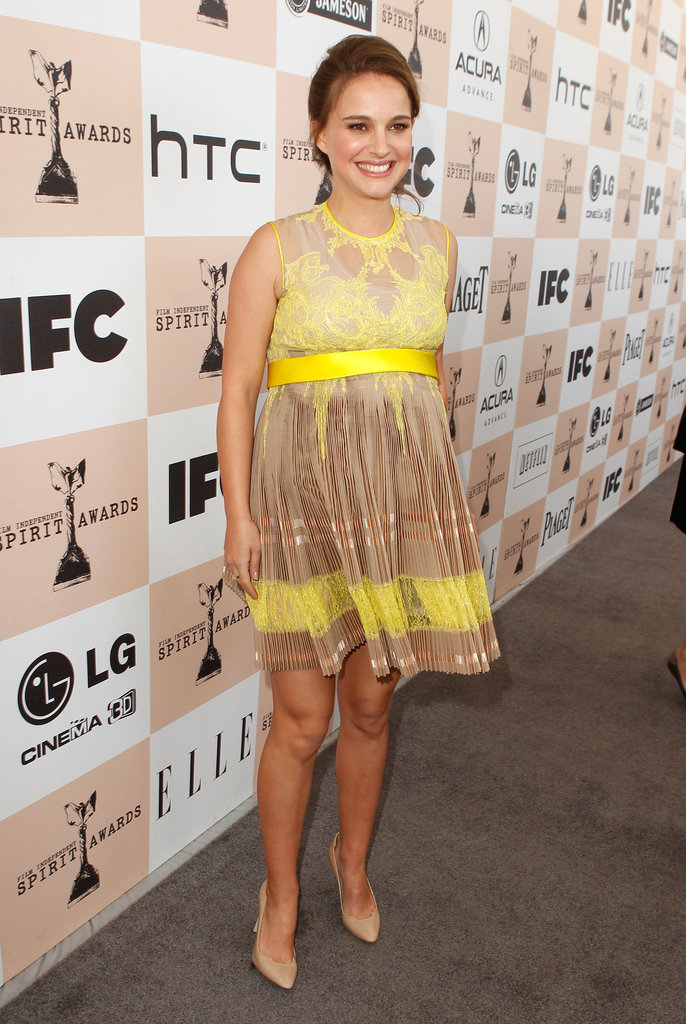 Natalie Portman [23] was the belle of the ball throughout the 2011 award show season. For the Independent Spirit Awards, she stole the show covering her bump in a Givenchy [24] dress with Stella McCartney [25] shoes.
Kim Kardashian
Kim glammed it up alongside a casual Kanye while in Paris for Fashion Week. She wore head-to-toe black, and topped the look off with a big fur vest and chic scalloped heels.
Jessica Alba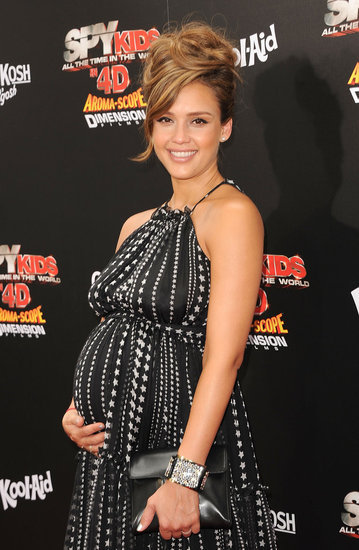 Jessica flaunted her star power at the premiere of Spy Kids: All the Time in the World while pregnant with her second daughter, Haven.
Sienna Miller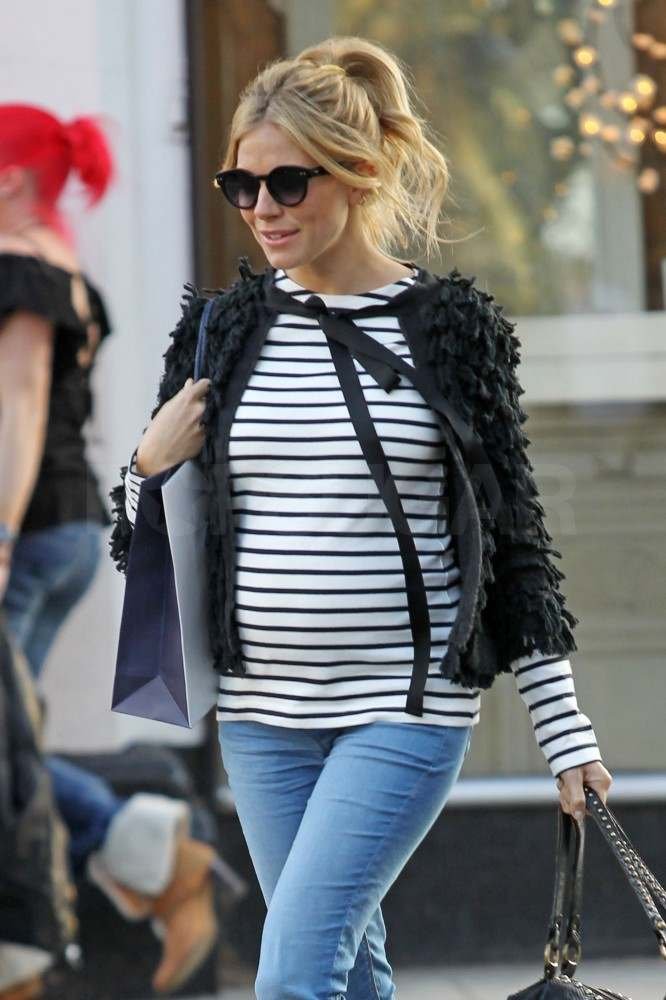 Sienna Miller [26] filmed a commercial for Amore Pacific [27] skin care line on the streets of London while pregnant with her first child. Her striped shirt and ruffled sweater clearly emphasized her second trimester bump.
Evan Rachel Wood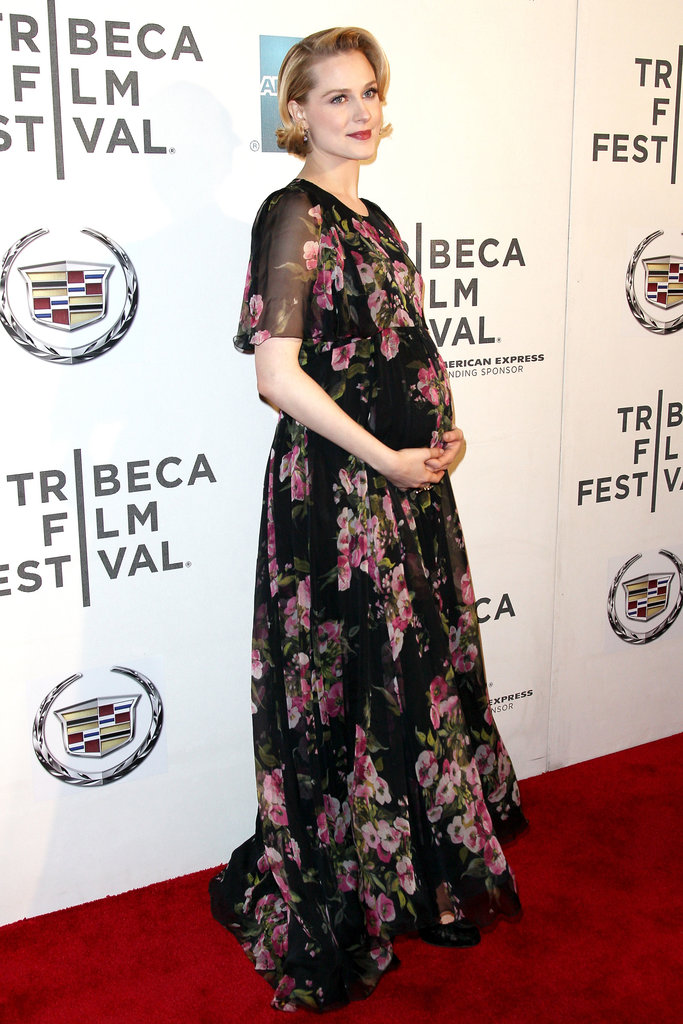 Mom-to-be Evan Rachel Wood attended a screening of her film A Case of You at the 2013 Tribeca Film Festival in April wearing a lovely, flowy floral dress.
Amanda Peet
Pregnant with her second daughter, Amanda Peet [28] made a stop at the Berlin International Film Festival in February 2010.
Gisele Bündchen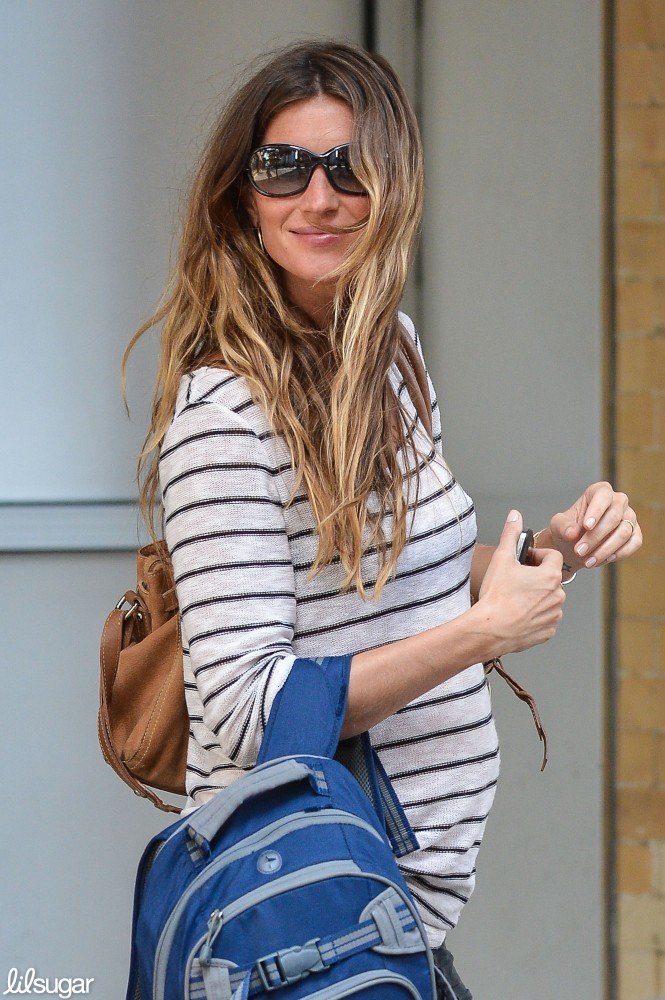 The model mom joined friends for lunch at NYC's Bar Pitti [29] in September 2012 wearing nautical stripes and oversize sunnies.
Mariah Carey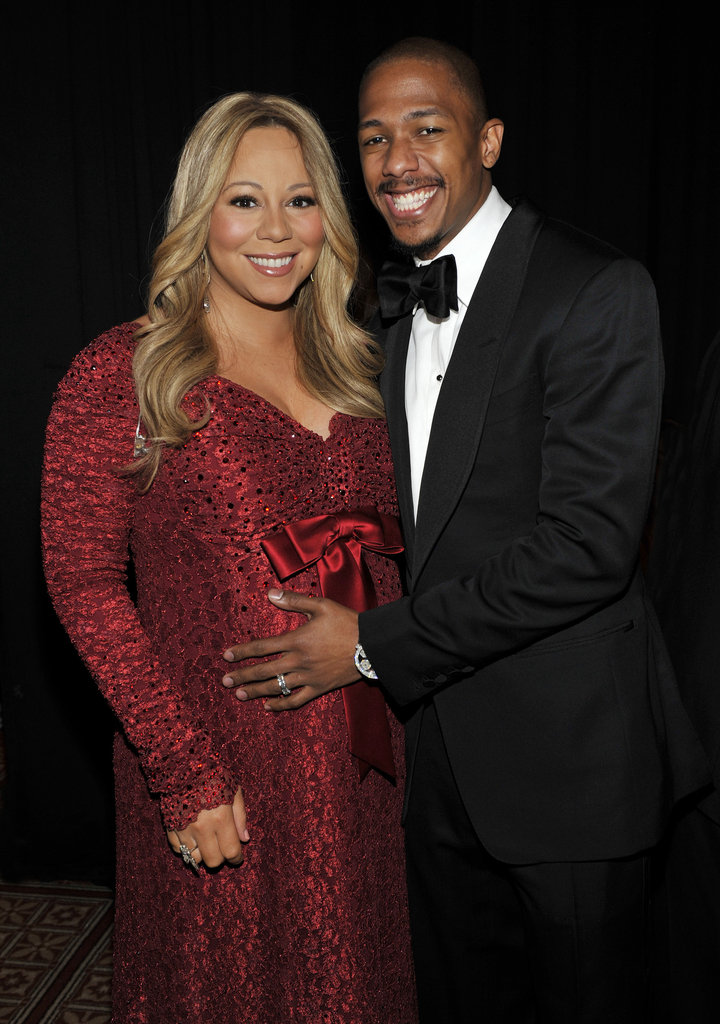 Mariah Carey [30] and Nick Cannon showed off the bump that would become Moroccan and Monroe.
Morena Baccarin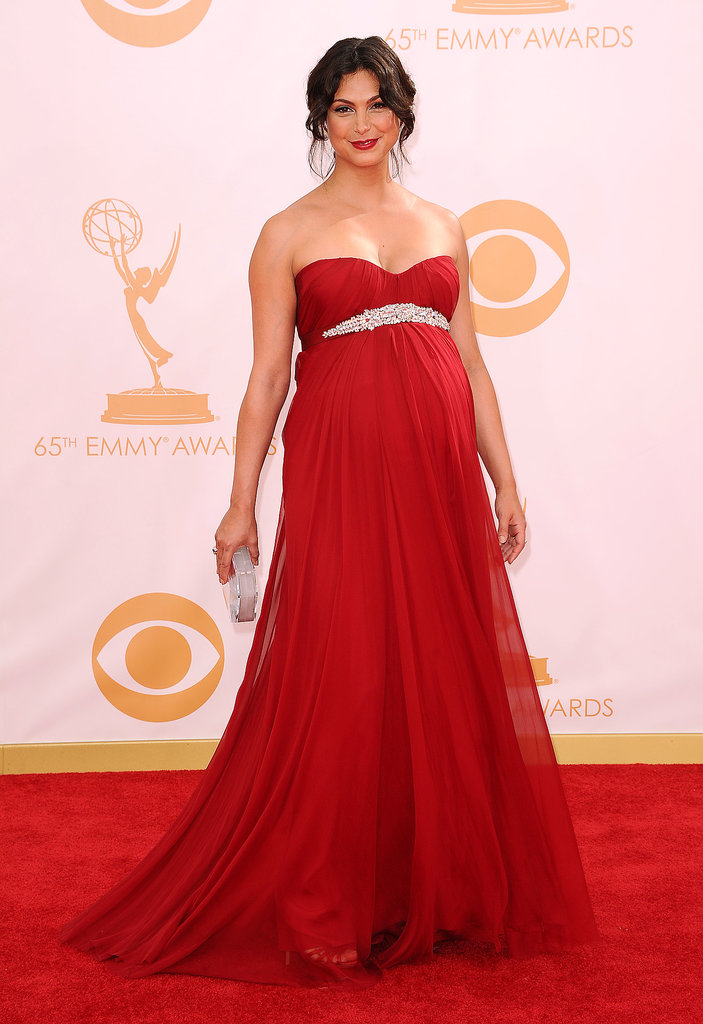 Homeland star Morena Baccarin was radiant on the red carpet for the 2013 Emmys on Sept. 23. The actress wore a gorgeous floor-length red gown with crystal embellishments at the bust.
Drew Barrymore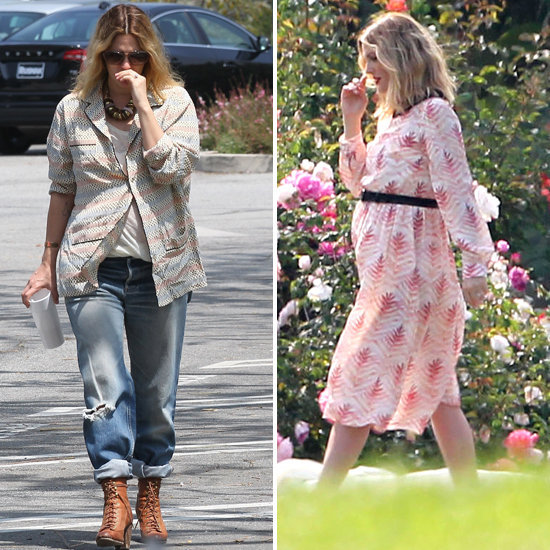 Drew Barrymore [31] looked laid-back in boyfriend jeans and a pajama-esque top in Santa Monica on April 30. Later, she dressed up for a photo shoot at the Huntington Library in San Marino, CA.
Ivanka Trump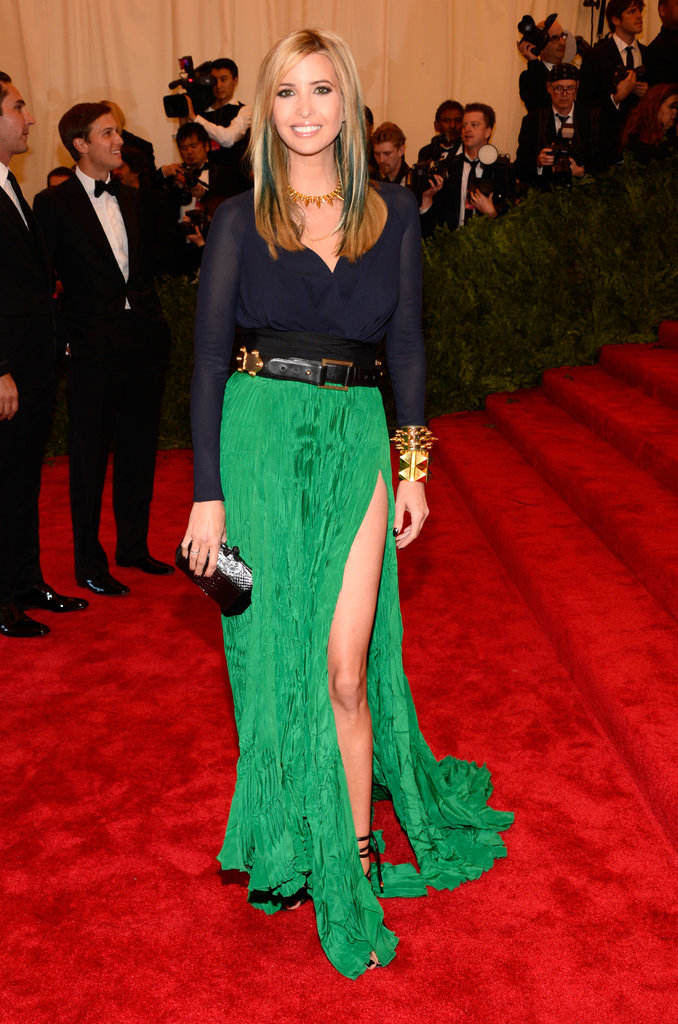 Mom to Arabella [32] (with a second baby on the way!) Ivanka Trump [33] wore a green pleated skirt and heels from her own label to the Met Gala, and went "punk" with green streaks in her blonde hair.
Malin Akerman
Last November, Malin Akerman hit the Hollywood Foreign Press Association and InStyle's Golden Globes soiree with bold menswear-inspired style. This sexy take on a tuxedo was a clever way to wardrobe the star's pregnant bod.
Adriana Lima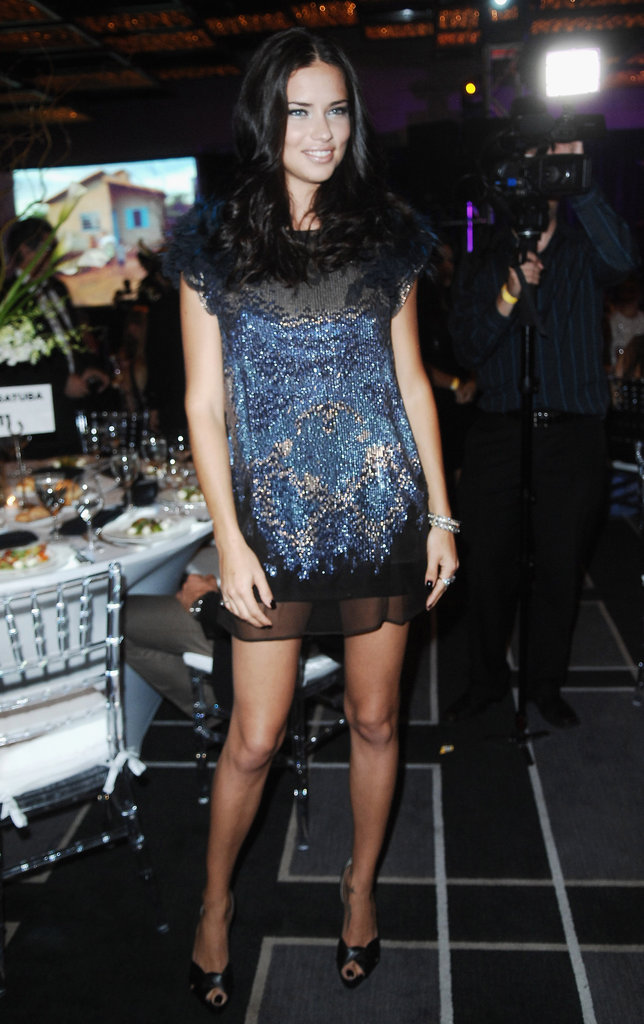 Victoria's Secret [34] star Adriana Lima announced she's expecting her second child shortly before appearing in a daring see-through and sparkly dress.
Vanessa Lachey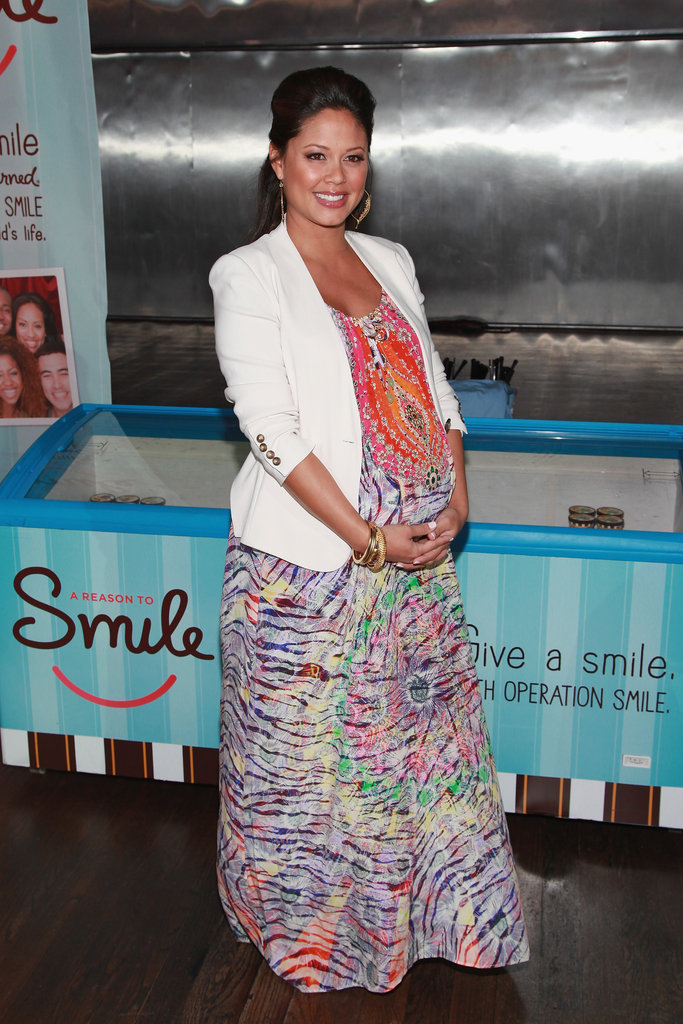 Vanessa Lachey attended an event in New York City wearing a colorful print dress and a white cardigan.
Keri Russell
Keri, shown here at the premiere of Waitress in 2007, is now mom to son River and daughter Willa. The latter was born in January.
Jenna Dewan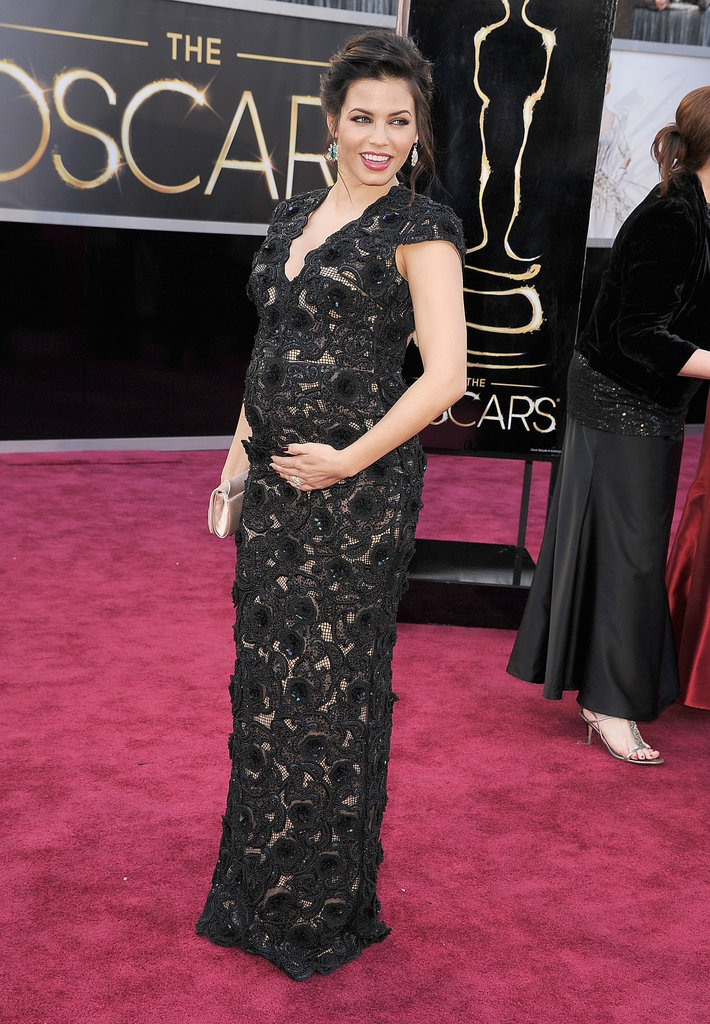 For the Oscars, Jenna wore a form-fitting, lace Rachel Roy [35] dress that showed off her growing bump. A cut-out back added some sex appeal.
Miranda Kerr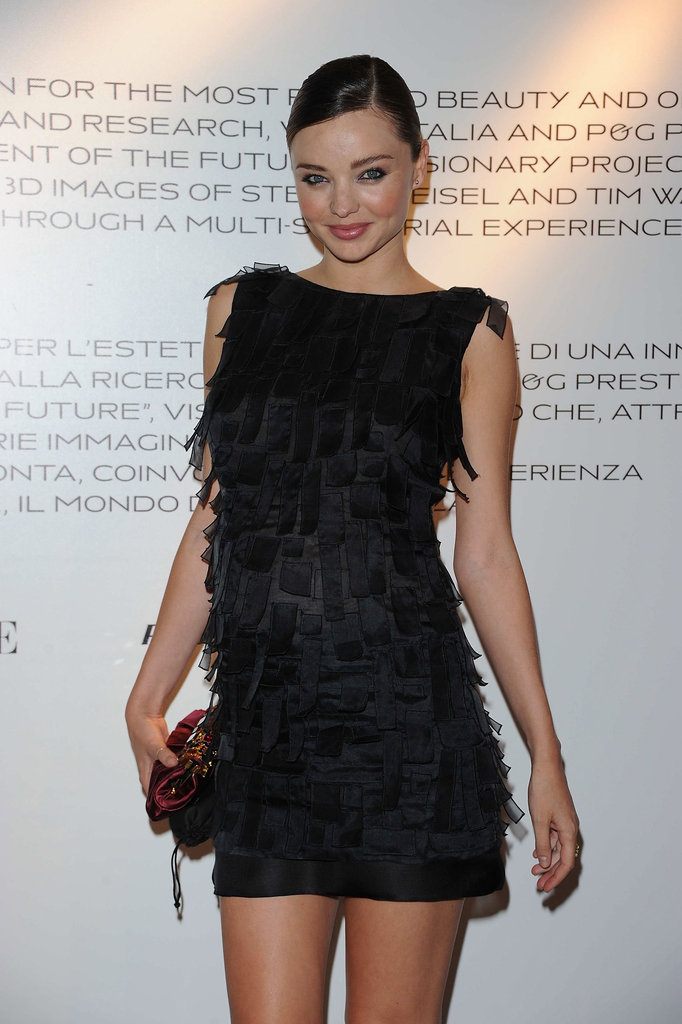 Aussie model Miranda Kerr [36] was five months pregnant, but that didn't stop her — and hubby Orlando Bloom [37] — from partying it up during Milan Fashion Week.
Jaime King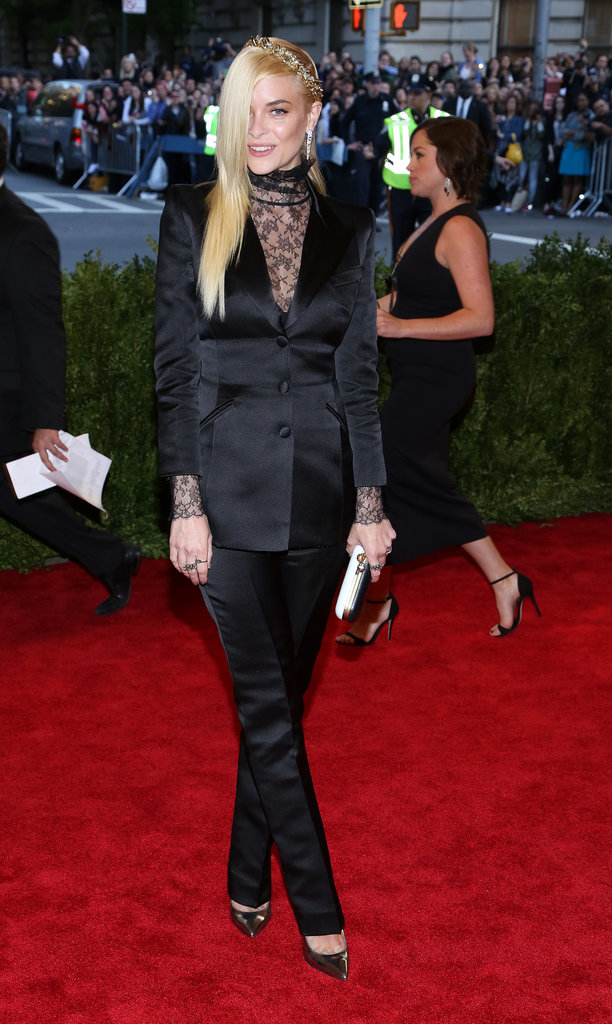 At the 2013 Met Gala in NYC, Jaime kept her bump classy in a black satin Topshop [38] suit. We love that she showed just enough skin via a sheer black lace blouse.
Kristen Bell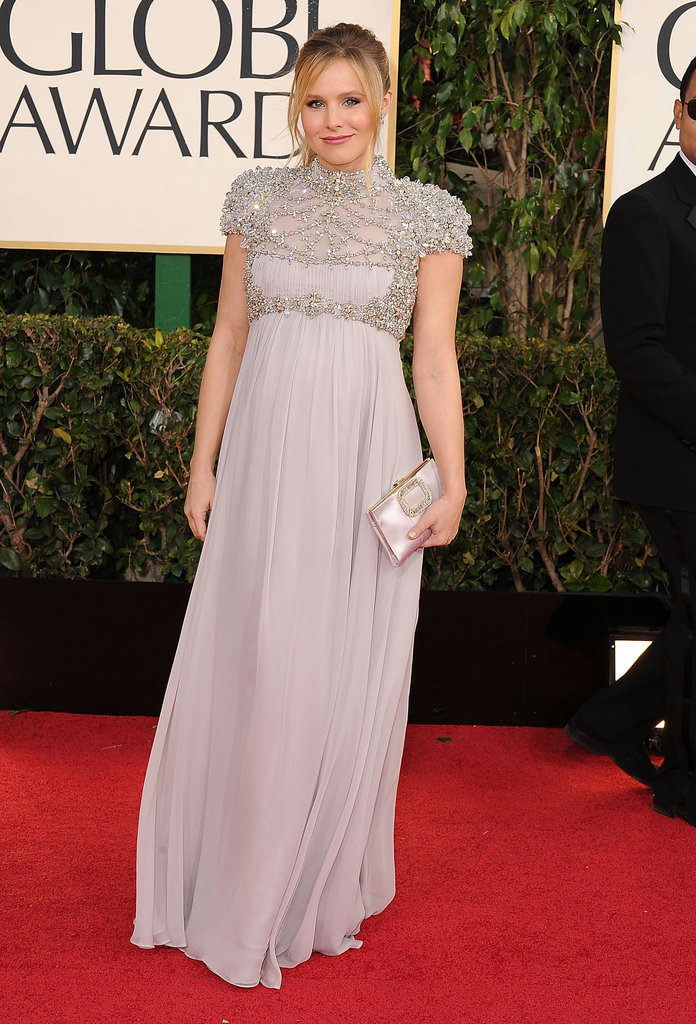 At the Golden Globes, Kristen wowed us in an embellished Grecian-goddess gown [39] designed by Jenny Packham [40]. The ethereal lavender dress featured beautiful draping on the bottom and dazzling crystal-embellished details on the top. A matching satin clutch with rhinestone details completed the look.
Rachel Weisz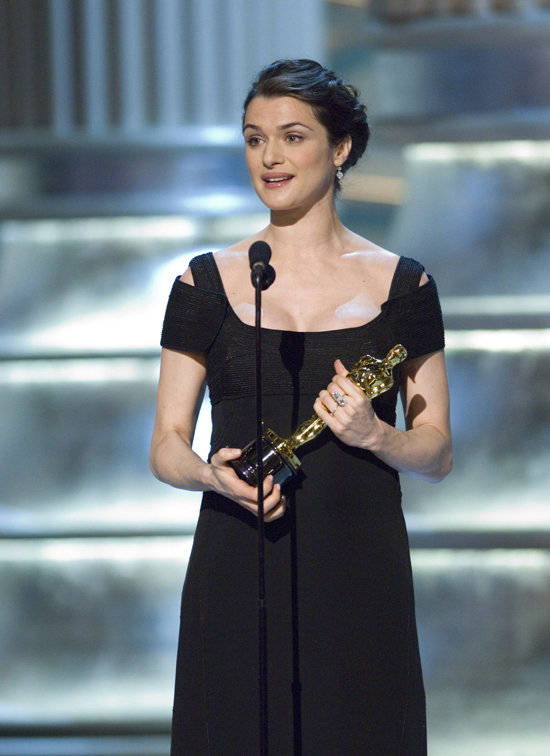 Rachel Weisz [41] was seven months pregnant at the 2006 Oscars, where she took home the trophy for best supporting actress for her performance in The Constant Gardener. Designer Narciso Rodriguez [42] created three dresses for the actress to choose from. She chose a black off-the-shoulder gown the day of 
the ceremony. Son Henry was born in May 2006.
Malin Akerman
Malin attended the InStyle and Warner Bros. Golden Globes party in January 2013 wearing a curve-enhancing blue lace gown by Alberta Ferretti [43].
Tori Spelling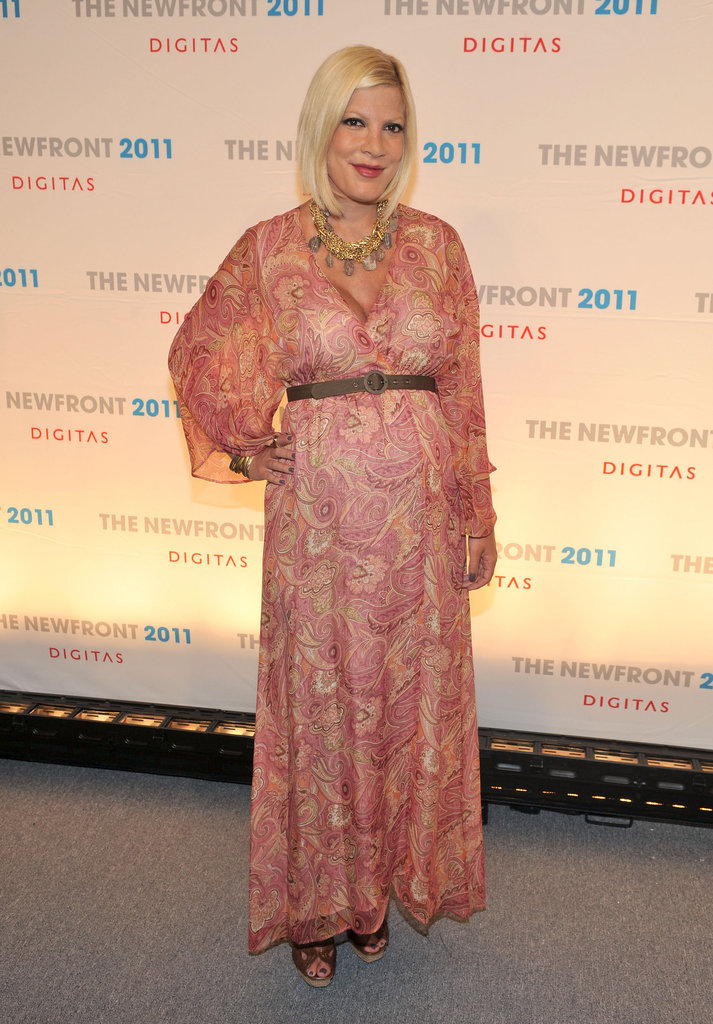 Before she was pregnant with baby number four [44], Tori rocked a printed maxi dress while she was expecting third child, daughter Hattie.
Kourtney Kardashian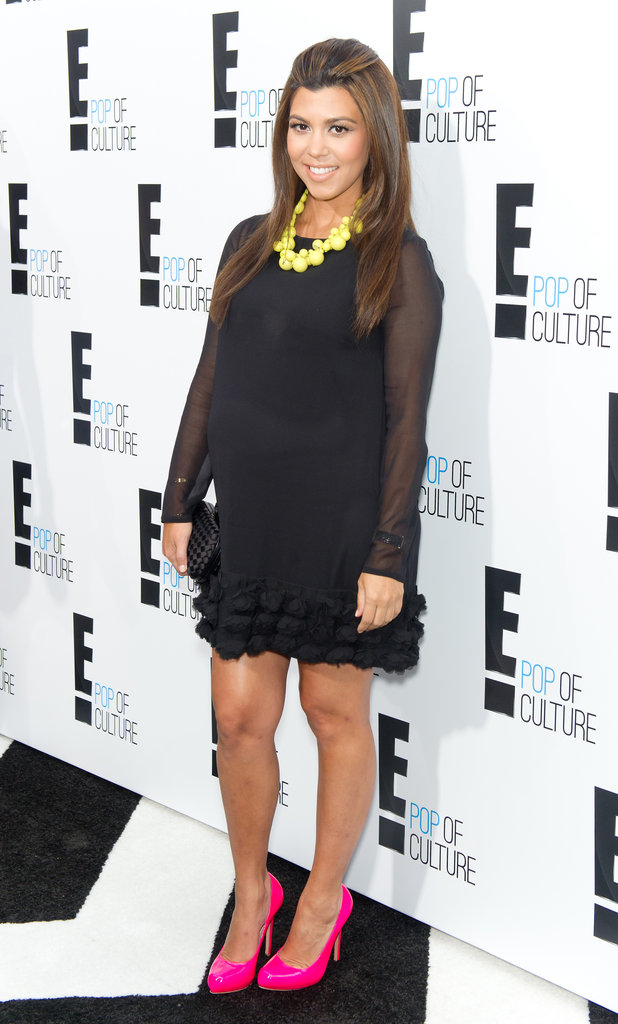 Kourtney Kardashian attended the E! Upfronts in New York City wearing a simple-chic black Gomez-Gracia dress and neon accessories, including Alexander McQueen [45] shoes and a DIY [46] necklace, while expecting baby Penelope.
Camila Alves
Camila wore a body-hugging dress, flats, and a leather jacket in LA. Camila, Levi, and Vida were joined by a four-legged companion, a new puppy!
Christina Aguilera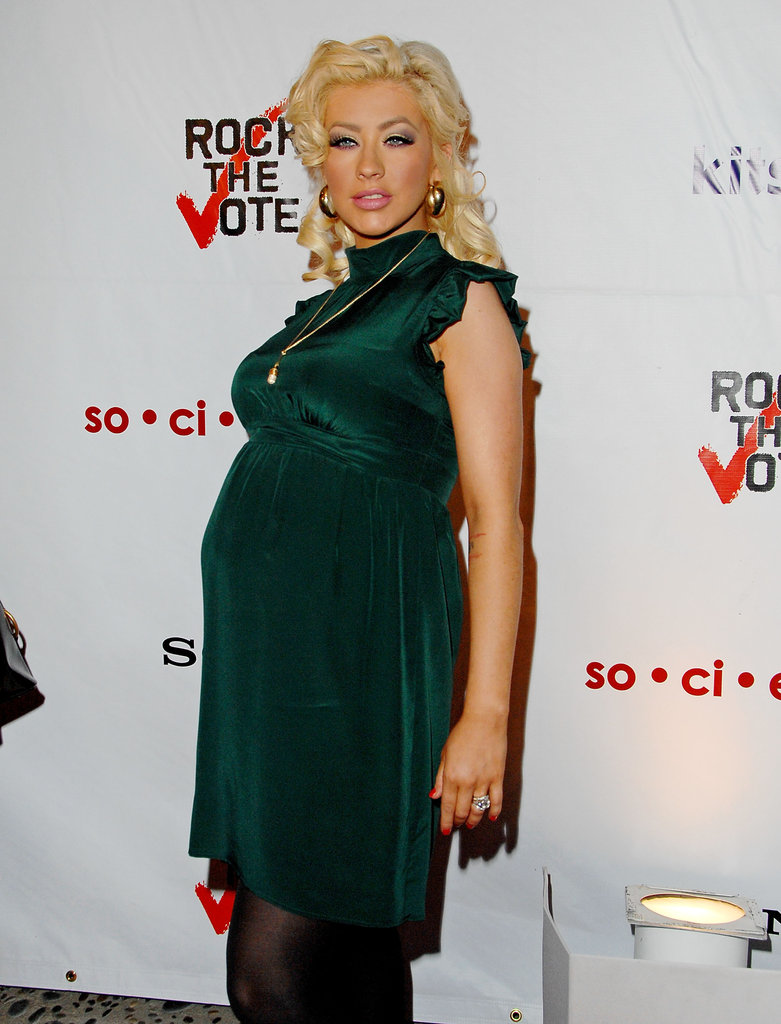 While pregnant with her son, Max, Christina Aguilera [47] kept it sexy while hosting the Rock the Vote Awards in November 2007.
Katie Holmes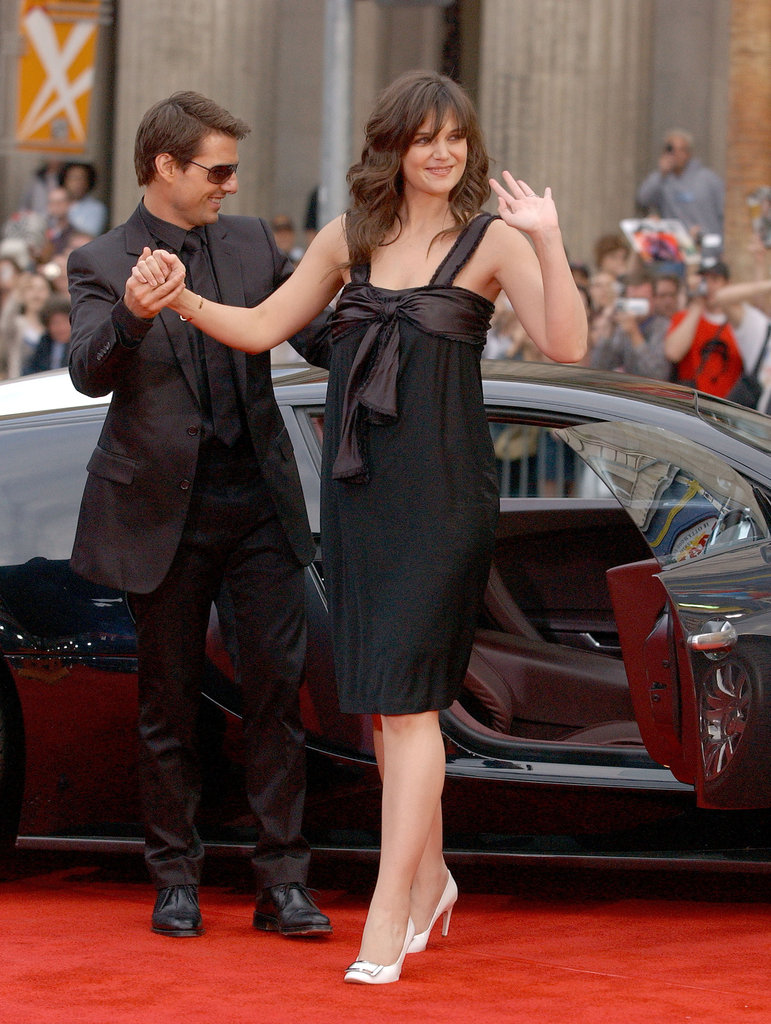 It's hard to remember a time when Katie was without Suri, but in 2006, at a screening of Mission: Impossible III, the couple was anxiously awaiting the mini trendsetter's arrival.
Christina Applegate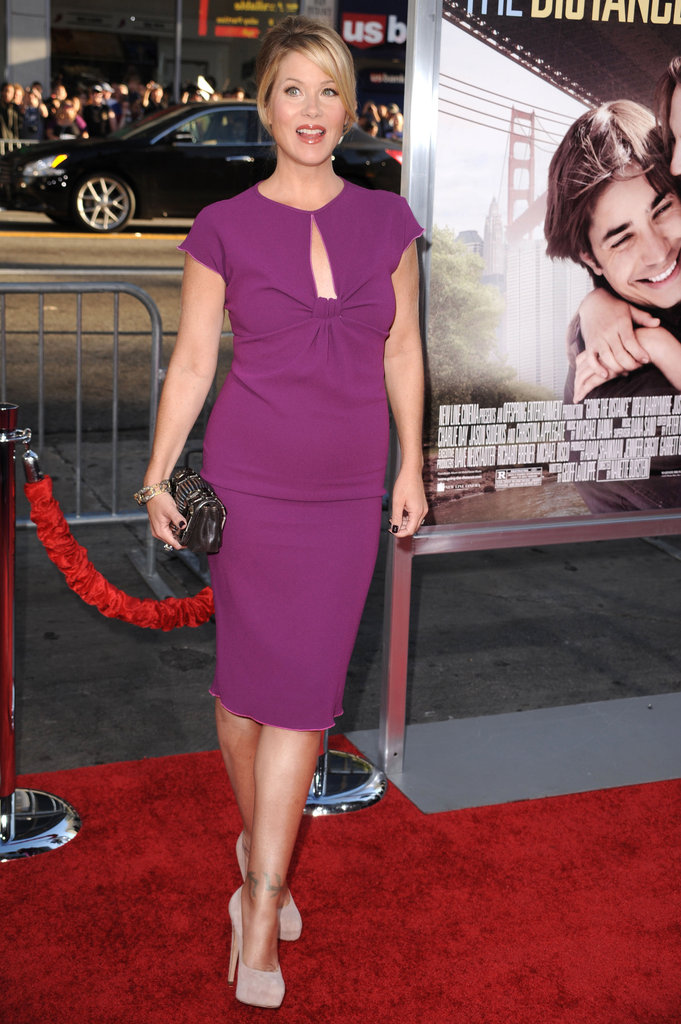 Christina opted for a nonmaternity, body-hugging Max Mara [48] keyhole sheath for the premiere of Going the Distance. The purple dress highlighted the star's bustline and was snug around her belly.
Camila Alves
Camila attended a Cinema Society screening of Matthew's movie Killer Joe at NYC's Tribeca Grand Hotel. She wore a bold dress from INC International Concepts [49]; she was announced as the face of the line.
Gwen Stefani
A newly expectant Gwen Stefani [50] attended Madonna [51]'s "A Night to Benefit Raising Malawi and UNICEF" wearing a long black gown with chest detail that did little to hide her growing bump.
Angelina Jolie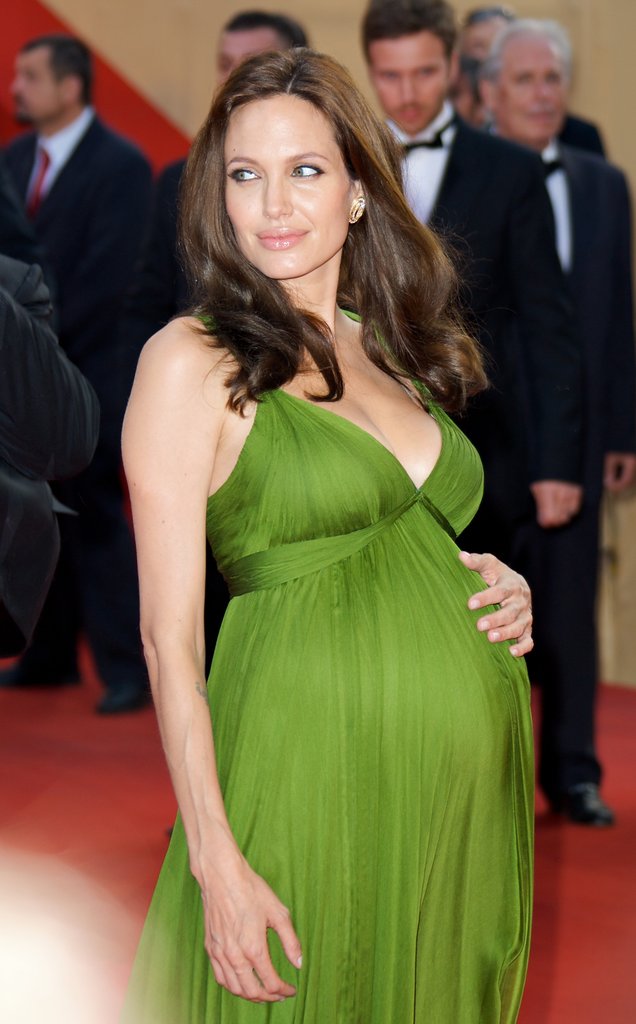 For the Cannes premiere of Kung Fu Panda, Angelina Jolie [52] stunned in a Grecian-style gown from Azria Atelier. Earlier that week, her costar Jack Black [53] spilled the beans that the megastar was expecting twins.
Roselyn Sánchez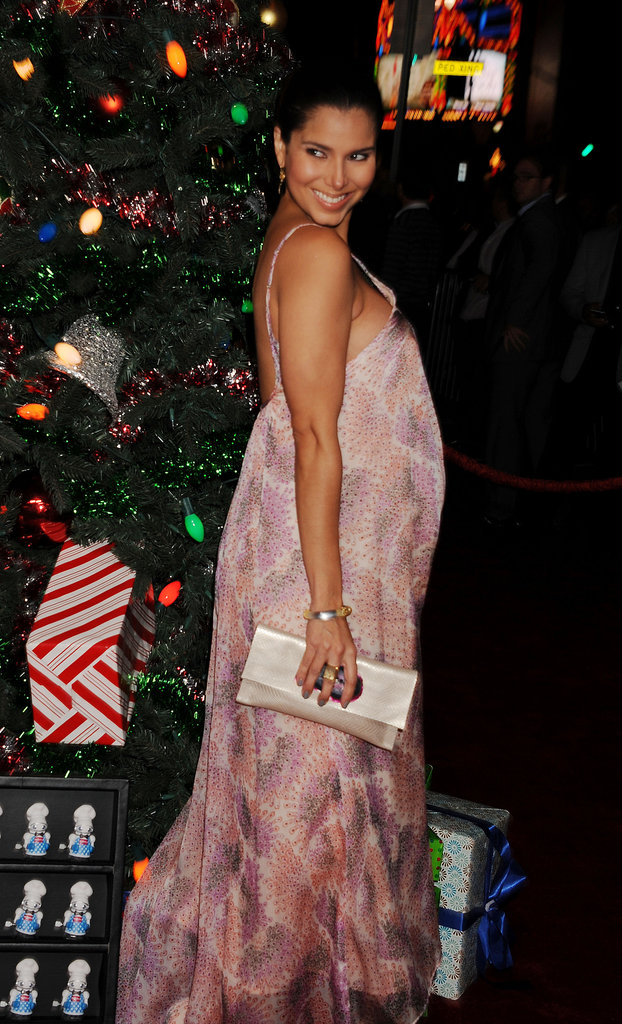 Roselyn showed off her bump last November, before welcoming daughter Sebella Rose Winter on Jan. 4, 2012.
Selma Blair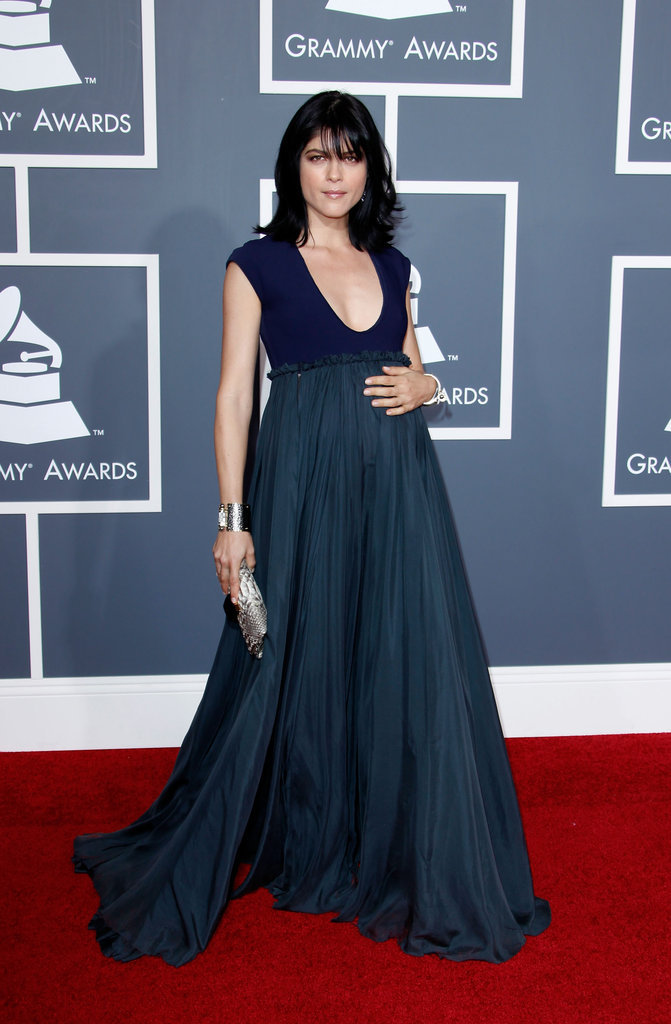 Selma rocked the red carpet at the 2011 Grammy Awards in a deep scoop-neck gown. She gave birth to baby Arthur Saint Bleick in late July.
Sarah Michelle Gellar
Sarah Michelle and Charlotte wore complementary pink and purple on the way to a playdate in LA last Summer.
Evan Rachel Wood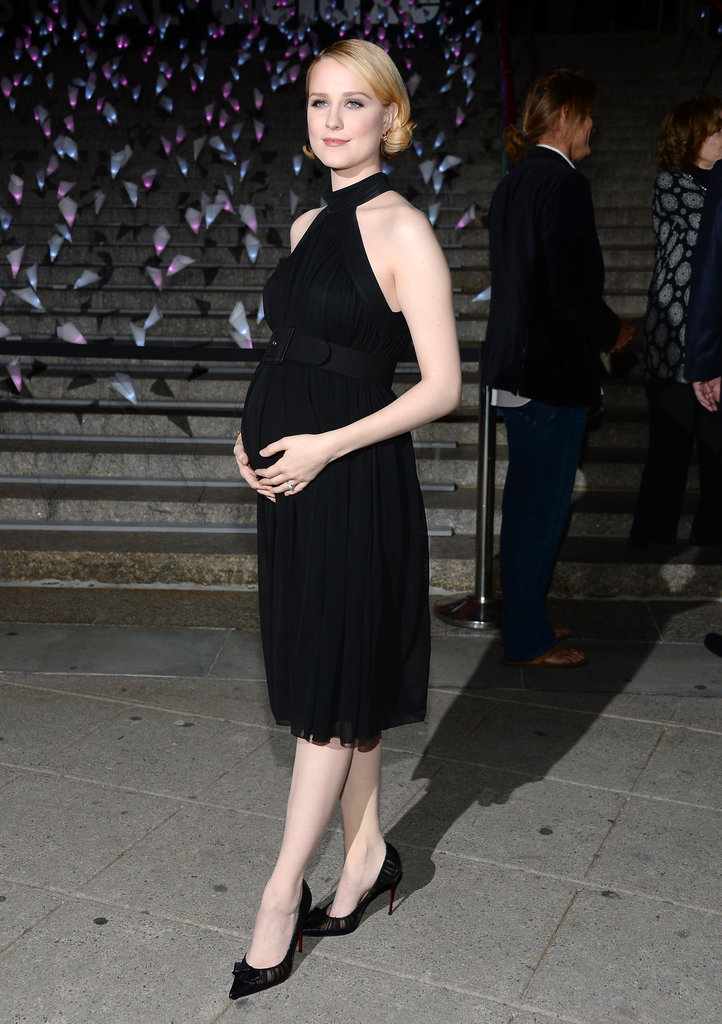 Evan Rachel Wood, pregnant with her first child with husband Jamie Bell, attended the Vanity Fair party at the Tribeca Film Festival in a chic black dress and heels.
Drew Barrymore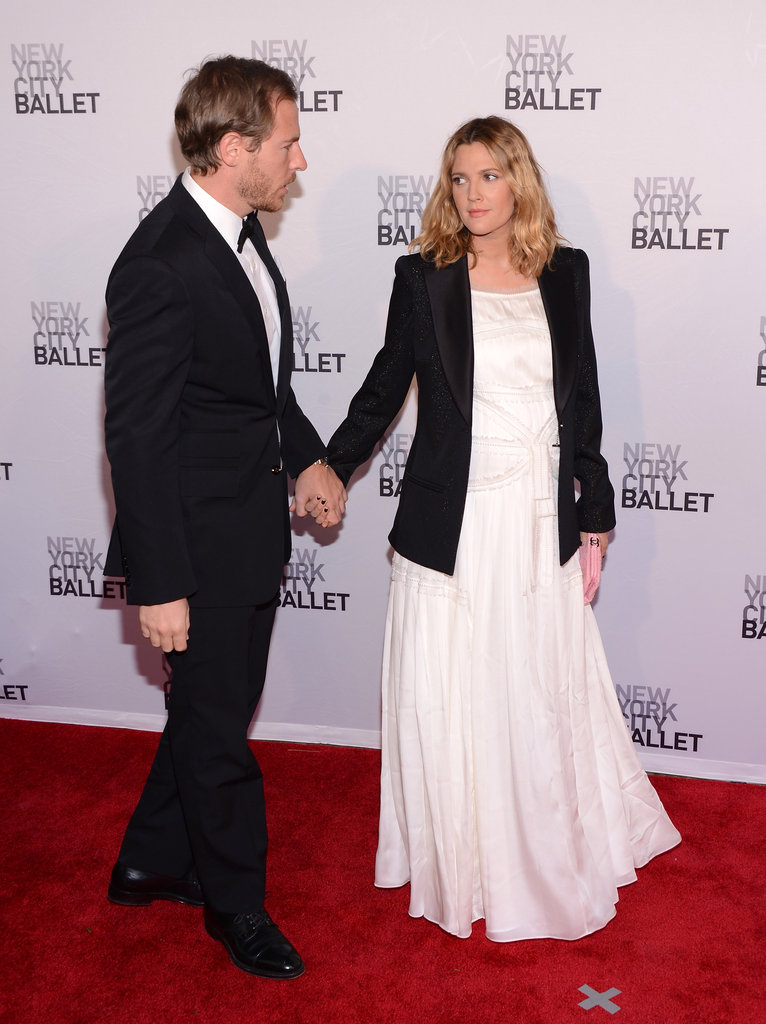 For the New York City Ballet Spring Gala, Drew Barrymore [54] wore a white Chanel dress paired with a black blazer.
Alicia Keys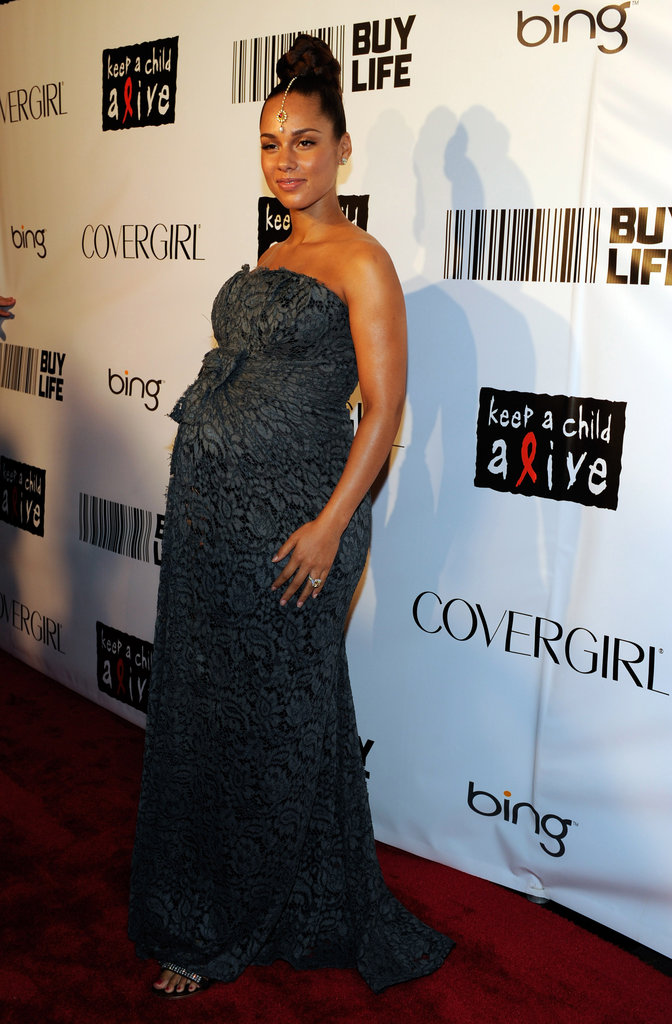 Alicia Keys [55] hit the red carpet while expecting her son, Egypt, born in October 2010.
Lily Allen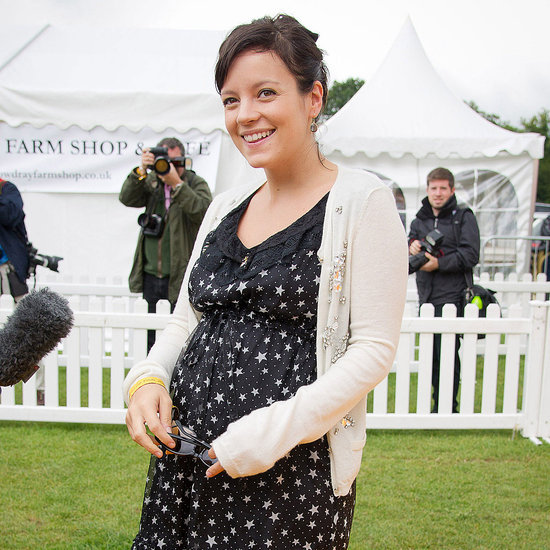 The British songstress announced her pregnancy at her wedding [56]; later she looked lovely in an empire-waist sundress and cream cardigan.
Kim Kardashian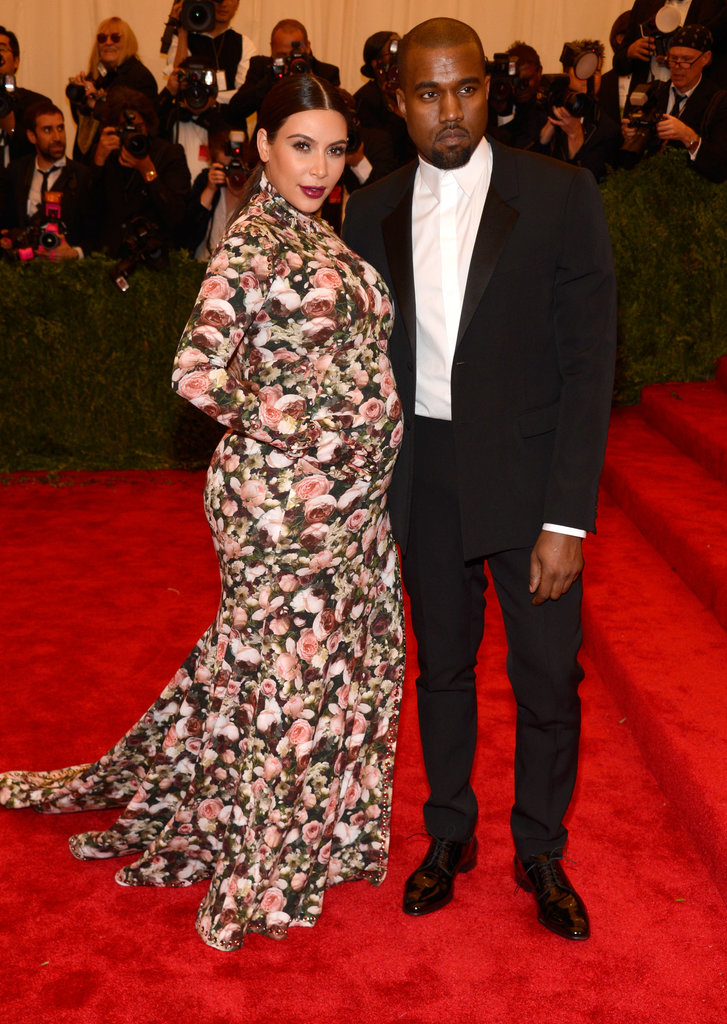 Mom-to-be Kim Kardashian [57] wore a floral Givenchy [58] by Riccardo Tisci gown with long sleeves and a thigh-high slit to the Met Gala in May 2013.
Gisele Bundchen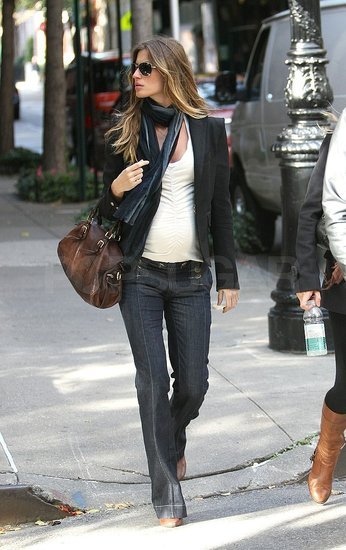 The supermodel mom-to-be was casual-cool in jeans, a black blazer, and scarf while meeting friends for brunch in NYC.
Catherine Zeta-Jones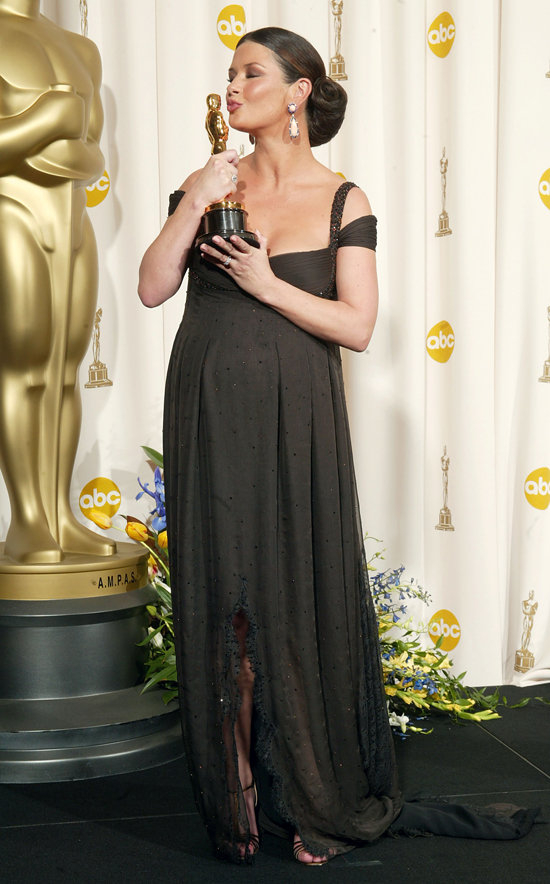 Catherine Zeta-Jones [59] won the best supporting actress trophy for her role in Chicago at the 2003 Oscars while eight months pregnant with daughter Carys. She accepted her award by saying, "My hormones are way too out of control to be dealing with this," but her look will go down in Academy Award history as one of the all-time most memorable.
Gisele Bündchen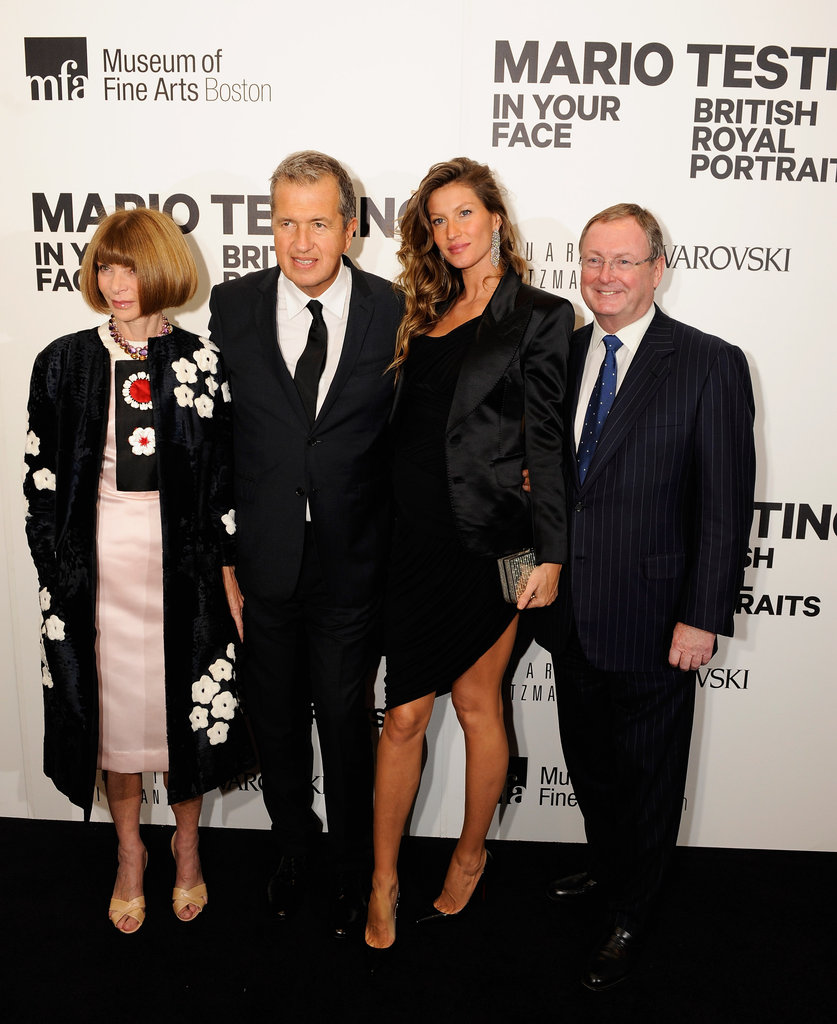 Being seven months pregnant with her second baby didn't slow Gisele down in the least! She joined Anna Wintour, Mario Testino, and Malcolm Rogers in an all-black ensemble that showed off her toned and tanned legs.
Kim Kardashian
Kim paired white jeans and a white silk camisole with a long, camel-colored cardigan for a day of business meetings in Beverly Hills.
Jessica Capshaw
Six months pregnant with her third child, Jessica Capshaw was radiant in bright blue at the launch of the GapKids + DVF collection at The Grove in Los Angeles in March.
Beyoncé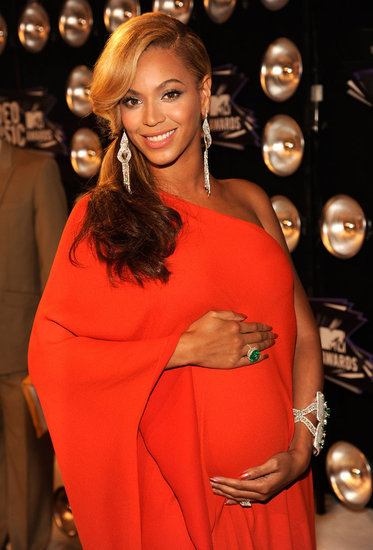 Beyoncé stepped out in a bright orange Lanvin [60] gown on the Video Music Awards red carpet. She made her official pregnancy announcement that same night during a performance of her hit, "Love on Top."
Alyson Hannigan
Alyson and daughter Satyana may have been on hand to celebrate the launch of Diane von Furstenberg's first capsule collection for GapKids [61], but her black-and-white patterned dress and comfy pink flats set her apart from the bright kids fashions.
Busy Phillips
Busy looked beyond gorgeous at the Screen Actors Guild Awards in January 2013, wearing a Gabriela Cadena black, long-sleeved gown with a small train, accessorized with a showstopping statement necklace from Irene Neuwirth [62].
Ellen Pompeo
The Grey's Anatomy actress kept in casual in LA while pregnant with daughter Stella Luna, born September 2009.
Carla Bruni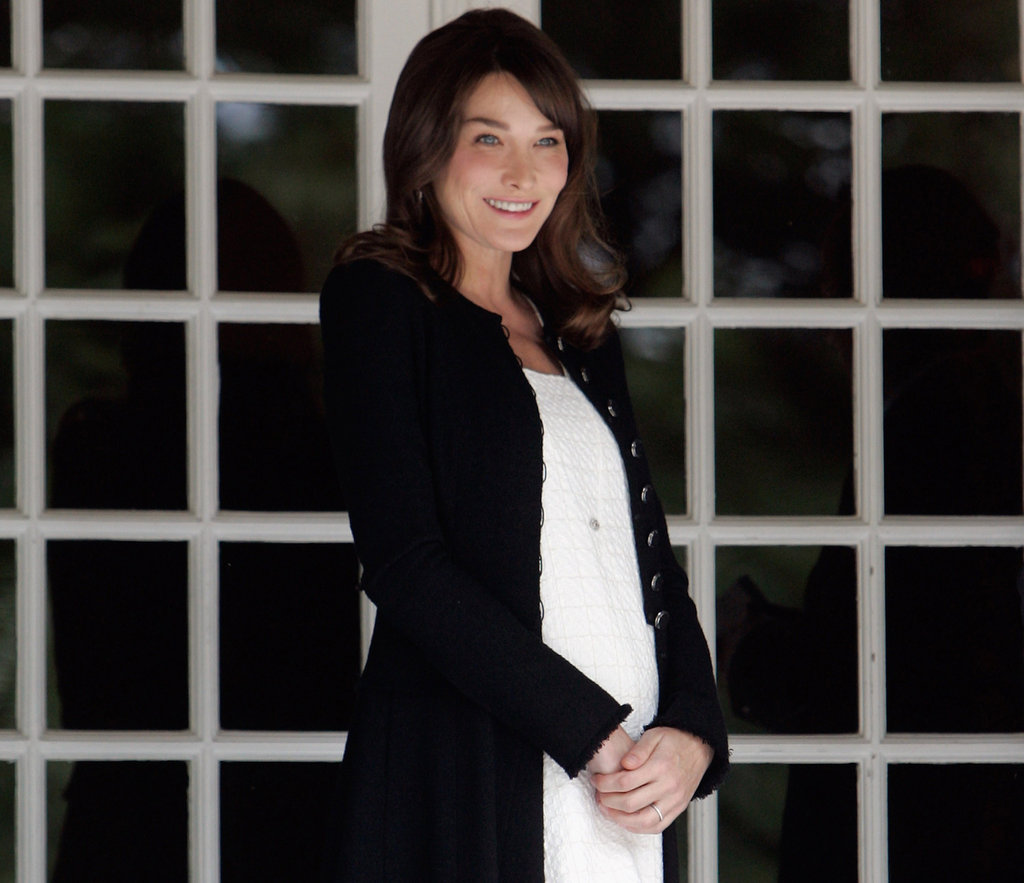 Carla Bruni hadn't officially announced her pregnancy when she wore a white smock dress and black coat that did little to hide her growing midriff.
Victoria Beckham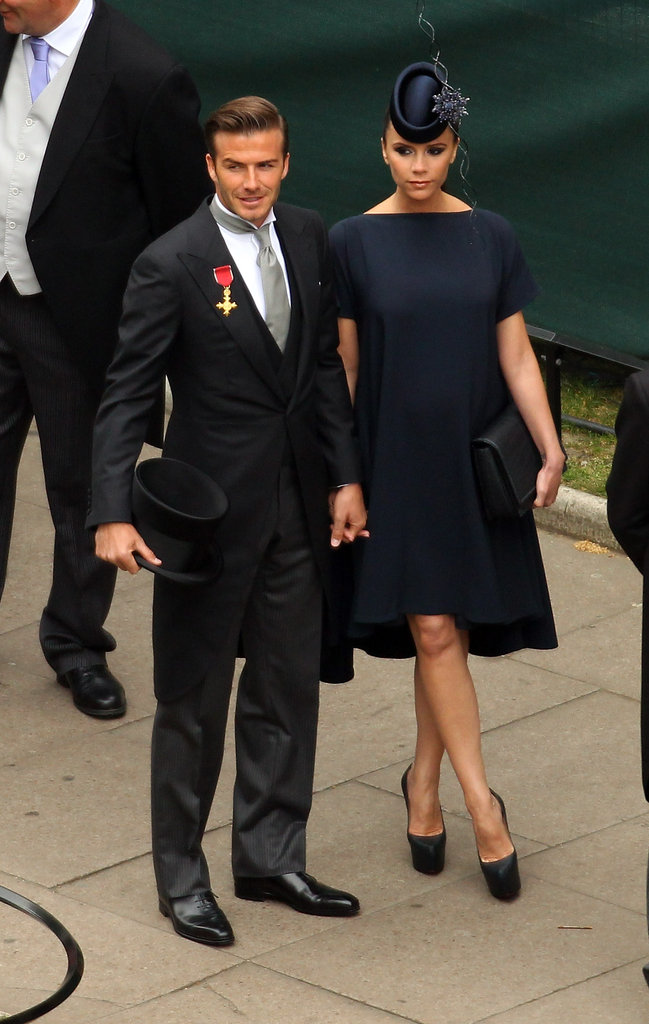 Victoria Beckham [63] almost stole the show at Prince William and Kate Middleton's royal wedding [64]. Wearing a modified version of one of her own designs, she received plenty of attention for her fourth baby bump.
January Jones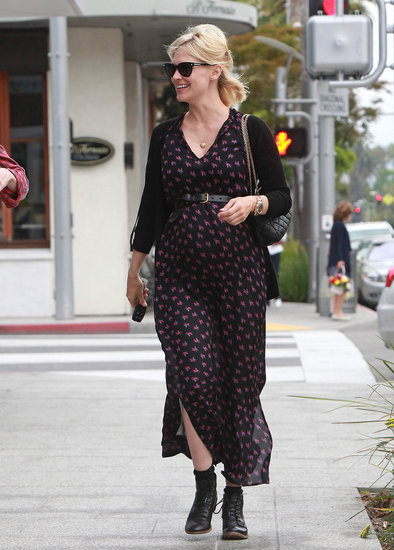 The antithesis of her Mad Men character [65], January was a laid-back mom-to-be in a floral print dress, cardigan, and ankle boots while pregnant with baby Xander.
Hilary Duff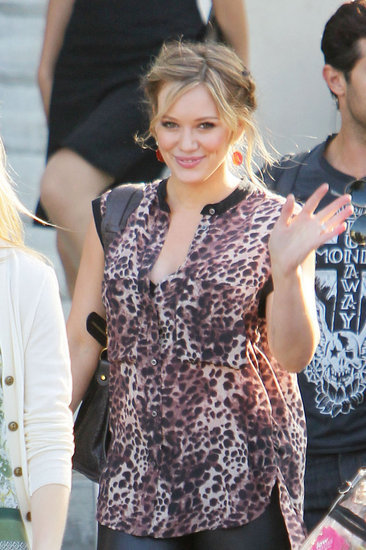 The new mom to baby Luca [66] wore a leopard-print tunic and easy updo for her appearance on Chelsea Lately.
Busy Phillips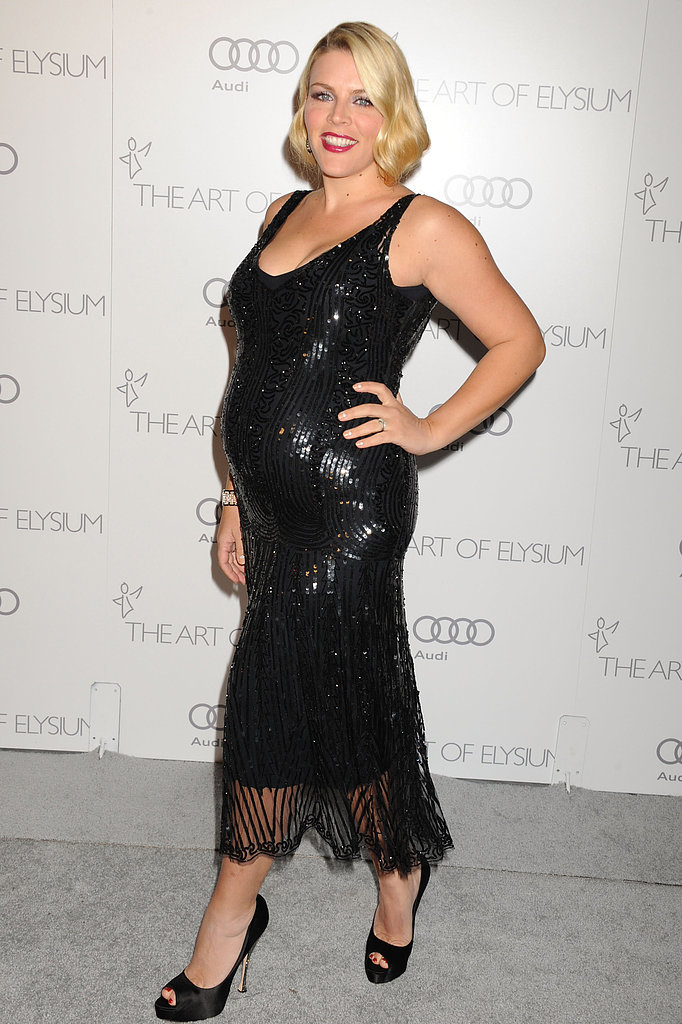 Busy knows how to rock a red-carpet bump, and her Art of Elysium look was no exception. A beaded Alberta Ferreti dress, Brian Atwood [67] heels, and a faux bob was one of her best looks ever, pregnant or not.
Jennifer Lopez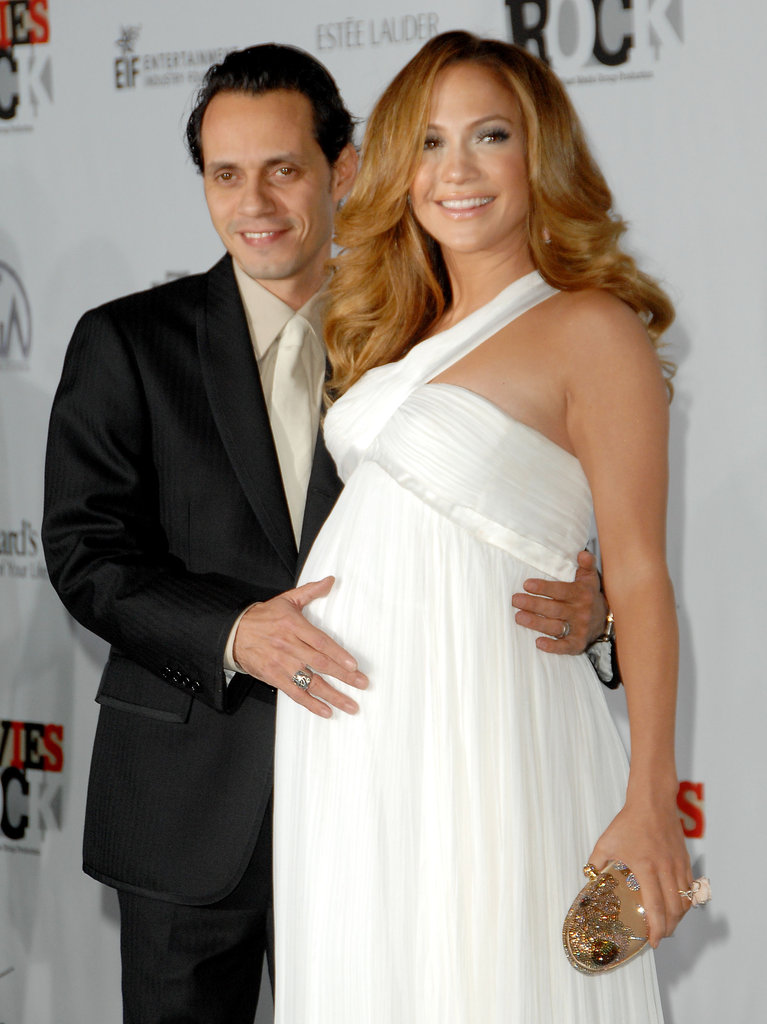 Jennifer Lopez [68] stunned in a white Versace [69] Resort gown while attending the 2007 Movies Rock event with her then-husband Marc Anthony [70].
Jennifer Connelly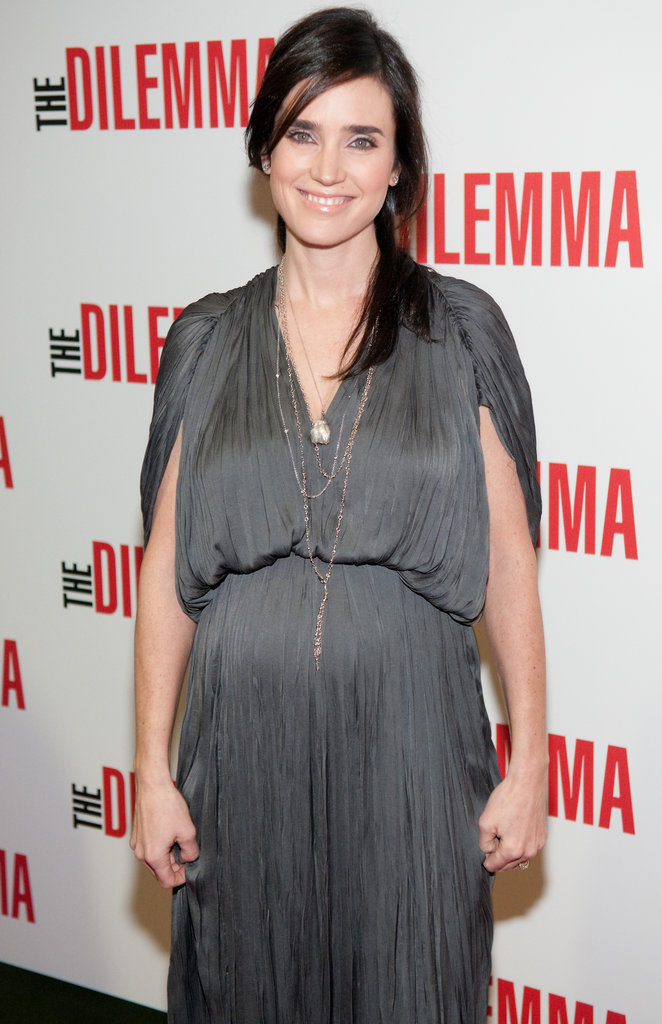 Jennifer was stunning in a gray, pleated gown at the premiere of The Dilemma while pregnant with baby Agnes, her second child with husband Paul Bettany [71].
Nicole Richie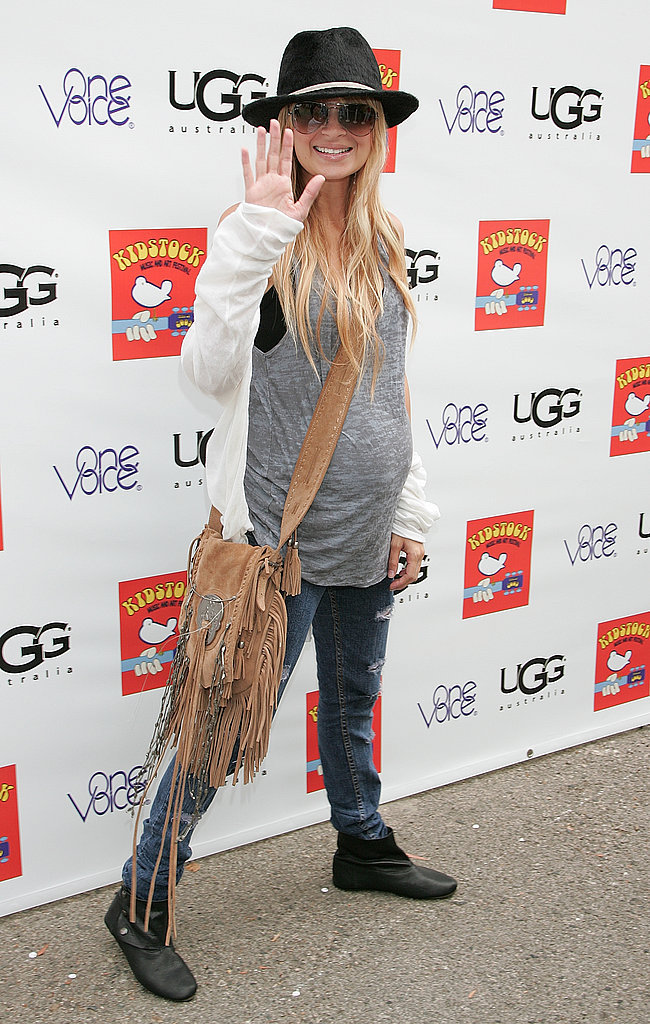 Nicole Richie [72] epitomized boho chic style throughout both her pregnancies. While pregnant with Sparrow, she chose a casual look that showed off her little baby belly.
Molly Sims
Molly wore a asymmetrical floral dress for the StepUp Women's Network 9th Annual Inspiration Awards, just a couple of weeks before giving birth to her son, Brooks.
Kourtney Kardashian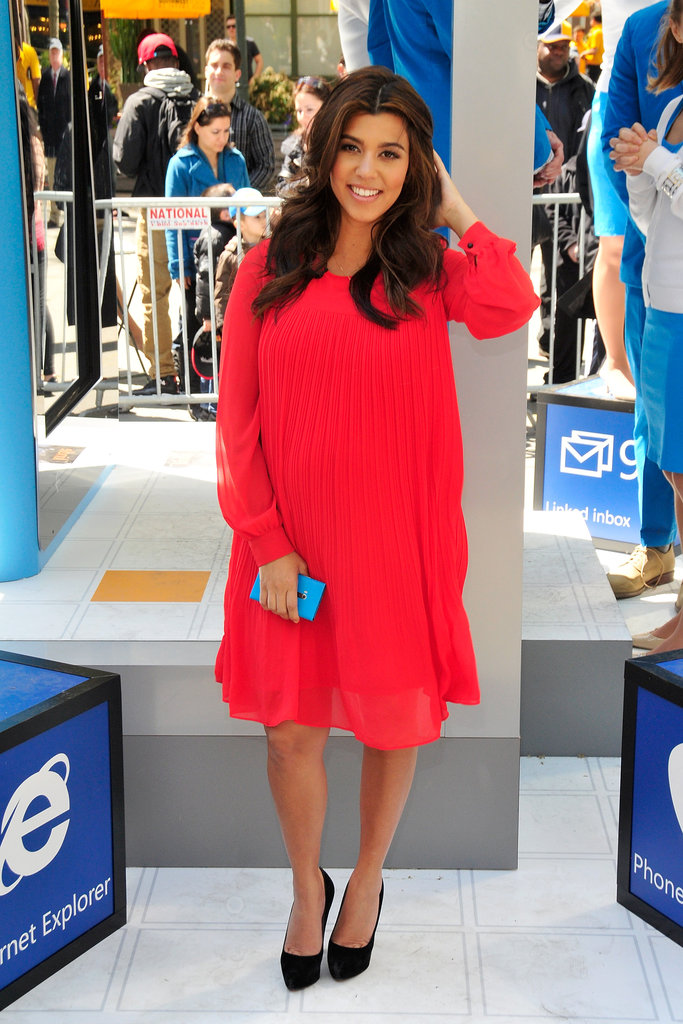 Pregnant with baby number two, Kourtney Kardashian flaunted her expanding form in red-hot chiffon at a press event in NYC.
Rachel Zoe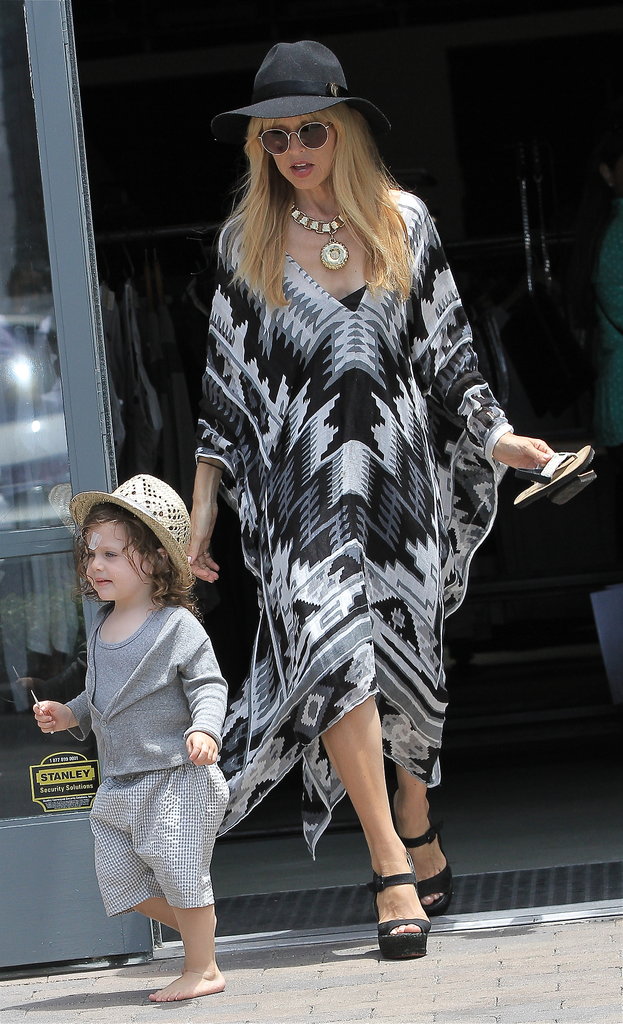 Rachel Zoe [73] ran around with Skyler at the Malibu Country Mart looking bohemian in a black-and-white Theodora & Callum [74] caftan, a black wide-brim hat, chunky gold necklace, round sunglasses, and black wedges.
Sienna Miller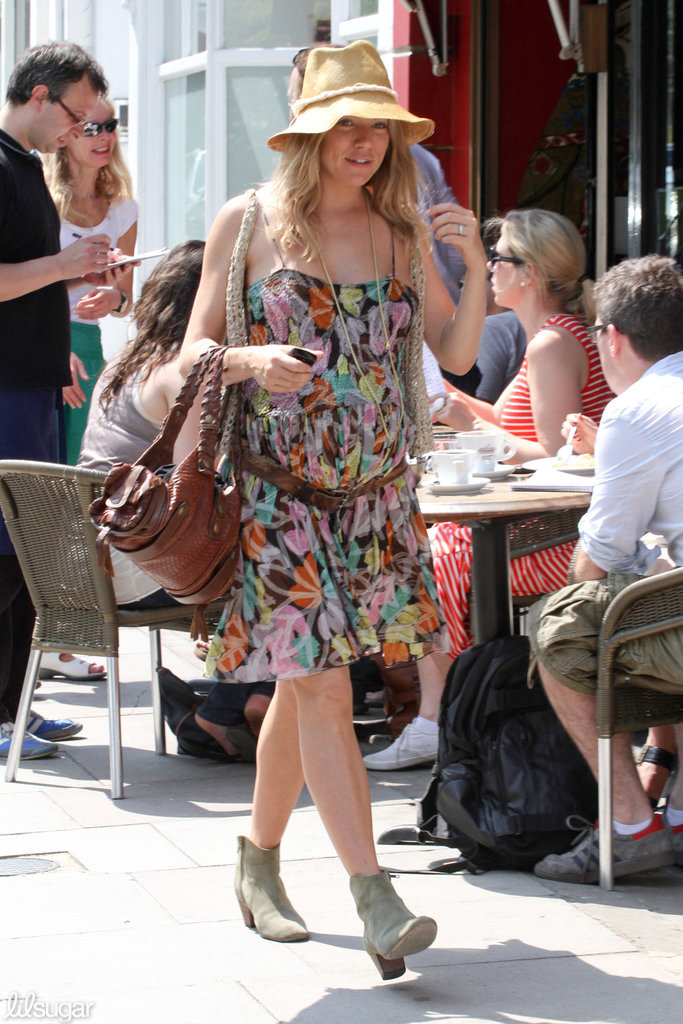 Sienna didn't lose a single beat of her signature boho-chic style throughout her pregnancy. For a recent outing to a yoga class, she kept it cool in a strappy floral sundress and a wide-brimmed hat.
Claire Danes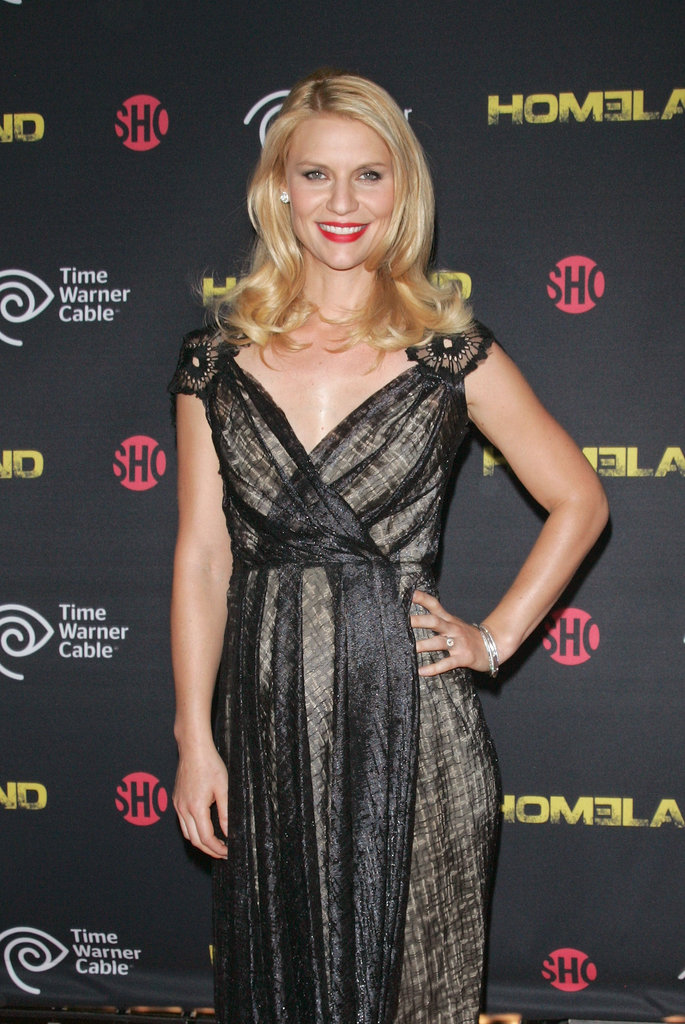 Claire was all smiles on the red carpet for the season two premiere of Homeland at the Intrepid Sea-Air-Space Museum in NYC in September 2012. She looked lovely in black-and-cream lace.
Paula Patton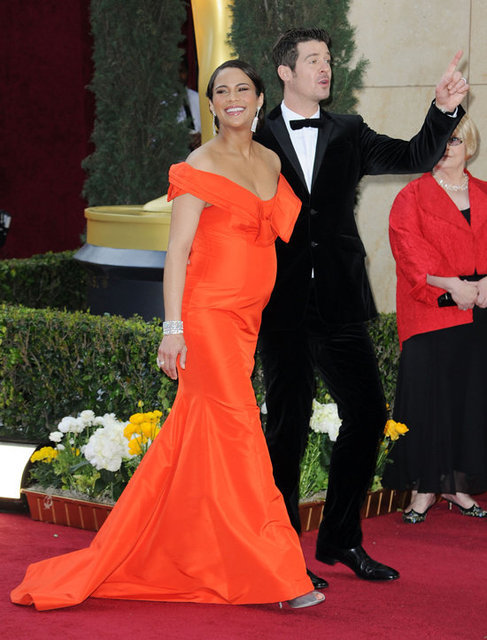 Walking the red carpet with husband Robin Thicke, Paula Patton was exquisite in an off-the-shoulder Carolina Herrera [75] gown at the 2010 Vanity Fair Oscar party.
Alessandra Ambrosio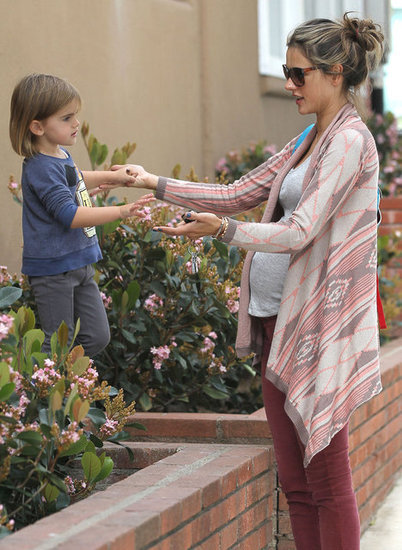 The Victoria's Secret mama was spotted looking casually chic in Santa Monica, CA, with her 2-year-old daughter, Anja.
Ali Landry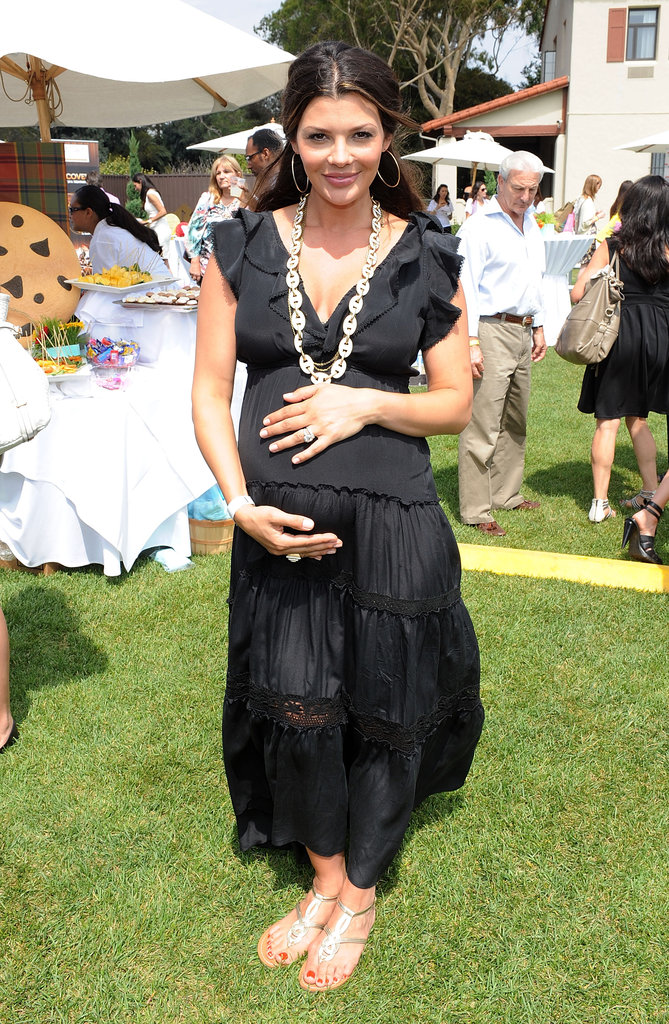 Actress Ali Landry at The Red CARpet Event from SpokesMoms on Sept. 10, 2011.
Amy Adams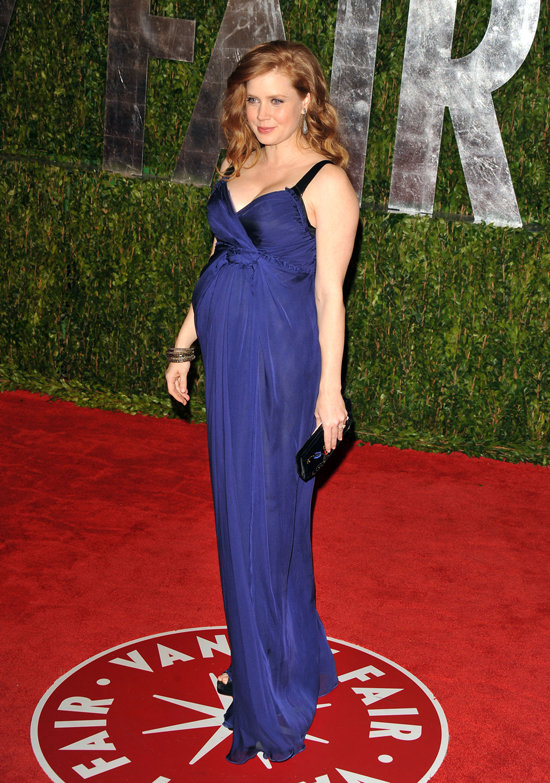 In 2010, a seven-months-pregnant Amy Adams [76] hit the Vanity Fair Oscar party wearing a bump-revealing, bright blue Philosophy di Alberta Ferretti [77] gown. Her daughter, Aviana, was born May 15 of that year.
Reese Witherspoon
For a lunch date with a friend, Reese Witherspoon [78] wore a navy dress with a blue sash tied in a bow just above her burgeoning belly. A pair of midheeled sandals finished off the sweet look.
Kate Winslet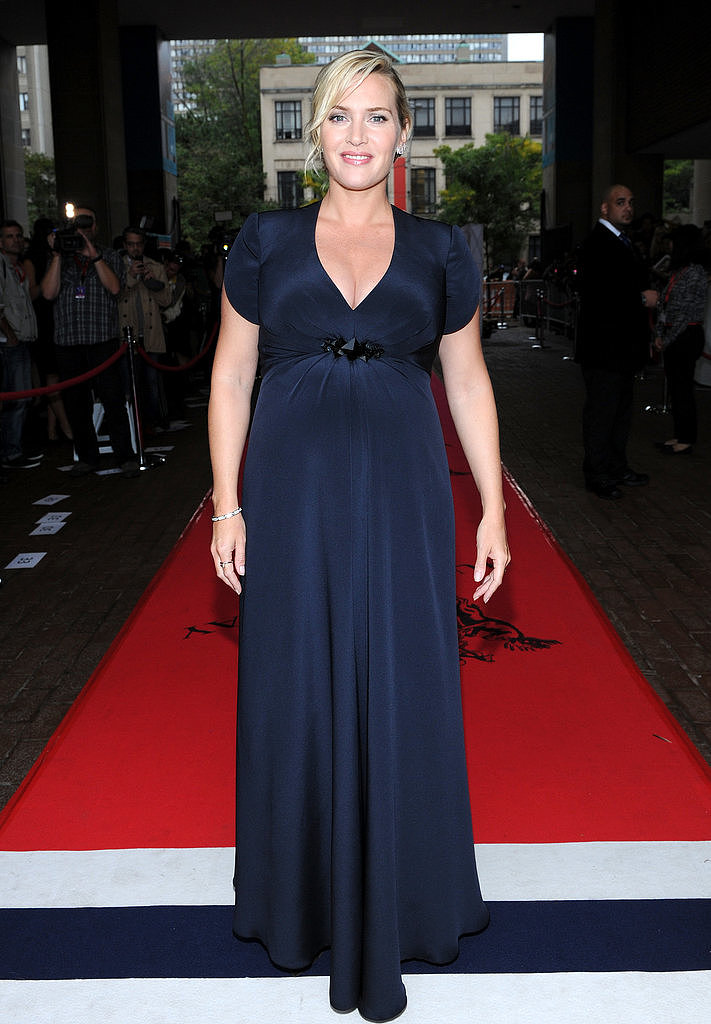 Kate Winslet [79] put her growing baby bump on display in a bespoke Jenny Packham [80] gown at the premiere of Labor Day at the Toronto International Film Festival earlier this month.
Isla Fisher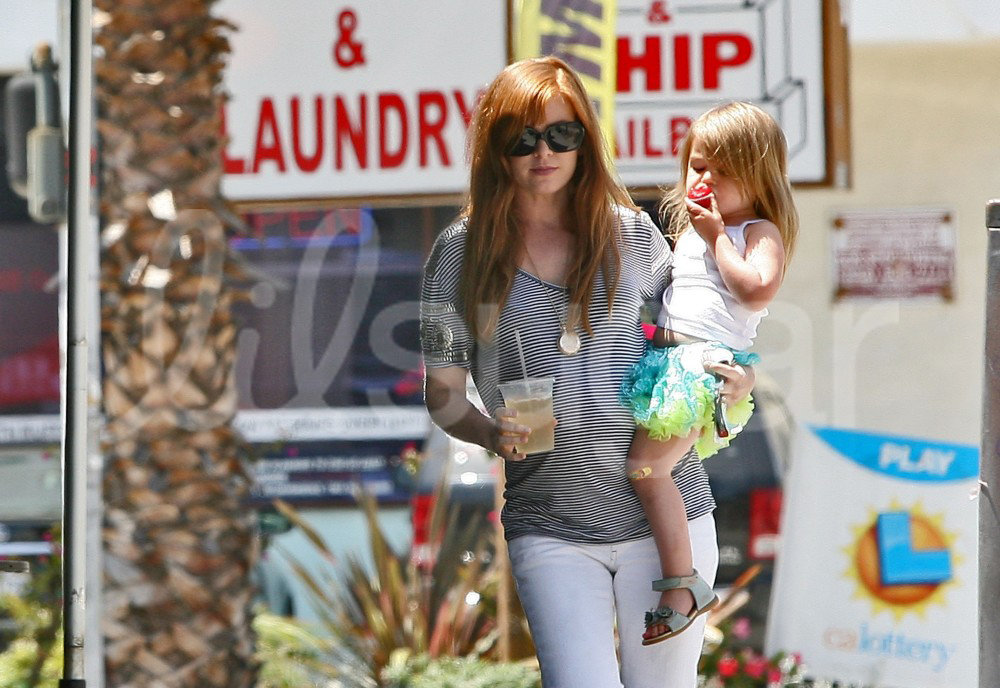 Isla Fisher [81] looked laid-back in her white jeans and loose gray shirt during her second pregnancy.
Kate Middleton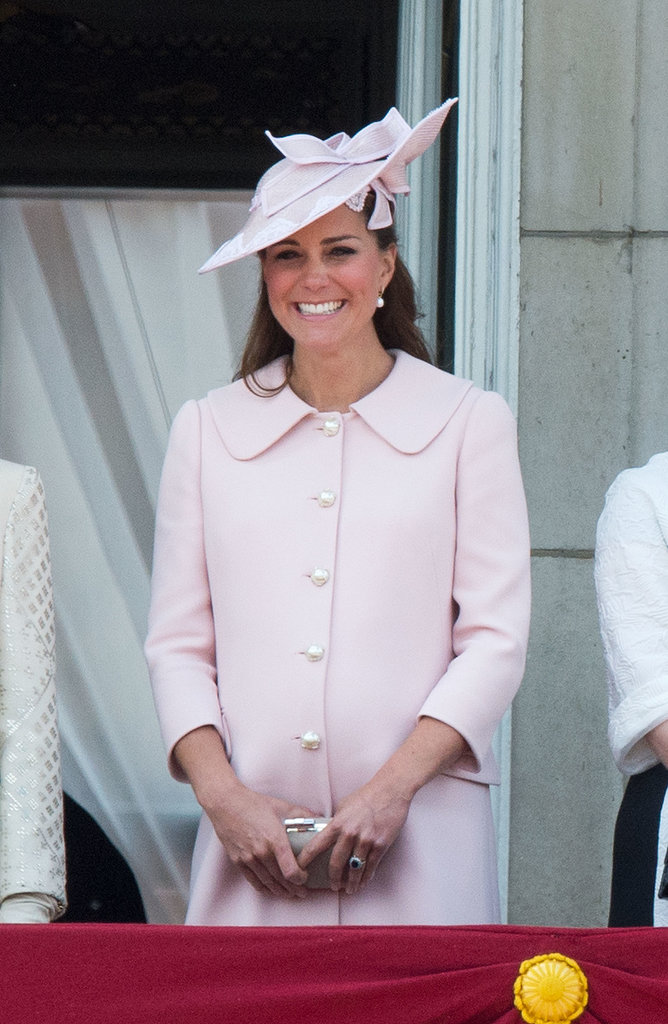 For her final pregnant public appearance on June 15, Kate Middleton was pretty in a pink coat and a matching hat at the Trooping the Colour parade in London.
Jessica Simpson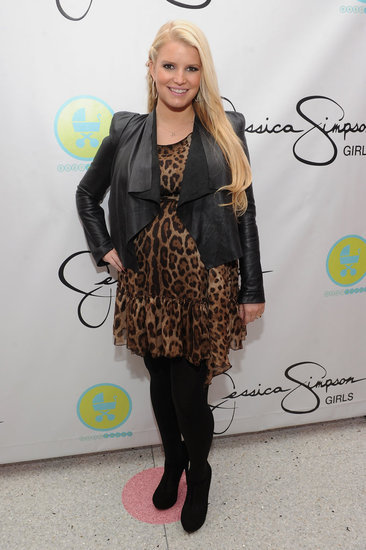 Jessica Simpson [82] glowed in a leopard-print dress and leather jacket while expecting baby Maxwell at the launch of Jessica Simpson Girls at Dylan's Candy Bar.
Jenna Dewan
Shortly before announcing that she was pregnant with her first child, Jenna Dwan arrived at the VH1 Divas concert in December 2012 wearing a pale blue strapless Temperley gown.
Bryce Dallas Howard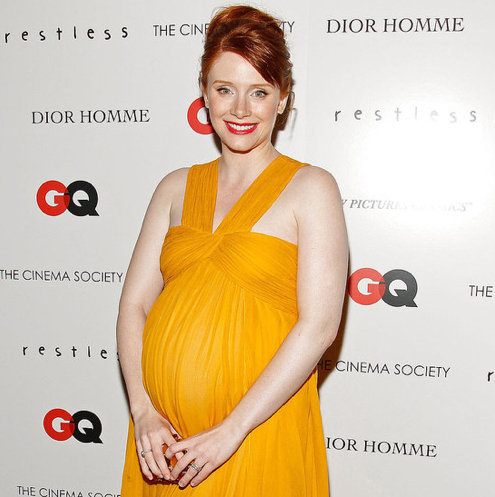 Bryce was radiant in bold yellow pleats during her pregnancy with baby number two.
Sienna Miller
While filming a scene from A Case of You, Sienna paired a nude nonmaternity DVF lace dress [83] with a pale-pink coat and jet-black tights for a perfectly sweet look. A pair of black heels with a solid heel are ideal for expectant mamas who are prone to losing their balance.
Kate Middleton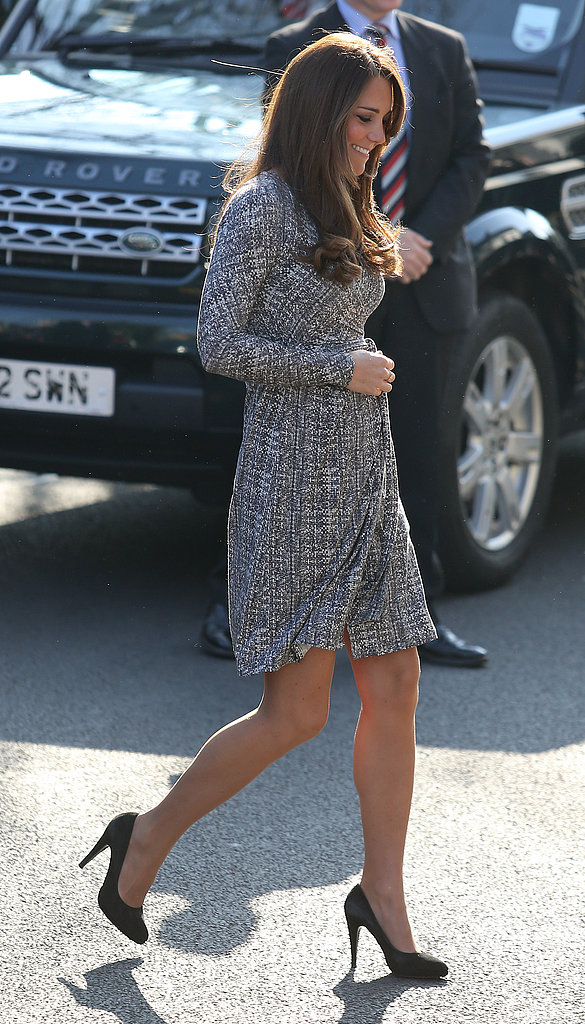 Pregnant or not, you can't go wrong with a wrap dress. Kate showed a hint of her growing baby bump when she wore a Max Mara [84] dress, one of her favorites, to Hope House in London.
Fergie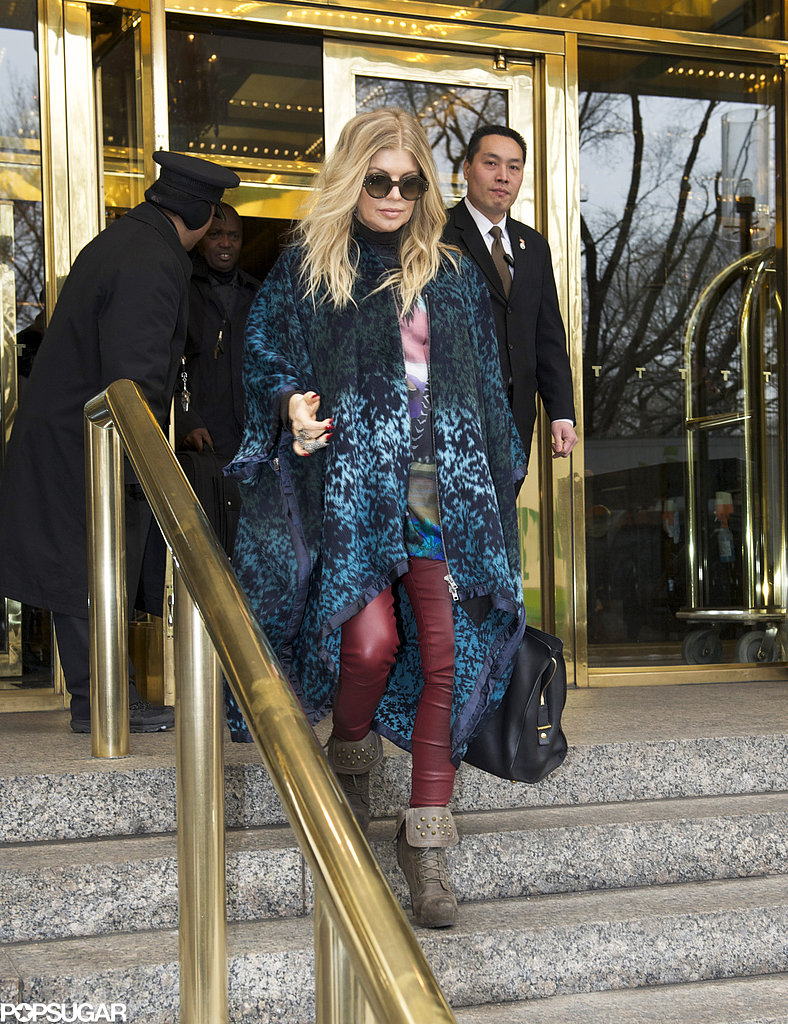 Round sunglasses are part of Fergie [85]'s trademark look as of late. On a recent trip to NYC, she wore red leather leggings, studded booties, and an oversize, cape-style coat.
Kate Middleton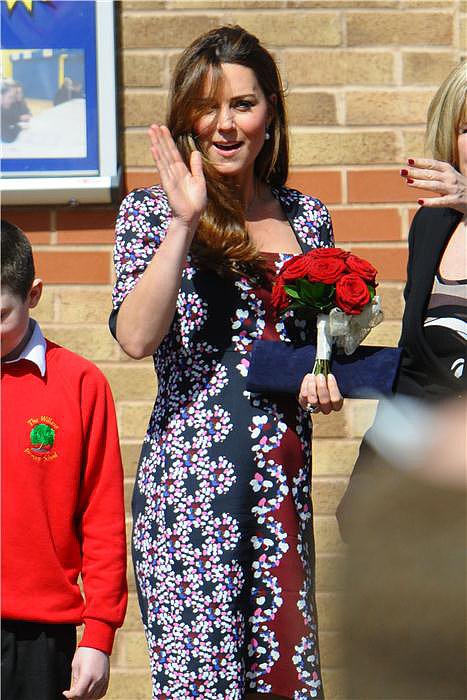 When done right, prints can be very flattering. Kate's printed Erdem [86] dress flattered her figure and kept her look casual during a school visit. Just don't forget to keep the accessories minimal (like a basic clutch) when wearing patterns.
Malin Akerman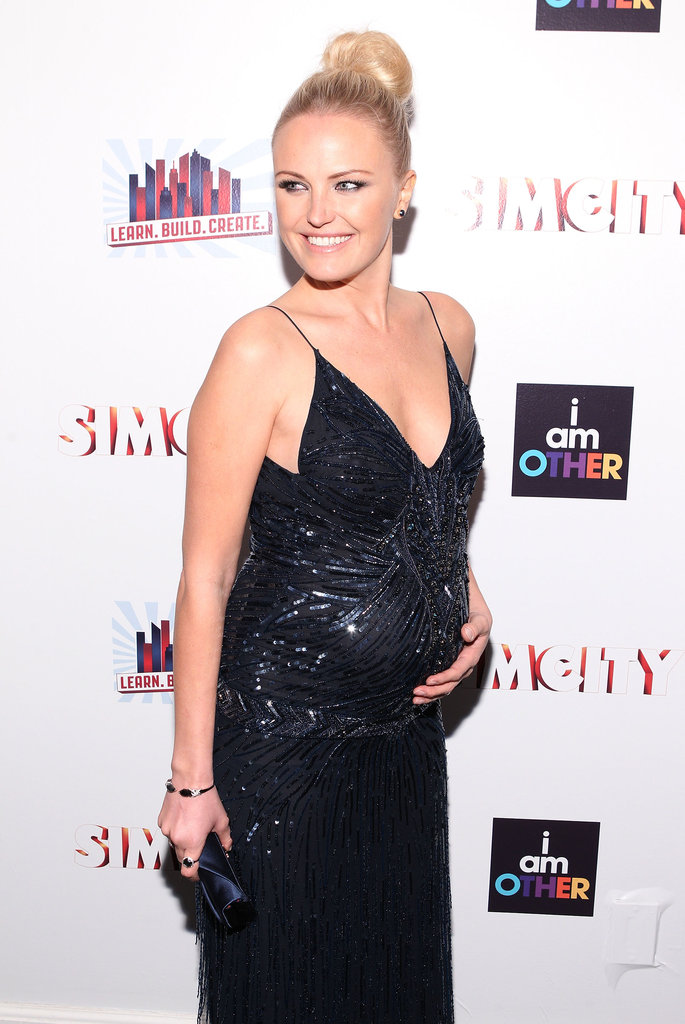 Last November, Malin Akerman hit the Hollywood Foreign Press Association and InStyle's Golden Globes soiree with bold menswear-inspired style. This sexy take on a tuxedo was a clever way to wardrobe the star's pregnant bod.
Jane Krakowski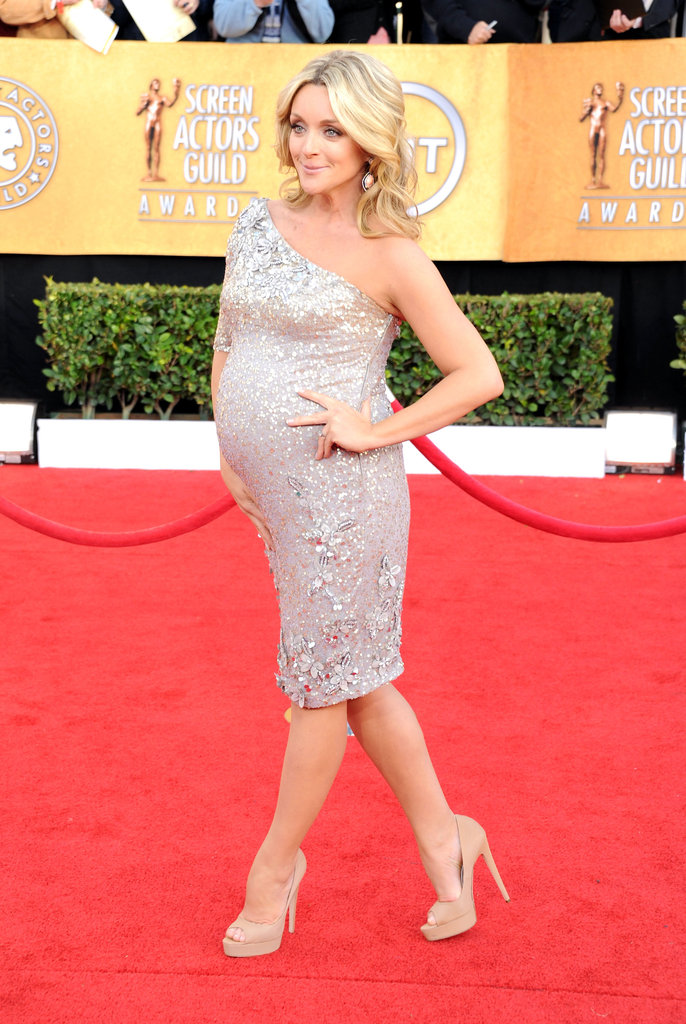 The 30 Rock star showed off her bump at the SAG Awards in 2011.
Elsa Pataky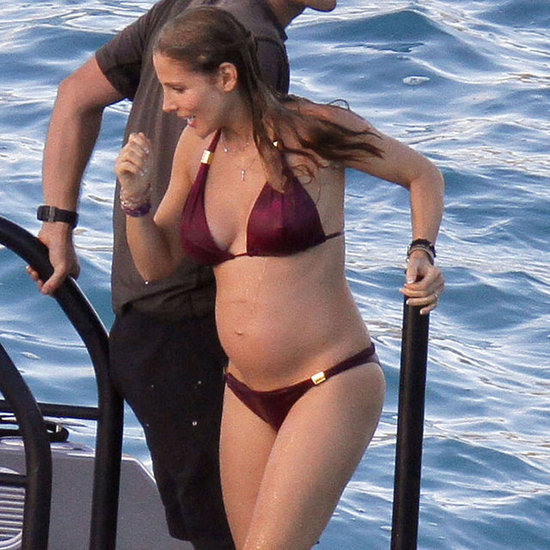 Chris Hemsworth's wife, Elsa Pataky, showed off her belly shortly after announcing the news that she was expecting the couple's first child.
Molly Sims
Molly was the picture of California cool at the opening of Rosie Pope's Santa Monica, CA, store in the designer's printed maxi dress [87] and a black blazer.
Reese Witherspoon
During a grocery outing, Reese Witherspoon [88] defined casual pregnancy perfection in a red shirtdress, gold sandals, and a simple necklace.
Gisele Bündchen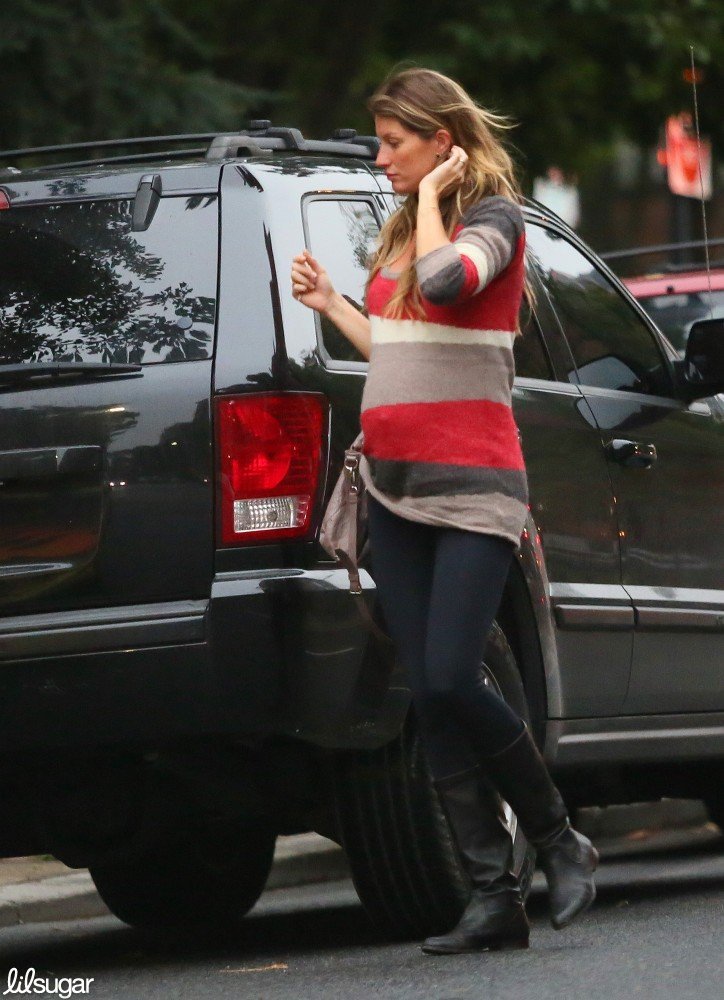 Gisele bundled up a bit for a chilly afternoon in Boston. Her red, cream, and tan striped sweater paired perfectly with skinny jeans and flat black boots.
Rachel Zoe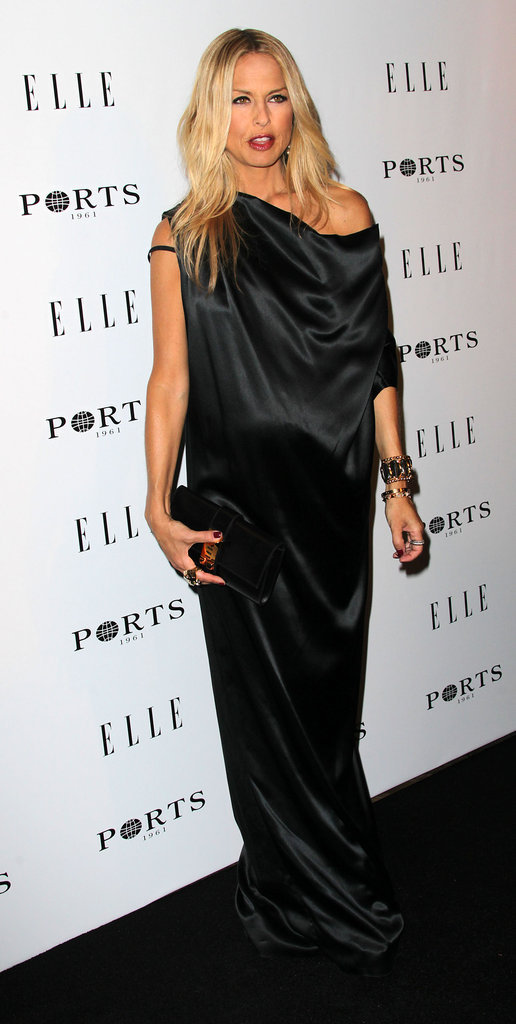 Stylish mom-to-be Rachel Zoe [89] was draped in chic black at Elle's inaugural Women in Television dinner in 2011.
Jaime King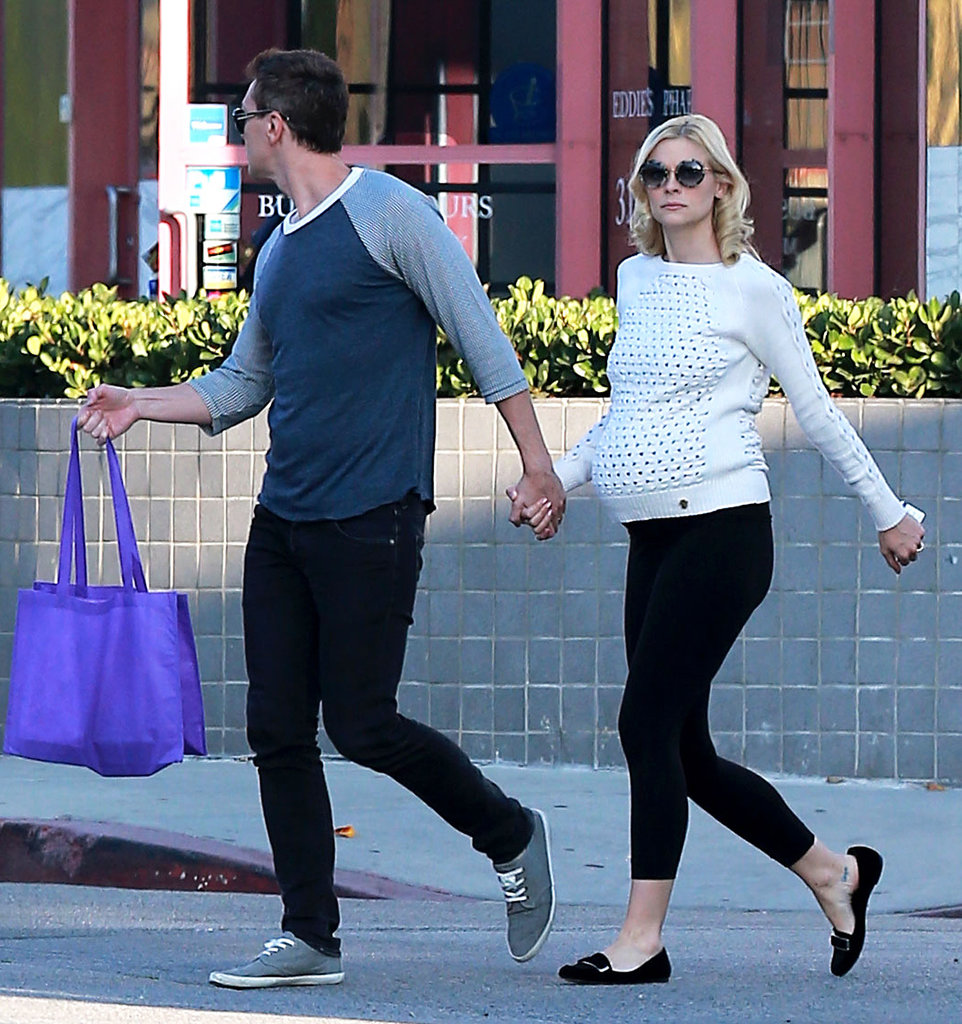 An expectant Jaime covered her baby bump in the chicest way possible — a textured white sweater — then kept her bottom half basic in black leggings.
Reese Witherspoon
Though Reese Witherspoon [90] still hadn't "officially" announced her pregnancy with baby Tennessee, the star's bright pink Easter dress left little to the imagination.