Lots of moms like to think out loud, and Jo Aaron is one of them. Here is one of the latest posts to her Mommy Brain blog.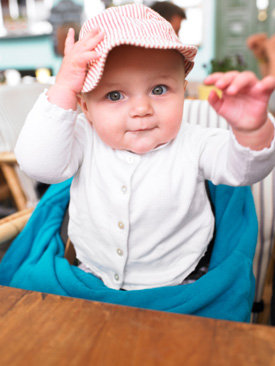 While innocently looking for a restaurant suggestion online the other day, I stumbled across an anti-parent, anti-child blog entry that just annoyed me. It was an angry (and narrow-minded, in my opinion) piece about how awful it is when this particular person has to dine with families at his favorite restaurants. He/she literally suggested that families shouldn't be allowed to dine in restaurants at all, and most definitely not the ones that are any good.
Here are my guesses:
#1, this person is somewhere between 21-26.
#2, this person will have a completely different blog in about 5-10 years when he/she has kids of his/her own and realizes that going out for dinner is like parental heroin . . . you know, your fix is having someone else prepare and clean up your meal while all you have to do is watch the kids and make sure they don't drive the other patrons nuts. Because that's the easy part. Right.
So, while I get that I shouldn't be carting my kids off to the Pump Room for a 9PM Saturday night reservation, I don't think it's such a crime to have them enjoy a 5:30PM reservation at a local haunt regardless of how cool and trendy it is this week. Instead of digitally flicking this guy or gal off by replying to his/her post, instead I thought I'd make a list of all of the ways that the world would be a better place for those of us with kids . . . maybe this will drive it home:
If the world revolved around families, there would be no such thing as lines at the grocery store. Instead of spending 15 minutes telling our kids to stop touching everything in the checkout line, like candy, magazines, or batteries, we'd just breeze through the aisles, yell our credit card numbers out to the teller as we beelined to our cars. No fuss, no muss.
If the world revolved around families, there would be a Starbucks with dozens of drive-thru windows and on-duty baristas somewhere between my house and school.
If the world revolved around families, there would be TVs with DVD players and current Disney movies playing in every waiting room in the United States. This includes all airport terminals as well. And speaking of airports...
If the world revolved around families, there would be such a thing as teleportation like on Star Trek (yes, I'm a nerd), so that families would never, never, never, ever have to deal with air travel at all.
If the world revolved around families, no one with kids would ever have to go to the DMV, post office, or emergency room.