If you've got a lil one who isn't quite ready for pumpkin carving this Halloween [1], then get out the paints, glitter, and glue for really special, decorative, no-carve pumpkins. These colorful gourds are easier than you think to create, making getting crafty this Halloween simple and fun. From finger-painted pumpkins to designs studded with bling, this collection of decorative pumpkins will have your lil one excited about the season. Click through for fun ideas and simple directions.
Potato Head Pumpkins
From Amy at Let's Explore, this simple pumpkin decorating idea [2] will have your neighbors taking a second look! Invite your lil one to pop Mr. or Mrs. Potato Head [3] parts into her pumpkin for a seriously cute Halloween [4] decoration.
Source: Let's Explore [5]
'Stached Pumpkins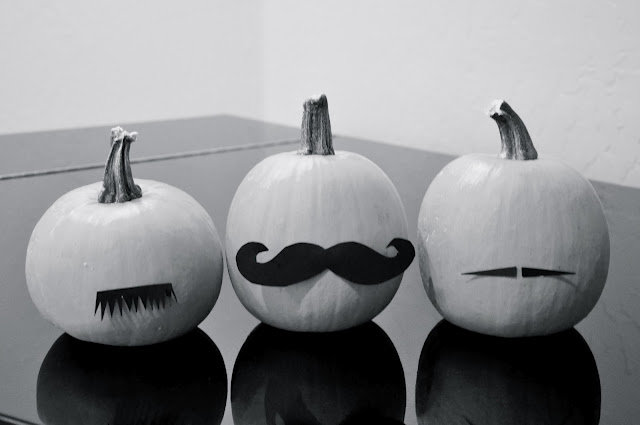 With just a bit of black felt or heavy tag board, your child can create minimalistic and fun mustache Halloween pumpkins [6] just like blogger Annily Green. Simply cut, and then your lil one can adhere with tacky glue.
Source: Annily Green [7]
Painted Faces
Ditch carving intricate jack-o'-lanterns and use black-and-white acrylic paints to create smiling pumpkin faces instead. Simply use a paintbrush in place of a knife to create these Halloween [8] gourds.
Source: Flickr user eas83 [9]
Bedazzled Pumpkins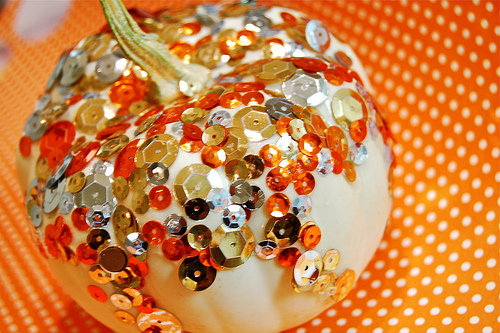 With the help of tacky glue and handfuls of sparkling sequins, your child can create a festive no-carve pumpkin [10] that seriously glitters this Halloween [11].
Source: Swell Designer [12]
Trendy Chevron Stripes
My Sweet Savannah shares a tutorial on how to create modern, chevon-striped pumpkins [13] that will turn your front step into a chic Halloween [14] celebration.
Source: My Sweet Savannah [15]
Big Jewels
To create this look, invite your child to coat the outside of the pumpkin with black acrylic paint using a foam brush or roller. Once the pumpkin is dry, offer your lil one a bottle of tacky glue to squeeze dots around the painted gourd, and then press on big, glittering, clear plastic jewels. Finish by painting the stem with silver acrylic paint for a really special Halloween [16] pumpkin.
Source: Flickr user frykitty [17]
Finger-Painted Fun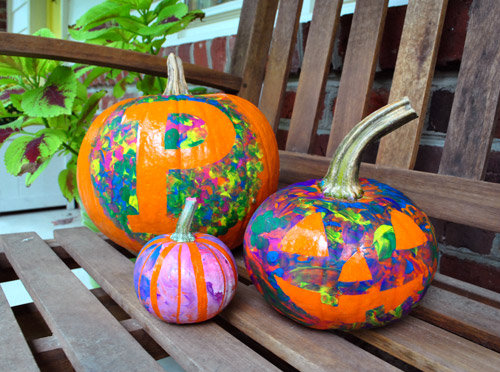 Young House Love shares this seriously fun and easy way to decorate pumpkins [18] this Halloween [19] with lil ones. Tape and finger paint work together to create these absolutely adorable decorations.
Source: Young House Love [20]
Pipe Cleaner Spider
Use a small pumpkin to create a fun Halloween [21] spider this holiday. Your lil one can paint the pumpkin all black or decorate with spooky spider features. Once the paint is dry, stick bent pipe cleaners into the pumpkin to create spider legs.
Source: Flickr user Sappymoosetree [22]
Artfully Painted
Even if you don't think your lil one is ready to tackle intricate paintings or designs this Halloween [23], Lacquer and Linen shares an easier-than-you-think tutorial on how to paint pumpkins [24].
Source: Lacquer and Linen [25]