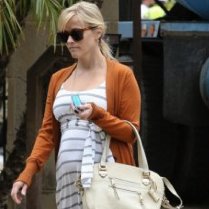 It's a Hollywood baby boom! And what better way to celebrate high-profile baby bumps than with funky fashions?! From Reese Witherspoon's breezy summer dresses, to Alyson Hannigan's casual chic statements, to Kristin Cavallari's effortless feminine fashions,
Celebrity Baby Scoop
takes a look at the latest maternity style trends from 10 pregnant celebrities.