In the midst of the dog days of Summer, the last thing we want to do is slave way in a hot kitchen. Skip the stove, skip the oven, and serve up one of these easy, heat-free meals instead. We've rounded up seven kid-friendly, tasty, and healthy no-cook dinners to satisfy your family all week long. Home-cooked without the hassle — what could be better?
And if you need a little something sweet to end the night with, we've got 45 ideas for no-bake Summer desserts [1] — yum!
Barbecue Chicken Sandwiches
Skip the grill, and instead get your BBQ on with these yummy no-bake barbecue chicken sandwiches [2]. Make them mini by swapping out slider-size buns for little appetites!
Source: Yunhee Kim/Real Simple [3]
Sesame-Lime Chicken Salad
Real Simple's Sesame-Lime Chicken Salad [4] puts a healthy, Asian-inspired flair on a store-bought rotisserie chicken.
Source: Marcus Nilsson/Real Simple [5]
Sunbutter Noodles
Sssshh! Don't tell the kids these noodles are actually strips of zucchini. These sunbutter noodles [6] will load them up with nutrients similar to a salad without looking like one. You can easily leave out the pepper flakes to decrease the kick, and serve up with a side of brown rice. Don't forget the fortune cookies!
Source: Oatmeal With a Fork [7]
Layered Taco Salad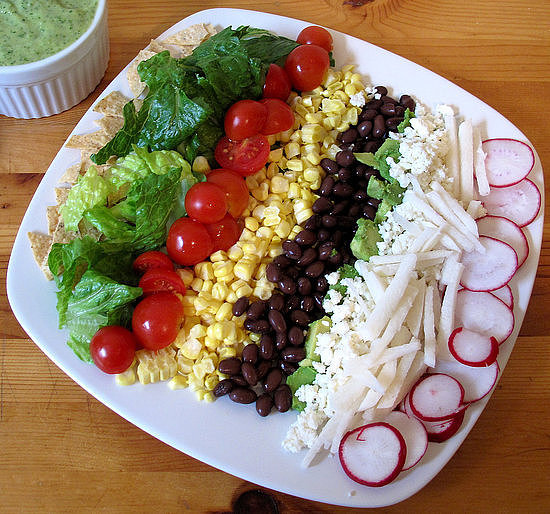 No stove is required to brown beef in this meatless taco salad [8]. Rather, it's chock-full of different textures and flavors, from crunchy jicama to salty queso fresco.
Source: POPSUGAR Food [9]
Roast Beef and Cheddar Roll-Ups
All it takes is a few fridge staples to throw together these roast beef and cheddar roll-ups [10] — quick and easy!
Source: Dana Gallagher/Real Simple [11]
Zesty Taco Salad
Give family taco night a healthy, lighter spin with an easy recipe for a zesty taco salad [12] from our friends at POPSUGAR Food. Olé!
Whole Wheat Pasta Salad With Feta and Peas
Make this kid-friendly pasta salad [13] on Monday, and enjoy the leftovers all week; it actually tastes better the longer it sits. The whole wheat pasta is a filling option, and the pea shoots give it a nutritious crunch. It's a quick recipe you'll find yourself returning to throughout the Summer.
Source: The Clever Carrot [14]